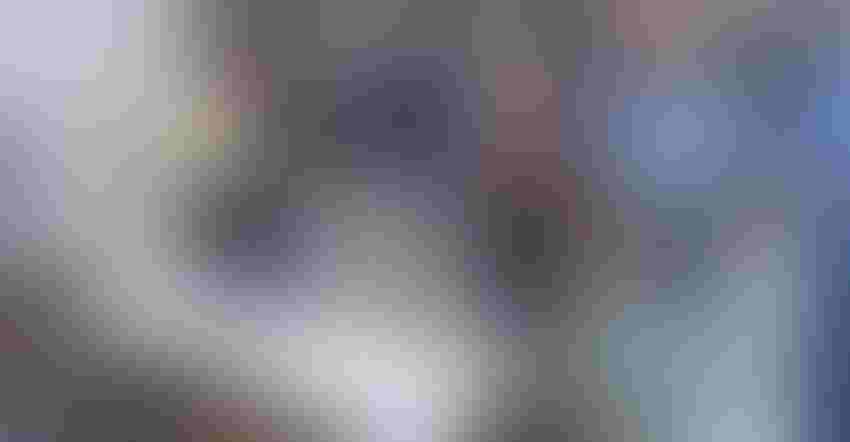 Monte Mutchler, USDA ARS cotton marketing specialist, foreground, works with industry representatives to select the American Pima guide boxes that will be in place for the 2019 season. These guide boxes become the official standard by which Pima cotton is graded.
Todd Fitchette
On July 10, Western cotton industry representatives approved the 2019 guide boxes that will become the standard by which American Pima cotton is graded in the coming year.
The annual event drew a handful of growers, merchants and ginners to the Visalia, Calif. classing office to look over and approve what will be six grades of American Pima cotton for 2019. The grade boxes will now be shipped to Memphis, Tenn. Where they will be photographed and stored as the official record for all grades of U.S. cotton.
There are 15 grades of Upland cotton compared to only a half-dozen grades of American Pima cotton recorded by the U.S. Department of Agriculture.  The process of approving the guide boxes for Upland cotton is done in the Memphis, Tenn. classing office
The USDA's Visalia, Calif. classing office is the only one of 10 classing offices in the United States to house a complete set of Pima boxes as most of the U.S. supply of Pima is grown within 250 miles of that location. Last year California produced 718,000 bales of Pima from 209,000 acres for an average yield of 3.43 bales per acre.
American Pima cotton for 2019 has six grade standards, rated numerically from #1 (the highest or best grade) to #6. The grades include a combination of color and leaf content, according to Monte Mutchler, supervisory cotton marketing specialist with the U.S. Department of Agriculture's Agricultural Marketing Service.
Greg Townsend, area director at the Visalia Cotton Classing Office said the Pima guide boxes, like those in the Upland category, are approved annually by the cotton industry. Once approved by a group of growers, ginners and merchants, the boxes are photographed and stored for official reference during the upcoming cotton season. The Visalia office is the only location of the 10 U.S. cotton classing offices with a set of Pima boxes because of its proximity to where the U.S. Pima crop is produced.
Last year California produced 84 percent of the Pima cotton in the U.S., which amounts to 718,000 bales of Pima cotton out of a total bale count of 794,000 Pima bales. U.S. cotton farmers harvested a total of 247.5 million acres of Pima last year.
Subscribe to receive top agriculture news
Be informed daily with these free e-newsletters
You May Also Like
---