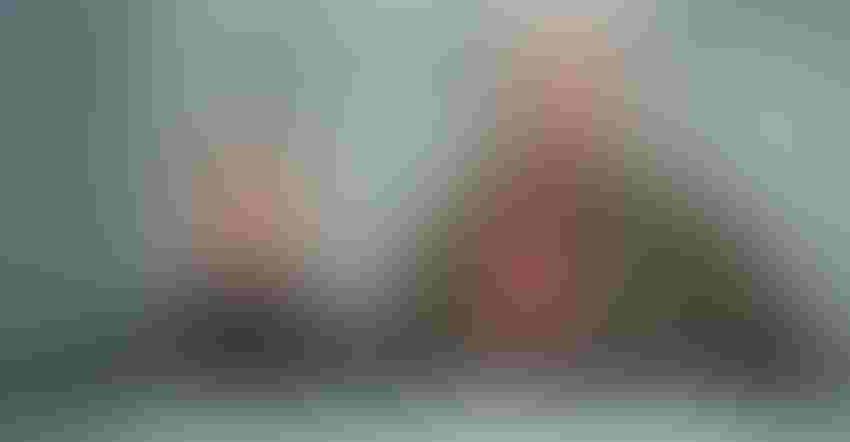 Grain bins offer marketing and harvest advantages to farm partners Travis Senter II, left, and Ron Holthouse,
Ron Smith
Ron Holthouse and Travis Senter II agree that farming in partnership on some 4,500 acres of land improves efficiency.
The co-op arrangement also aids the 6,000 to 7,000 acres each farms on his own near Osceola, Ark. They also agree that six factors make the partnership feasible. Those factors are: Equipment inventory, quality land, irrigation and drainage, self-sufficiency, harvest efficiency, and labor issues. They explain.
1. Timing planting and harvest operations demands adequate equipment on hand and ready to go. "Cotton is the last thing we plant," Holthouse says. "When soils warm up, we can plant quickly after we finish with soybeans." They harvest with three round bale pickers.
2. Quality of the soil makes a difference and the land they farm in partnership offers good production potential. They like a mixture of soils. "We don't want 100 percent black dirt," Holthouse says. "We want some loamy soil."
3. Land-leveling plays an important role in total operations — the land they work together and their separate operations. "It's hard to do a lot of land-leveling on rented acres," Senter says. "But it's part of our irrigation plan. We have three land-leveling units we use across the board." They say if farmers can afford it, they should spend the money to do the best land-level job they can. "The cheap way is always the worst way," Holthouse says.
4. Self-sufficiency streamlines the operation and saves money, Senter and Holthouse say. A cotton gin, on-farm storage and the ability to buy crop materials in bulk and haul them themselves save time and money. The economy of scale also offers an advantage buying equipment.
5. Harvest efficiency over total acreage and multiple crops — rice, cotton, corn and soybeans — puts a premium on scheduling. Data collected on-the-go from satellite imagery, equipment monitors, and personal observation keep combines and cotton pickers moving without favoring one partner over the other. "We sometimes start planting and harvest separately and then come together to finish up," Senter says.
6. Labor, Holthouse and Senter agree, may be the one factor that continues to baffle them and other farmers. "It's one area where we don't know what to do," Holthouse says. They can't compete on wages with nearby steel mills. "Margins are too tight to afford the labor we need," Travis says. Running modern equipment and performing other farm chores demands workers who understand agriculture technology.
They say two key employees, Lee Malone, farm manager, and Chase Chafin, Holthouse's nephew who manages harvest equipment, are exceptions and critical to the operation. Holthouse and Senter wonder if agriculture will look to robotics in the near future.
They say taking on the 4,500 acres together allows each to play on individual strengths. Senter's computer skills, for instance, help with scheduling, planning and analyzing data they use to make crop decisions.
Holthouse says he is "more aggressive with harvest. Travis is more aggressive with planting."
Combined, they complement each other to make an efficient farm team.
Subscribe to receive top agriculture news
Be informed daily with these free e-newsletters
You May Also Like
---