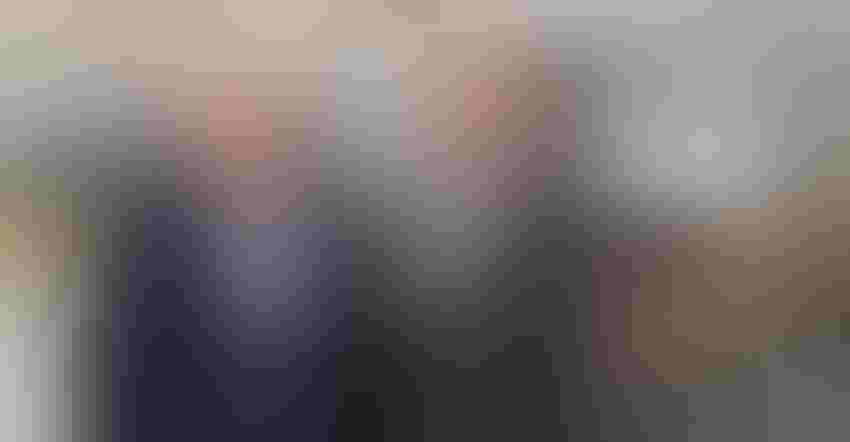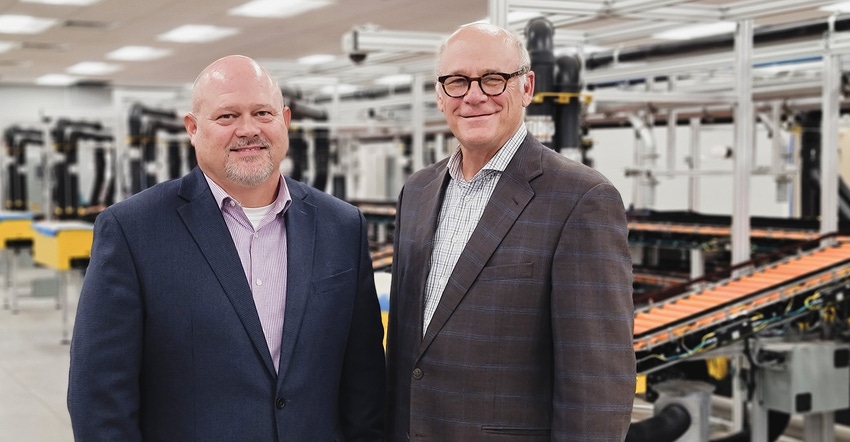 Darryl Earnest, left, and Billy Breedlove. Earnest is the USDA-AMS Cotton & Tobacco deputy administrator and Breedlove is the vice chancellor, Facilities Planning & Construction, Texas Tech University System.
Shelley E. Huguley
In July 2019, the USDA Agricultural Marketing Service Cotton and Tobacco division held a groundbreaking ceremony on the Texas Tech University campus to announce the construction of a new classing complex. What started as a ceremonial dig in the dirt has evolved into a 30,000 square feet, state-of-the-art cotton classification complex nearing completion.
Since April, Farm Press has been visiting the Lubbock USDA complex, receiving tours and creating videos with updates provided by Deputy Administrator Darryl Earnest.
"It's changed a lot in here since we started. I know the first couple of videos we did, we didn't have anything in here and we had a lot of equipment stacked," Earnest says of the classing lab. "I think in the last one, they were putting the automation together. Now it's all put together, so everything is intact. We don't have the instruments themselves. We're going to bring those over when we finish classing at our current facility.
"A lot of the pieces are coming together."
Most of the building exterior is complete, while the interior work is fixated on the details, Earnest says. "We're still a couple of months away from being complete but we're getting closer than we have been. It's really starting to shape up like a finished building."
One-of-a-kind
Unique to this classing office is the partnership between USDA and Texas Tech University. Tech is providing the land, while USDA is building the complex. Earnest says the partnership is working well, crediting their three-pronged approach:  Education, research and employment. "That fits well into what Tech's trying to do with a lot of the work that they do with their textiles and other research," he says.
Texas Tech is one of the leading universities for fiber and cotton research and education, says Billy Breedlove, vice chancellor, Facilities Planning & Construction, Texas Tech University System.  "We're sitting in one of the largest cotton belts in the United States. We have a lot of things here that are advantageous for our university, for you guys (USDA), and for our research. And we look at it as a great partnership."
Breedlove and his team are responsible for project management, inspections, quality assurance, and quality control. "That's what we do every day," Breedlove says.
Student contributions
Working with university students is something Earnest's been working towards for years, "to benefit from what the students can bring to what we do and the research aspect," he says. "So, when we knew we were going to build this facility in Lubbock, it just made sense and fit well with what Tech does and their program."
Earnest says he appreciates the partnership and coordination with Texas Tech President Lawrence Schovanec and Chancellor Tedd Mitchell and staff to make this project happen. "We've been working on the construction for a year-and-a-half and we're close to being finished," he adds.
Because the complex is located on the Texas Tech campus, it is being built according to Tech's standards. "We have our own architectural engineering team that is also involved, so we've had a lot of folks putting eyes on this project from the very beginning to make sure that every aspect of it is done correctly," Earnest says.
"For all of it to work the way it needs to, it has to be installed correctly. It's a one-of-a-kind-- it's not a typical building. So, we needed to make sure that the various entities that were putting in equipment and building massive HVAC systems, understood how it needed to be put together because it all has to fit really well together."
Hurdles
Project leaders have been challenged by COVID-19, the supply chain, and labor shortages, Breedlove says. "There's still a few items missing just because it's probably on a boat somewhere but we're trying to get those in here and get this wrapped up."
Hands-on training
In addition to classing this region's cotton, Breedlove sees the USDA complex as a learning opportunity for Texas Tech students majoring in anything from engineering to agriculture and various types of research and development. "We've got opportunities for employment down the line, whether they're internships, part-time work or maybe some permanent positions, too," he adds. "But I also think as a student, when you come here and being able to see a world-class cotton classing facility like we're in today, and knowing that agriculture is your background, this is something where you can gain knowledge and see something operate that you don't get to see every day."
The classing office processes about 40,000 samples daily. "That's a lot of samples and material that's at our fingertips here at Texas Tech," Breedlove says.
The complex will also help students already familiar with cotton production to learn how the rest of the supply chain works once cotton leaves the field and gin, Earnest adds. "We're hoping that will resonate with a lot of students."
Upon completion, and once equipment is moved from the existing Lubbock classing facility, a grand opening will be held. "We don't have a set opening date yet," Earnest says. "We're still working toward sometime in early 2022."
PART 1: The Lubbock USDA Cotton Classification Office, located on the Texas Tech campus, is taking shape, Cotton & Tobacco Deputy Administrator Darryl Earnest discusses progress and visits with Billy Breedlove, Texas Tech, about USDA's partnership with the university. @USDA_AMS pic.twitter.com/syC15caGaX

— Farm Press (@farmpress) December 1, 2021
To view previous update videos, click on the following links:
April:
May:
July:
Cotton classing in a Yeti cooler? Well, sort of! Watch this video to learn more! With Darryl Earnest, Ryan Wilkins at the USDA Lubbock Cotton Classification Complex. @USDA_AMS pic.twitter.com/uRqBGTXssP

— Farm Press (@farmpress) July 26, 2021
About the Author(s)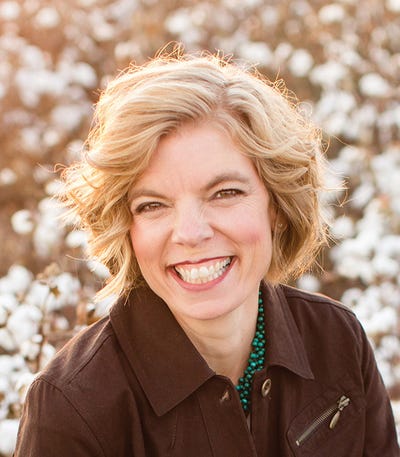 Editor, Southwest Farm Press
Shelley Huguley has been involved in agriculture for the last 25 years. She began her career in agricultural communications at the Texas Forest Service West Texas Nursery in Lubbock, where she developed and produced the Windbreak Quarterly, a newspaper about windbreak trees and their benefit to wildlife, production agriculture and livestock operations. While with the Forest Service she also served as an information officer and team leader on fires during the 1998 fire season and later produced the Firebrands newsletter that was distributed quarterly throughout Texas to Volunteer Fire Departments. Her most personal involvement in agriculture also came in 1998, when she married the love of her life and cotton farmer Preston Huguley of Olton, Texas. As a farmwife she knows first-hand the ups and downs of farming, the endless decisions that have to be made each season based on "if" it rains, "if" the drought continues, "if" the market holds. She is the bookkeeper for their family farming operation and cherishes moments on the farm such as taking harvest meals to the field or starting a sprinkler in the summer with the whole family lending a hand. Shelley has also freelanced for agricultural companies such as Olton CO-OP Gin, producing the newsletter Cotton Connections while also designing marketing materials to promote the gin. She has published articles in agricultural publications such as Southwest Farm Press while also volunteering her marketing and writing skills to non-profit organizations such a Refuge Services, an equine-assisted therapy group in Lubbock. She and her husband reside in Olton with their three children Breely, Brennon and HalleeKate.
Subscribe to receive top agriculture news
Be informed daily with these free e-newsletters
You May Also Like
---