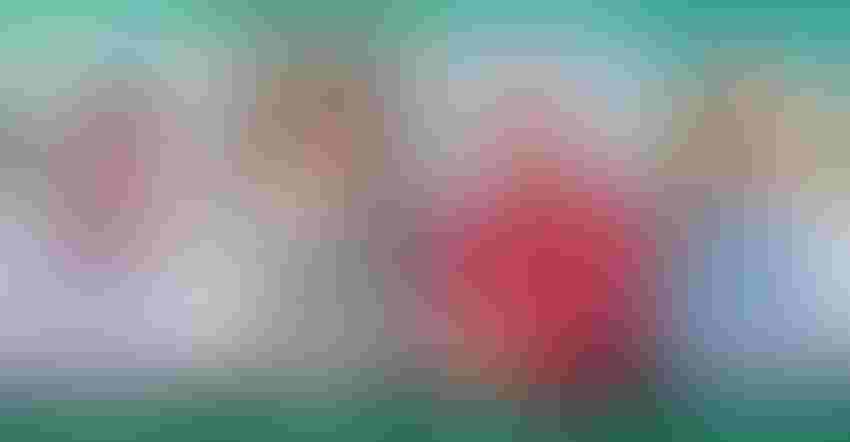 28th Class of High Cotton Award winners.
Farm Press
Producing more with less best describes the management practices of the 28th Class of High Cotton Award winners.   
Farm Press and The Cotton Foundation annually honor High Cotton producers for growing quality U.S. cotton using regenerative practices.   
Nominated and selected from across the Cotton Belt, the 2022 honorees are Southeast- Lee Cromley; Midsouth- John Lindamood; Southwest- Randall Bankhead; and Western- Dan Thelander. 
Southeast 
Lee Cromley cares about the U.S. cotton industry. He has a land-focused approach to producing environmentally and economically sustainable cotton. He's also a dedicated leader for the industry. 
"I can name you many who are more deserving for this," smiled Cromley who farms with his brother, Charley, in Brooklet, Ga.  
The Cromleys grow 2,500 acres of cotton and peanuts in east-central Georgia. The cotton yield goal is 1,500 pounds per acre. "That's what we shoot for, but it doesn't necessarily happen every year," he said.  
See photo gallery, Lee Cromley: Sustainable cotton with dedicated leadership
Another goal is to make the yields with minimum passes. After harvest, the Cromleys destroy the stalks and plant a cover crop. They parked the harrow 25 years ago.  
"After we did that, within three or four years even without cover or without anything else, just quitting with the harrow, we could tell a big difference in the tilth of the soil," he said. "It just got better." 
The only time the land gets disturbed is during peanut digging. Their crop rotation is two years cotton to one year peanut.  
Wes Harris, the Cromleys' crop consultant, began working with the family in the early-1990s. "I quickly realized his farm was exceptional in every standard of production and profitability. … Lee never failed to agree to provide his operation as a platform for applied research plots and tour events. His unselfish cooperation enhanced the ability of Georgia farmers to apply profitable practices to their own operation. Lee sacrificed a significant portion of his time and finances to support these efforts," Harris said. 
Midsouth 
John Lindamood, Tiptonville, Tenn., relies on technology. It's key to the sustainability of his cotton crop and entire operation. 
"I've always said that sustainability is like a three-legged stool," Lindamood said. "You've got to have all three legs, or it just doesn't function." 
It must be sustainable environmentally, socially, and economically.  
"They all complement each other," he said.  "The product, the processes and procedures that we use that are economically viable on our farm are also environmentally sound, looking after our employees, health and safety. Our impact on the community has environmental and economic benefits to us."  
Lindamood began by adopting low- and no-till practices on his farm. He began precision spray practices for weed control early on as hooded sprayers were developed. As Roundup Ready cotton varieties were developed, he advanced his no-tillage practices.  
Today, he does a limited amount of tillage and runs a minimally invasive tool called a Turbo-Till working the soil anywhere from 1 inch to 2 inches. 
See photo gallery, Lindamood 2022 winner of High Cotton Award from the Delta
"It doesn't turn the soil," he said. "It doesn't turn up fresh weed seed. It doesn't disturb the integrity of the soil or the biological processes going on. It's been the best piece of equipment I've invested in the last 20 years." 
Lindamood farms 4,800 acres of cotton, wheat, corn and soybeans in Lake County.  
"Any year we'll be anywhere from 25% to 50% in cotton," he said. "I like to be more biologically diversified. This year we had 2,000 acres of cotton and next year we'll probably be back up to 2,500, maybe 3,000, depending on cotton and commodity prices." 
Since 2016 Lindamood has adopted Phytogen's Enlist varieties of cotton in his operation. For the last six years, they've averaged 1,250 pounds of cotton.  "We're gonna exceed that average this year." 
Southwest 
Randall Bankhead, Roscoe, Texas, credits his cotton production success to what he calls the "village effect." There's no silver bullet; instead, various practices and people who make it work.  
Bankhead uses 12-species cover crops and no-till to produce dryland and irrigated cotton on his Texas Rolling Plains farms. He says his family is an essential part of his success. "It takes all my family members working together," he says. "We work hand-in-hand." 
The 5,000-acre family operation is 50% dryland and 50 % irrigated by 30 center pivots and some drip irrigation. Crop rotation and cover crops are key to their productivity. 
"Our hope is to keep a green plant growing on the soil as many months of the year as we can," said Bankhead.  
See photo gallery, Relationships, cover crops, no-till fuel Bankhead's cotton production
Bankhead doesn't see his farming practices as sustainable but regenerative. "Sustainable to me is you're doing what you've always done. You're sustaining yourself. I like regenerative because it feels like you're growing something, adding value. You're increasing your soil health."  
Bankhead and his son-in-law Chase Schuchard plant about ten varieties of DeltaPine and Dyna-Gro cotton seed and 400 to 500 acres of DeltaPine seed blocks. 
Another key to their cotton production is their partnerships with their agronomist and commodity businesses and organizations such as the Central Rolling Plains Co-op Gin, Rolling Plains Cotton Growers, and National Cotton Council. 
Bankhead is farming land that's been in his family for more than 100 years. While that's special, he's proudest "that we've been able to adapt with the changing farming practices, the changing environment. 
"Being adaptive has been important in the past, and to me, it's even more important going forward." 
Western 
Water scarcity has long driven Western cotton farmers to find more efficient ways to grow their crop. For Dan Thelander in central Arizona, he's maximized his conservation about as much as he can on his 1,200 acres of Upland cotton. Future cuts will come with fallowing. 
Thelander's ability to maximize his water efficiency through drip irrigation systems has allowed him to achieve six-bale yields over the years. Thelander's ability to add yield comes from his long growing season, which can run from March to December. 
In partnership with his son Will Thelander and nephew, Todd Thelander, Dan managed to produce high yields on fixed water supplies in his desert climate from the Central Arizona Project. His ability to produce higher yields on stable irrigation district deliveries remains a key to his success.  
Protecting soil moisture through minimum till helps. The climate also lets him take advantage of the extended growing season, planting earlier and harvesting later because of the microclimate and terrain. His cotton ground, located in Pinal County, sits on the high side of the surrounding terrain, extending his growing season. 
"It allows us to make a bottom set and a true top set," Dan said. 
See photo gallery, Water efficiency key to Thelanders' success
Thelander produces cotton for lint and save-seed contracts. In 2020 Thelander grew several NexGen varieties, and a variety by Deltapine and Dyna-Gro. 
Not all his cotton is grown on drip irrigation. Some is still grown in furrows. He admits his highest yields come from his drip-irrigated crop. 
The 2022 High Cotton winners will be recognized Feb. 25 at the annual High Cotton Breakfast. 
Subscribe to receive top agriculture news
Be informed daily with these free e-newsletters
You May Also Like
---