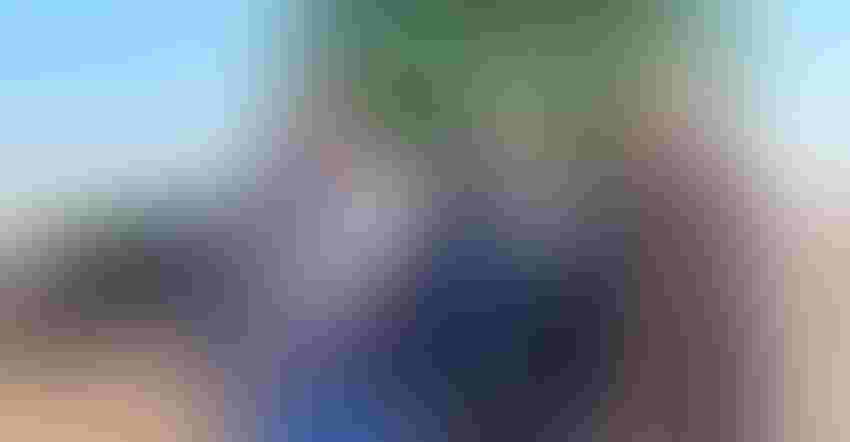 Floydada, Texas, producers, father and son, Eddie and Eric Smith, and farm foreman Clint Bigham, Lockney.
Shelley E. Huguley
A "good" cotton crop coupled with high prices is allowing Southwest cotton producers to catch their breath after repeated seasons of drought and depressed prices.  
Floydada, Texas, producer Eddie Smith, who is completing his 48th season, says cotton can fool you but it looks like he and his son Eric Smith may have some three-bale cotton.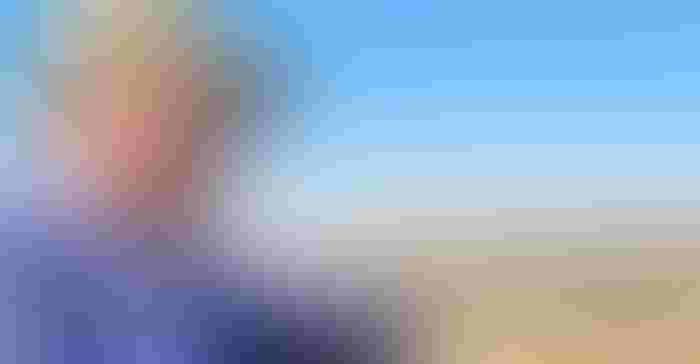 Eddie Smith, Floydada, Texas, is harvesting his 48th crop. (Photo by Shelley E. Huguley)
"It can look better than what it is," he says of his drip-irrigated cotton. "But we feel like we've got a good crop and with the addition of the price run-ups, we're very thankful. It gives us an opportunity to catch our breath." 
Smith says their dryland acres are pushing a bale to a bale-and-a-half. "There will be some better than that and some that won't be to that level. The irrigated is running anywhere from, well, we haven't gotten to our better cotton yet, but it's hopefully going to be pushing two-and-a-half to three. We've stripped some two-and-a-half already." 
See, New cotton stripper reminiscent of grower's two-row stripper
Tough start 
What Smith sees in his field today isn't what he imagined when the season started. "21 was a tough year in the beginning because it was so dry early on. We were looking at having a marginal crop at best on cotton, and the wheat wasn't even going to exist. But the good Lord blessed us. We started getting rains in May that just turned (things around), completely went from one side to the other. We were very blessed with a good moisture.  
"Wheat I thought we'd never even harvest, I ended up putting a combine in it. Now, it was a late harvest. We're normally finished harvesting by the 20th of June and that's when we were starting this year. But it was an exceptional crop for as light as it was, and it was only because of the rains that came." 
The 2021 cotton crop had them just as worried. "We went ahead and did our normal fertilization schedules, just trying to be prepared if we did get to rain, which we were blessed with," Smith says. "So, from that, the 21 crop really started off well."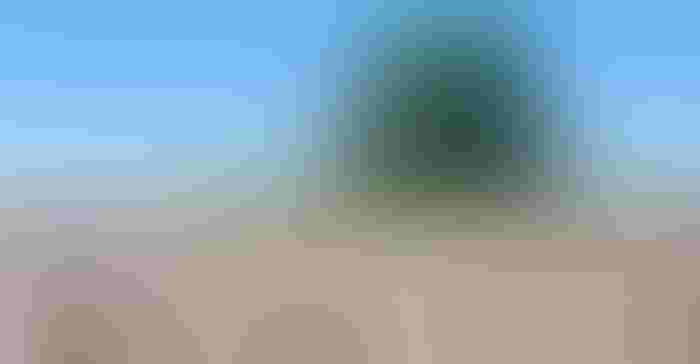 Smith Farm foreman Clint Bigham strips the Smith's drip-irrigated cotton with the new John Deer CS770. More to come about what the Smiths and Bingham think about the new stripper. (Photo by Shelley E. Huguley)
Hailstorms damaged and even wiped-out fields south and north of the Smith's but he says the storms missed their farms. "The crop really had a good summer. It was a little cooler than normal and the crop was further behind than I thought. We had such a good August and September, timely rain in the middle of August that really pushed the crop. Then we had a hot, dry September, which really made for good cotton.  
"So, we've been blessed this growing season. And now with the drier weather during harvest, that's a big bonus to help get us this crop out in a timely manner." 
Looking forward 
As Smith looks ahead, he, like many, is concerned about the sluggish supply chain and the sharp increase in inputs. "I think we're just at the apex of that," he says. "We're really going to see some challenges from that going forward." 
Recently, Smith bought a transport load of diesel. "It cost me double what it did a year ago. We're very concerned about all the other fertilizer run-ups. Just the fuel run-ups we're seeing could really squeeze down our margins. Even though we're seeing price run-ups or cost run-ups, it's the same old thing of cost-price squeeze, so I think we've got to be very careful going forward, keeping our costs in mind." 
See, John Deere's CP770: Improved speed, safety and comfort
The Smith's management plan? "Be more frugal," Smith says, "and try to be more timely with our inputs, to just use them when we need them."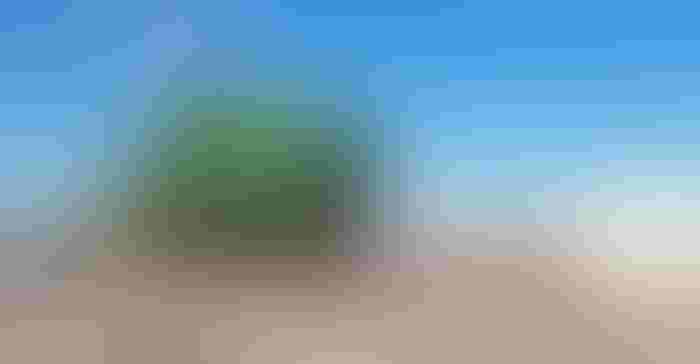 Bringing in the harvest one round bale at a time. (Shelley E. Huguley)
Their production decisions will also be influenced by the markets and the weather. "We'll wait to see what the market's going to do and the weather. We're in a dry pattern now, so it's not much different than it was a year ago. We been so dry that none of our dryland wheat has come up. So, we're going to have to be very careful. We're nearly 99% electric, so we know those costs will be accelerated or much more than they have been." 
Subscribe to receive top agriculture news
Be informed daily with these free e-newsletters
You May Also Like
---