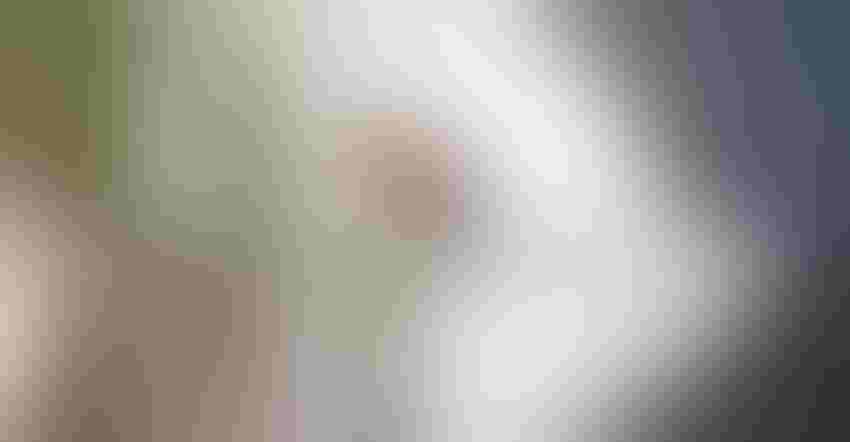 UTIA researchers are conducting ongoing evaluations of new technology that could improve control of the two most damaging insects in Mid-South cotton production — tarnished plant bugs (pictured) and thrips.
UTIA-Scott Stewart
Winter is an excellent time to bone up on the latest university recommendations and new insect management products and practices. Several university cotton entomologists offer suggestions on how growers can optimize their off-season learning time.
EARLY ALWAYS BETTER
For thrips control, most seed companies offer an imidacloprid-based seed treatment on their seed. The addition of acephate enhances thrips control, says Mississippi State University entomologist Angus Catchot. "Our first choice is acephate sprayed in-furrow, or secondly, added as a seed treatment over the top of the imidacloprid.
"Additionally, AgLogic 15G aldicarb has made a little headway into Mississippi, and has performed very well. One advantage of aldicarb is that you're picking up nematode control in addition to thrips control. Growers who have granular boxes might want to consider using it, especially on their nematode ground."
Mississippi will see more VIP cotton varieties planted in 2019 than in 2018, Catchot says. However, based on yields of some of the dual gene cotton, there still will be a lot of that cotton planted. "So, from a bollworm control standpoint, on any WideStrike, TwinLink, or Bollgard II varieties that we'll have in the market in 2019, we need to utilize our egg threshold, which is 20 eggs per 100 plants. On any of our Bollgard III, WideStrike 3, or TwinLink Plus varieties, we'll utilize either a 4 percent small larvae threshold or a 6 percent damage threshold to trigger applications. Remember, when treating eggs for bollworms, early is always better than late. We've been extremely successful when we time egg lays rather than larvae for applications."
Plant bugs ranged from horrible to moderate across the Delta in 2018, Catchot says. "Growers need to remain vigilant and use the right products for plant bugs, while managing control and costs for bollworms. "We need to remember to rotate modes of action and use the right materials for plant bug control. Don't let your plant bug control suffer because you're having to deal with the high cost of treating bollworms."
WINTER MEETINGS
Oklahoma State University entomologist Jerry Goodson encourages cotton growers to attend as many winter meetings as possible, and to subscribe to several newsletters, both in-state and out-of-state. "Our newsletter provides a lot of good insect information," he says, "and the Texas Panhandle offers several excellent newsletters. Everything that happens in Texas usually happens in Oklahoma three or four weeks later.
"Producing cotton is a 12-month job now — it's not something that you won't worry about until May. You need to be aware of where you're farming, and what part of the country you're farming in. Stay informed, not only about things happening in your state, but also in adjoining states.
"In our southwest corner, the I-40 corridor, I tell growers they have a week before east Texas insects will be there, and our northwest growers have two weeks before insects will migrate up there. And if you have adjoining corn fields, watch for insects migrating from them into your cotton fields — insects don't respect a barbed wire fence."
Accurate and timely information is especially critical to new cotton growers, Goodson says. Oklahoma will have a lot of new cotton acreage in 2019, and many first-time cotton farmers. "Don't believe coffee shop talk," he says. "This isn't your grandfather's cotton — it's almost like a new crop itself. If you're a new grower, it will pay you to hire an independent crop consultant.
"During the season, we quickly go from thrips to fleahoppers to bollworms, and growers need help keeping up with what's in their fields. We have several excellent consultants in the state. After you check them out with their existing clients, line them up this winter because they'll probably have all the acres they can handle by May.
"Smart phones can keep you updated on what's going on, and can help you identify insects. If you come across an insect you're unsure of, you can photograph it and send it to us or your consultant for quick identification. Farming cotton is all about information — the more information you have, the better decisions you can make."
CHANGING RECOMMENDATIONS
Clemson University entomologist Jeremy Greene notes that university pest control recommendations are updated yearly, and urges growers to continue refreshing themselves annually on new pest thresholds and control strategies.
"Attend winter scouting schools and workshops to help you properly identify insects," he suggests. "Know what you're spraying. Know how to identify the different caterpillar species, the difference between a predaceous stink bug and a plant-feeding stink bug.
"And consider using an independent crop consultant. I often say that a crop consultant's per acre fee equals about the cost of an insecticide application — the product and application cost. If a consultant saves you just one application, he's paid for his services. It's money well invested."
Greene says that Bt technology is transitioning to three-gene cotton with VIP. "In order to protect the VIP protein, farmers who also grow corn need to make sure they plant a non-Bt corn refuge. Here in the South, growers are required to grow 20 percent of their corn acres in a non-Bt hybrid. This step is essential to preserving the VIP technology in cotton."
BIOLOGICAL CONTROL GUIDELINES
The University of Arizona will release guidelines this winter on precisely how to measure and make use of information on biological control agents present in the field, says the state's entomologist, Peter Ellsworth.
"We have several biorational options to control target pests," he says, "including Bt cotton for caterpillar control, insect growth regulators, and other selective materials for whitefly control, and Carbine and Transform for lygus control. We promote conservation biological control through the use of these selective tactics.
"We're releasing a set of measurements with which growers or pest managers can count the number of one or more of six different predators in sweep samples, and then compare those numbers to threshold levels to determine whether biological control is functioning well enough to delay whitefly sprays or to accelerate them. It's a refinement to our standard threshold that should give growers greater confidence and precision in their pest management decisions, ultimately saving them money."
The USDA has declared the pink bollworm eradicated; however, growers are urged to continue using the good IPM practices that made the monumental achievement possible, Ellsworth says.
"We grow cotton in an environment where the crop can easily be perennial. We need to continue using IPM practices that include the host-free period that prevents the establishment of pink bollworm as well as many other pests.
"For example, in addition to preventing a reinvasion of pink bollworm, a host-free period helps prevent diseases such as cotton leaf crumple. Normally, this virus, which is vectored by whiteflies, is not an economic threat because it comes in so late in the season.
"But, if we don't prevent volunteer cotton from growing in areas such as field edges, all we're doing is creating a virus reservoir that will lead to earlier transmission of cotton leaf crumple virus, which can be devastating. Maintaining cultural controls like plow-down and host-free periods help all our pest management systems."
Subscribe to receive top agriculture news
Be informed daily with these free e-newsletters
You May Also Like
---