'Georgia farmer's daughter' Krysta Harden leaving USDA
'Georgia farmer's daughter' Krysta Harden leaving USDA
"At a time when too many people in Washington seem to be shouting at one another, she knows how to build bridges and put everyone at ease. Talking to Krysta feels like sitting down with a lifelong friend. She is a farm girl at heart, and USDA was a better place because of it. I will miss her, and I wish her the best," said NCGA's Chip Bowling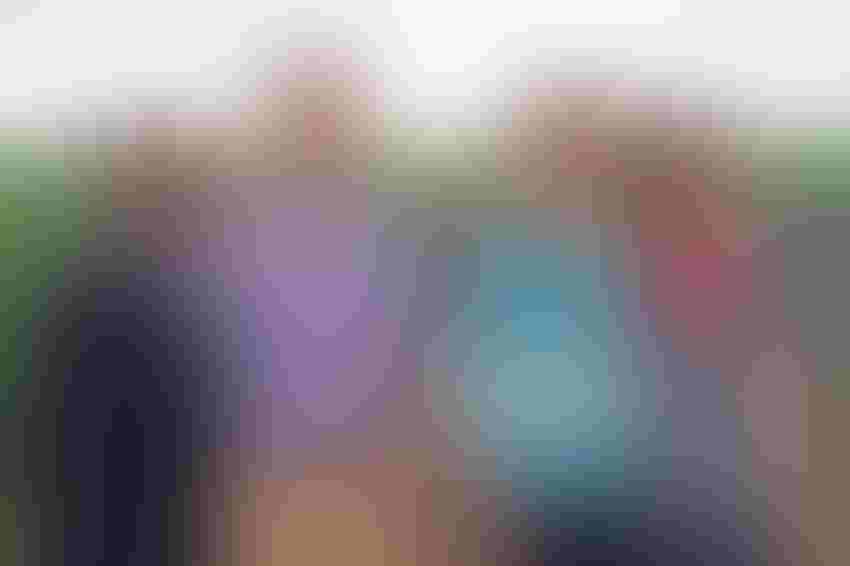 <p>Karis T. Gutter, left, former deputy undersecretary for farm and foreign agricultural services at USDA; Patrick Johnson, farmer from Banks, Miss.; Deputy Secretary of Agriculture Krysta Harden; and Emily Johnson, partner with Patrick in MP Farms, pose on the edge of a corn field in Tunica County, Miss. Harden announced she is stepping down at USDA at the end of February.</p>
Deputy Secretary of Agriculture Krysta Harden announced she is stepping down from her post at the end of February. Michael Scuse, undersecretary for farm and foreign agricultural services, will become the acting deputy secretary.
Harden, who grew up the daughter of a Georgia farmer, has been one of the longest-serving deputy secretaries, much like her boss, Agriculture Secretary Tom Vilsack, who became head of USDA shortly after President Barack Obama took office in 2009.
"Today is bittersweet for me as I announce my decision to step down as deputy secretary at the end of February," she said. "I am proud of what our department has accomplished since 2009 to bring economic opportunity that will help rural America thrive for generations to come. And although I will not be part of the many great and transformational things USDA will accomplish over the next year, I am more committed than ever to USDA's mission.
"We have worked hard over the past seven years to make USDA truly the People's Department, as demonstrated by this administration's commitment to bring young people, women, veterans and equal access to the forefront of food and agriculture policy."
Harden, a former congressional staff member and lobbyist for the American Soybean Association, began her service at USDA in the Office of Congressional Relations, where she helped shepherd the Healthy, Hunger Free Kids Act and securing funding from Congress to help resolve outstanding claims of discrimination by African-American farmers.
'New path toward brighter future'
"Each achievement charted a new path toward a brighter future for our country and symbolized USDA's deep commitment under the Obama administration to create opportunity for all Americans," she said.
She also led the implementation of the Agricultural Act of 2014. "The farm bill has an impact on every American and millions of people around the world, and I was grateful to play a small part in helping to achieve important, meaningful reforms for the future of agriculture through its implementation.
"More than anything, I am grateful to have traveled across the country to visit with young people, women, and veterans, interested in farming and ranching. I take comfort in knowing today's USDA is there to support their dreams."
"Krysta Harden shares a special bond with rural America and agriculture that is deeply rooted in her family history and personal values, embodying the mission of USDA in a genuine way," Vilsack said. "I greatly appreciate her many years of service to the Obama administration and to USDA. But more than anything, I am grateful for her friendship, sound judgment and leadership as a key member of my team since 2009."
As a member of a farm family, "Krysta used her position as Deputy Secretary to explain the opportunities and challenges facing U.S. agriculture," Vilsack noted. "To address the graying nature of farming, Krysta led the development of USDA's Beginning Farmers website, an interactive tool to help anyone develop a career in farming and ranching.
Women in Agriculture Network
"Understanding that women make up about 50 percent of the agricultural labor force worldwide, yet own and operate a disproportionately small number of farms in the United States, Krysta founded the department's Women in Agriculture Mentoring Network to support and engage women across all areas of agriculture and to foster professional partnerships between women with shared goals."
Less than a year later, he said, the Women in Ag Network has more than 1,000 members, and growing.
Gary Adams, president and CEO of the National Cotton Council, said that during her tenure at USDA, "Harden has helped contribute to U.S. agriculture's overall health and worked tirelessly on the implementation of the 2014 farm law."
"Deputy Secretary Harden described today as bittersweet. We could not agree more," said Chip Bowling, president of the National Corn Growers Association. "The NCGA has had a long relationship with her, before and during her time at USDA. We are sad to see her go, but we wish her well in her next chapter and hope to work with her again in the future.
"On a personal note, I appreciate Deputy Secretary Harden for her no-nonsense, common-sense leadership. At a time when too many people in Washington seem to be shouting at one another, she knows how to build bridges and put everyone at ease. Talking to Krysta feels like sitting down with a lifelong friend. She is a farm girl at heart, and USDA was a better place because of it. I will miss her, and I wish her the best," said Bowling.
'One-of-a-Kind' public servant
"Krysta Harden is the kind of public servant that comes along only too rarely," said American Soybean Association President Richard Wilkins. "She has blended a personal background, professional knowledge base, and exceptional passion for agriculture into a career that has served farmers at every level. As deputy secretary, she has been a visionary leader and a willing partner for soybean farmers across the country as we work to contend with the changing realities of our market, both here in the U.S. and overseas.
"We are of course sad to see her go, but happy to know that she will continue her service and her outstanding advocacy for farmers and rural Americans wherever she goes. We thank her and wish her nothing but the best of luck."
To read Deputy Secretary Harden's statement, go to http://content.govdelivery.com/accounts/USDAOC/bulletins/1319f3d
Subscribe to receive top agriculture news
Be informed daily with these free e-newsletters
You May Also Like
---