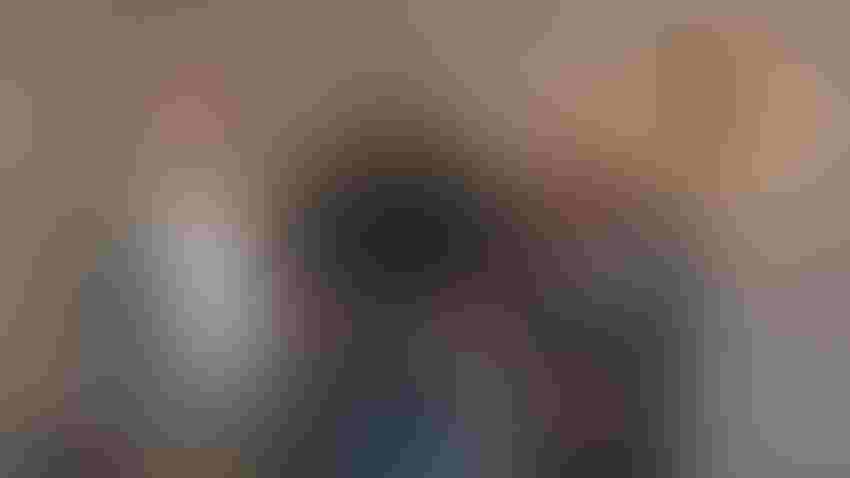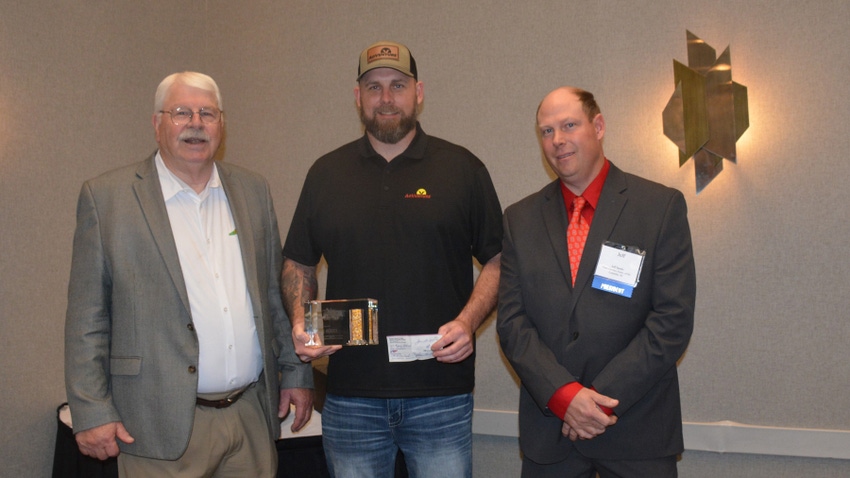 Russell Hedrick, a Catawba County farmer, was honored at the North Carolina Commodities Conference at the Sheraton Imperial Hotel in Durham on Jan. 12 for his world record dryland corn yield of 459.1 bushels per acre. Joining Hedrick are North Carolina Agriculture Commissioner Steve Troxler, left, and Jeff Sparks, president of the North Carolina Corn Growers Association and a Tyrell County farmer.
John Hart
At a Glance
•Hedrick planted AgVenture 9916.

•Beat previous record of 442.14 bushels per acre.

• Hedrick focused on availability of fertilizer to the plant.
For the first time, a corn farmer has achieved a dryland yield of more than 450 bushels per acre, and that farmer is Russell Hedrick of Hickory, N.C.
Hedrick was honored for his accomplishment at the North Carolina Commodities Conference Jan. 12 at the Sheraton Imperial Hotel in Durham. Hedrick's world-record dryland yield of 459.1 bushels per acre was achieved in 2022 with full-flex corn variety, AgVenture 9916.
At the meeting, North Carolina State University Extension Corn Specialist Ron Heiniger said that nobody has ever achieved a dryland yield higher than Hedrick's 459.1 bushels per acre, noting that many corn experts believed a dryland yield of more than 450 bushels per acre was impossible. Hedrick beat the previous record of 442.14 bushels per acre set by the late Manchester, Iowa, farmer Francis Childs in 2002.
Hedrick, a first-generation farmer, farms in Catawba County in the foothills of western North Carolina, between the Appalachian Mountains and the Piedmont Plateau.
Of course, the question is "How did Russell Hedrick do it?"
"We started this journey five years ago when Richard Linton, the previous dean at N.C. State University and now the president of Kansas State University, challenged us to push our yields to see what was possible in our state, chasing 400-bushel corn," Hedrick told Southeast Farm Press at the conference.
Hedrick said he focused not just on soil fertility, but on the availability of fertilizer to the plant.
He planted a cover crop mix that offered nutrient availability, weed suppression and moisture conservation. The plot was zone tested and the samples were sent to Regen Ag Lab to have a Haney Soil Test run. His regenerative farming practices also included no-till.
His actual applied nutrients totaled 310 pounds of applied nitrogen, 140 pounds of phosphorus, 40 pounds of potassium and 100 pounds of sulfur. Hedrick also applied boron, zinc, molybdenum, nickel, cobalt, humic acid, fulvic acid, and sugars in a precision application.
His seeding rate was 45,900 seeds per acre, planted in 30-inch rows. The plot was planted on April 29. Hedrick said the flex variety, AgVenture 9916, made a difference.
"We like a good flex variety," he explained. "We try to shoot for 10 bushels per 1,000 ears. That's a really good flex variety. We planted on time for when you should plant corn. We were shooting for about the end of April.
"We never lacked sunshine or rainfall. We really kept on top of our pest management and insects. We've been using sugars now for seven years.Being in that field every day or at least every other day, making sure the crop was growing good, it had everything that it needed, and then we were just blessed with enough rainfall. We got good rain from the first of July to the end of September all through grain fill."
Hedrick said having extra organic and improved water holding capacity helped with stress management.
"I think one of the biggest issues that we fight anywhere in North Carolina as farmers is that we are about 10 days away from a drought. With 1% organic matter increase, we can hold 27,000 gallons more soil moisture. That's an acre inch, so if our corn is using a quarter inch a day, that gives us four more days without drought stress. The farm we grew this corn on was right at 8% organic matter. Our state average is probably one 1 to 1 ½ %.
"When you go out into a field and pull ears and weigh them, and those ears weigh over a pound, that's a really heavy ear. To be able to use the biology in the soil that most farmers never think of to make nutrients available to make a crop really has changed our operation since we started this journey."
Hedrick said his cost of producing the record-breaking corn yield, including seed, fertilizer, hauling, and other costs, was about $1,050 an acre. "At $8.50 a bushel corn, our net was just a little over $3,000 an acre."
At the meeting, Heiniger noted Hedrick essentially used the practices all good farmers use to achieve good yields: he made sure the crop got off to a good start and aimed for uniform emergence and growth. Importantly, Heiniger said nutrients were available to the crop all season, not just at layby time, but also at VT.
"He kept the crop clean of disease and extended the green leaf period for as long as possible," Heiniger told Southeast Farm Press. "I think the other factor that helped is he was using a field that had been in pasture or basically under cow manure. It's land that hasn't had compaction with good drainage, all of the characteristics of soils you really think about when you think about getting more water through the plant and getting those kinds of high yields.
"It's a combination of things. The other thing that actually played to his advantage is it was drier overall, so he didn't have the issue with flooding or too much rain or saturated soil and that played into his high yield."
Interestingly, Hedrick also used drones to apply fungicides.
Also, by using a flex hybrid, Heiniger noted Hedrick was able to flex the number of ears on the corn plant, with many plants having two to three ears. Additionally, Heiniger said Hedrick planted at a very high population rate of 45,900 seeds per acre which helped.
"Russell is a good manager. He's a student of the crop," Heiniger said.
Subscribe to receive top agriculture news
Be informed daily with these free e-newsletters
You May Also Like
---