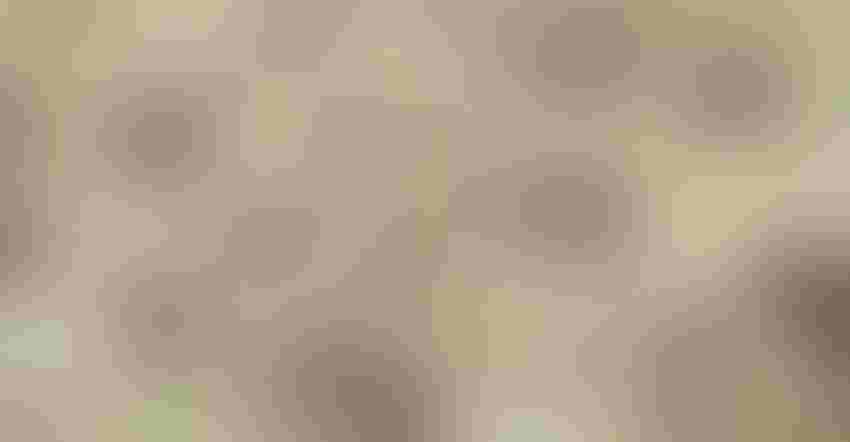 WATCH RELATIVE HUMIDITY: Crop consultant Missy Bauer believes relative humidity during July may be a big factor in whether tar spot develops in any given year.
Ed Zaworski, Bugwood.org
Ask John Bauman about tar spot before you decide to ignore the corn disease. "We had seen it in earlier years, but in 2021, by the time we saw speckling, it was on its way," says Bauman, a farmer in Kendallville, Ind. "We realized after '21 that it was such a big deal that we bought our first high-clearance sprayer."
So, where did tar spot come from? How do you identify it? Can you predict when it might develop?
Related: Tar spot tops corn growers' list of concerns
University experts, farmers and AgReliant Genetics researchers answered these questions at the recent AgReliant Tar Spot Summit.
Origin. Tar spot, caused by the fungus Phyllachora maydis, was first documented in Mexico nearly 120 years ago, explained Christian Cruz, assistant professor of botany and plant pathology at Purdue University. It spread to Central America and South America soon afterward.
Darcy Telenko, Purdue Extension plant pathologist, noted that tar spot was first identified in the U.S. by the Purdue Plant and Pest Diagnostic Lab in 2015. The first large outbreak came in 2018, followed by another strong outbreak in 2021.
Identification. If black spots appear on corn leaves and won't rub or wash off, it's likely tar spot, said Missy Bauer with B&M Crop Consulting, Coldwater, Mich. "We've seen people mistake fly residue for tar spot and spray too early," she noted. "Make the right diagnosis."
Rod Jurgens, who farms near Hopkinton, Iowa, wishes for a 15-minute diagnosis test like for COVID-19. "You would test a leaf, and either it was there or not," he explained.
Tar spot has a long latent period, meaning it may be at work for up to two weeks before the first tiny black speck appears, said Martin Chilvers, associate professor at Michigan State University. That's one reason why the disease appears to progress quickly.
Cruz and his students are working on potential identification methods based on aerial images from drone flights, hoping to pick up differences in reflected light in affected plants. He sees potential, but it's early.
Prediction. Damon Smith, Extension plant pathologist at the University of Wisconsin, leads development on a predictive tool called Tarspotter. Telenko reported that it was on target in parts of Indiana in 2022, although others elsewhere found it less reliable. Smith said weather conditions play a big role in the app.  
Temperatures that favor tar spot typically fall into the 63- to 72-degree-F range. The disease prefers relative humidity above 75%, with an average of seven hours of leaf wetness daily. Conditions with 10% to 20% foggy days and monthly rainfall totals of at least 5.9 inches are also favorable.
After 2022, Bauer believes relative humidity may be the best indicator of a tar spot invasion. It was high during July 2021 and tar spot was rampant in her area. In 2022, with Tarspotter suggesting infection soon, it only came in late. The difference was that while there was moisture in 2022, relative humidity was much lower during the critical months than in 2021.
Smith concurred that relative humidity was a big factor in '22. He said he will include 2022 relative humidity data in Version 4 of Tarspotter. Bauer suggested following relative humidity as a guide for scouting in '23.
"None of these tools replace scouting," Smith said. "You still need to scout early and often."
Find the free Tarspotter app online.
About the Author(s)
Subscribe to receive top agriculture news
Be informed daily with these free e-newsletters
You May Also Like
---