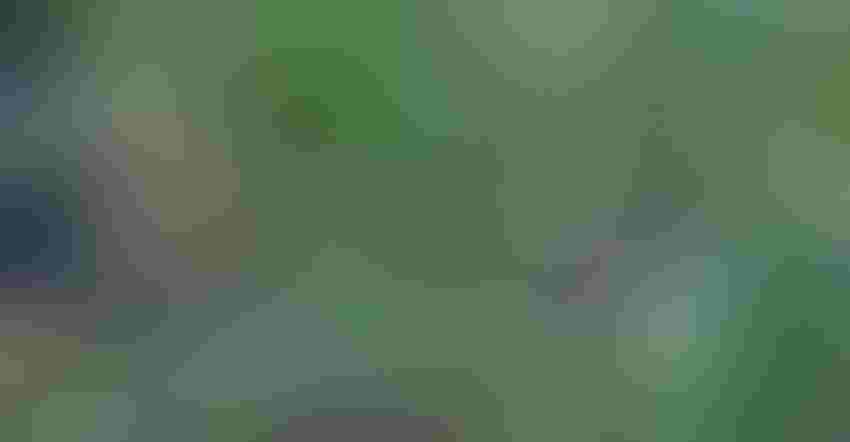 SMALLER: The shorter stalk on the right with the smaller, lower-set ear is pollinating, trying to make kernels. Notice the smaller stalk diameter. Odds are this plant emerged late.
Tom J. Bechman
There always are at least a few corn plants that don't emerge with their neighbors. Some years there are more than others. What happens to those plants as the season progresses?
Dave Nanda says now is a good time to answer that question. During late-season scouting trips, pay attention to how many plants along a row are shorter, smaller in stalk diameter, or producing no ear or a smaller ear. Unless you flagged emergence in one or more areas, you won't know for sure that they emerged late, but odds are that is why they're different than their neighbors.
"You can see the outcome of plants not emerging uniformly at this time of the year," says Nanda, director of genetics for Seed Genetics Direct. "Take note of what these plants are doing when you find them in the field."
Here are three potential outcomes — and all are undesirable:
Smaller ear. The best-case scenario is plants that got a late start still produce an ear, even if it is small.
"Corn plants want to produce progeny, so even a small plant which got a late start will try to produce viable kernels if it can," Nanda says. "The problem is that its neighbors recognized it as a weed. They've been trying to crowd it out and shade it out all season. It won't get as many nutrients and won't produce as big of an ear."
Barren stalk. "This is often the result," Nanda says. "You wind up with a plant which doesn't produce an ear at all. It took nutrients away from other plants all season long, but then didn't contribute anything to yield.
"This is why I often say that a later-emerging plant is worse than a weed. You can take weeds out of corn, but you can't take out a late-emerging plant. So, it competes all year but doesn't contribute to yield."
Unusual ear structure. Sometimes you will find a plant here and there with an ear protruding from the top of the plant where the tassel should be. There may be no husks around the ear. If it has kernels, they are usually small in number.
These plants form for various reasons, but some are late-emerging plants, Nanda says. Something goes wrong in the development process, and an ear ends up in the wrong position. He notes that the bottom line is still the same.
"They don't usually contribute to yield," Nanda says. "This isn't something you want to see in your field."
Subscribe to receive top agriculture news
Be informed daily with these free e-newsletters
You May Also Like
---