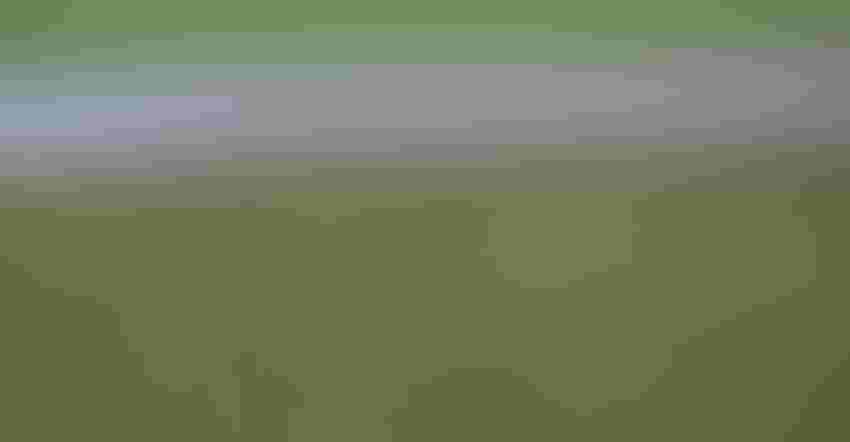 TOO MUCH WATER: Some effects of ponding and flooding in corn are obvious. Others may be harder to anticipate and spot.
Tom J. Bechman
Heavy rains after some corn was up and other corn was just planted led to saturated soils, ponding and even flooding in some cases. Bob Nielsen, Purdue University Extension corn specialist, says he can't tell you exactly how these conditions will affect your fields.
"The consequences of flooding, ponding and saturated soils on young corn depend heavily on the duration of the stress and temperatures," he says. "You really can't tell with certainty the day after the storm whether a ponded area will survive or whether there will be a long-term impact on yield. That's much easier to do a few days later, when you can assess actual recovery of the plants in the field."
What Nielsen can do, however, is point out major factors to consider that could impact plant survival and performance. If you understand these points and add your own observations during recovery, you can reach your own conclusions.
Factors of flooding
Here are some factors to consider. Look for more articles about saturated soils and ponding coming soon.
Degree of submergence. Corn plants that were completely submerged are at higher risk than plants that were only partly submerged before waters receded, Nielsen says. Partially submerged plants can continue to perform photosynthesis to some degree.
Length of time of submergence or ponding. The longer plants are covered with water or stand in water, the higher the risk that plants will die. Most sources indicate soil oxygen is depleted within about 48 hours of soils becoming saturated, Nielsen reports. Plants need oxygen to perform life functions.
Agronomists often tell folks that young corn can survive up to about four days of outright ponding, but only if temperatures are relatively cool. That's typically thought to mean temperatures in the mid-70-degree-F range or cooler. Plants likely won't hang on as long if temperatures are in the mid-70s and warmer, Nielsen says.
Growth stage. Damage due to ponding is more likely if corn is at the V6 stage or younger. That means it has six leaves with fully exposed collars, Nielsen says. "This is partly because young plants are more easily submerged, and partly because the growing point remains below ground until about V6," he explains.
He recommends examining the health of the growing point during recovery if you want to get a handle on whether plants are likely to fully recover. Within three to five days after water receding, split stalks and examine the lower portion of the stem. Look for fresh leaves coming from the whorl. That would be a good sign.
Mud, crust and crud. When water recedes, a dense crust will likely form on the surface. If fields were just planted and not yet emerged, rotary hoeing may help break the crust and allow more plants to emerge, Nielsen says.
If corn was up, mud or old crop residue and crud left on the plants may interfere with photosynthesis. Ironically, the best solution would be another rain to wash off plants and leaves. If mud and crud stays caked on plants, the likelihood for fungal and bacterial diseases increases. They can enter damaged tissue. If flood waters reached up to or above developing ears, bacterial ear rot could be a concern.
Subscribe to receive top agriculture news
Be informed daily with these free e-newsletters
You May Also Like
---