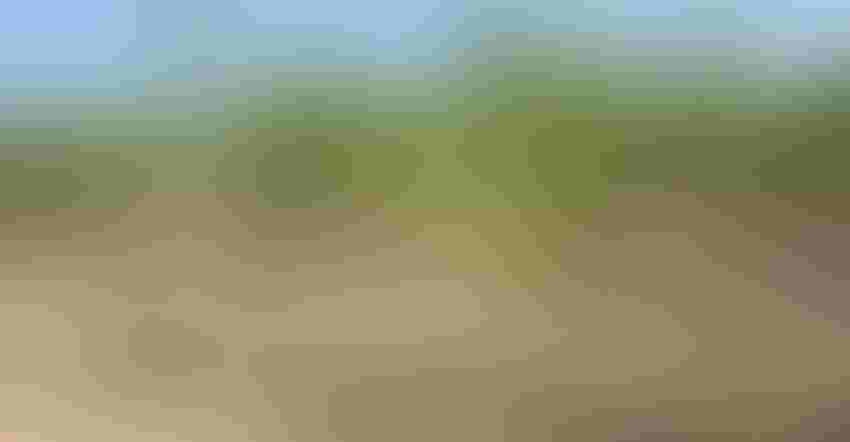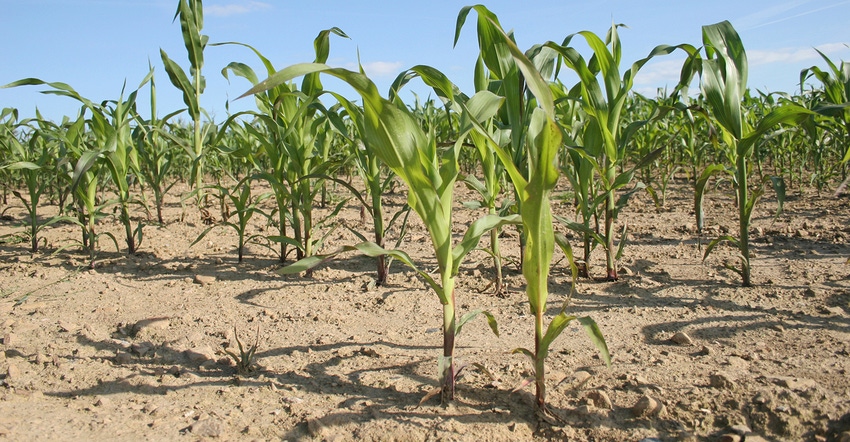 REASONS FOR UNEVEN: It appears a couple of corn plants are missing in these rows. There are many possible reasons why, but here are six common causes.
sodapix/Thinkstock
With the rush of planting season, it is easy to forget about corn and focus on getting acres of soybeans planted. On the other hand, it is critical to scout corn early and determine if this year's planting went according to plan, or what changes need to be made to make next year's corn stand more desirable.
One key area many farmers want to address is uneven corn stands. Here are six things to consider if you notice uneven corn stands this growing season:
Soil moisture. Soil moisture can vary within a field due to differences in soil characteristics. Typically, a 1.5- to 2-inch depth is a good choice for many conditions, but increasing to 2.5 to 3 inches may be necessary in dry soil conditions. Planting shallower than 1.5 inches may increase the risk of uneven germination and emergence due to drying of surface soils.
Soil temperature. Typically, soil takes a longer time than air to warm up. The minimum temperature necessary for corn seed germination is 50 degrees F; below this, threshold corn will germinate and emerge slowly and unevenly. Under ideal soil temperature and moisture conditions, corn emergence can occur in about seven days.
Seed-to-soil contact. Corn kernels need to absorb approximately 30% of their weight in water before germination begins. Soil must be firmed around the corn seed in order for the kernel to absorb moisture quickly and uniformly. Poor seed-to-soil contact can be caused by seed being in contact with residue, improper closure of the seed furrow, sidewall compaction and cloddy soils — all of which may occur when working soil too wet.
Planter calibration. You may notice that up and down the rows you see doubles, skips or even blanks in the row. Have your meters been calibrated? How is your meter singulation?
Early-season pests. With early cool temperatures, our soils will become home to a pest that enjoys early-planted corn for our area. The black cutworm can play havoc on our corn, and possibly adding an insecticide to combat this pest can help lead to better stands.
Weeds pressure. When scouting corn early, look up and down the rows to find those early weeds that are starting to push through. Many farmers use the "soda can" spraying rule: If weeds big as a soda can, it's time to spray. On the other hand, weeds can grow 2 to 3 inches a day in the right growing conditions. Getting a jump-start and spraying early will benefit your corn.
Plan now
Many factors determine a successful corn crop, and success starts with proper seed placement, depth and the overall health of your corn plants. Instead of driving by your cornfields and thinking they are fine, take the time to walk, feel and assess your corn stand. Take notes and develop a game plan to build a successful corn crop each season. If you have any questions while scouting, talk to your local agronomist or seed supplier to help make your scouting a success. Good luck in the upcoming weeks with soybean planting, and enjoy scouting corn early.
Allen is owner of Allen Seed and Service, where he scouts 3,500 acres of corn and 10,000 acres of soybeans annually. He writes from Hawk Point, Mo.
Subscribe to receive top agriculture news
Be informed daily with these free e-newsletters
You May Also Like
---