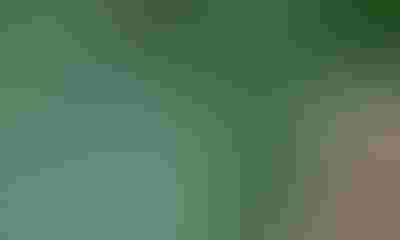 Dave Nanda was impressed with how clean the Crop Watch '15 field looked as far as disease presence when he inspected it a few days ago. He is expecting that if it stays wet. It's likely might be a big disease year.
Crop Watch 7/6: Tasseling is just a few days away in Crop Watch field
He's basing that on the wet conditions in many areas of the Eastern Corn Belt so far. Whether it will be primarily northern corn leaf blight or gray leaf spot remains to be seen. Right now the cooler temperatures than normal plus all the moisture are likely favoring northern corn leaf blight.

Disease lesions: Dave Nanda found a few disease lesions a few days ago in this field, enough to justify watching it.
There is plenty of inoculum around for both it and gray leaf spot, since the diseases were prevalent in many fields near the end of last season, Nanda says. If it warms up and stays warm with ample moisture than conditions would also favor development of gray leaf spot.
While the Crop Watch ';15 field was mostly clean, before Nanda left he did find a few laves, mainly lower leaves, with small lesions of northern corn leaf blight.
"It's enough to keep a close eye on the field," he says. "If conditions remain like this, in two weeks those leaves with one or two small lesions now could be covered with lesions by then."
The trick is how high up the plant the lesions will go. Yield losses are thought to occur primarily if the disease reaches the ear leaf or higher.
Crop Watch 7/3: Look for these things in corn right now
Nanda says it will be worth watching to see fi fungicide is needed. If the pressure is high, even hybrids with good tolerance may not be able to withstand the pressure of good conditions and heavy inoculum. He believes this may be a season where scouting throughout the season will pay dividends.
Subscribe to receive top agriculture news
Be informed daily with these free e-newsletters
You May Also Like
---