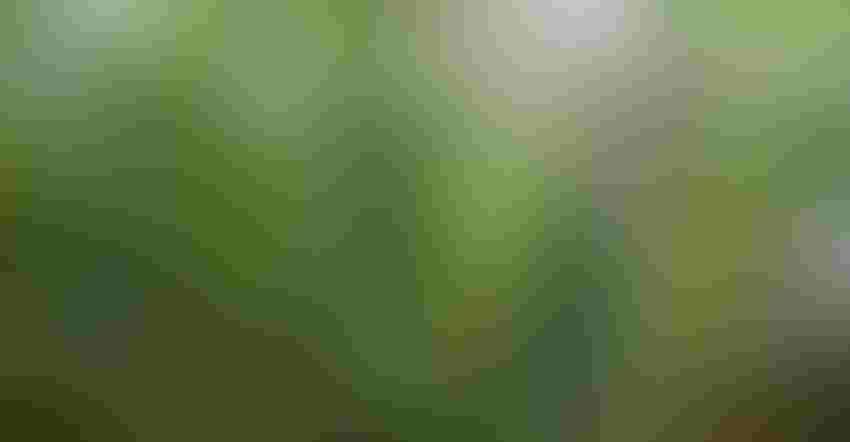 PROTECT EAR LEAF: A farmer recognized for producing high yields makes a statement that causes a veteran plant breeder to rethink plant protection in corn.
Recently I heard Randy Dowdy share his thoughts about producing high corn yields. The Valdosta, Ga., farmer says he became interested in high yields to make money — the more bushels he produces, the lower his cost of production per acre. Trophies and accolades happened to come along with it. The top two winning entries in the National Corn Growers Association 2016 yield contest came from Dowdy's farm, both over 500 bushels per acre.
When Dowdy spoke at AgReliant's headquarters, he explained his philosophies about high yields. One of those revolves around protecting plants from disease. If anybody knows about disease, it's a farmer raising corn just north of the Florida state line.
"You have to protect the ear leaf," he says. "It's the factory for the corn plant that feeds the ear. You need to do all you can to keep it free of disease.
When Dave Nanda, a longtime plant breeder and crops consultant, read the story about Dowdy and reflected on his comments, he realized Dowdy was right.
"We've always talked more about making sure that disease lesions don't get above the ear leaf," Nanda says. "Perhaps we should think about that differently. The ear leaf is extremely important to maintaining its ability to capture sunlight and produce nutrients for the ear. We really need to protect the ear leaf from disease, too."
How do you put this into action? Maybe it's paying more attention to selecting disease-resistant hybrids. Or maybe it's intensifying early scouting efforts so you find lesions before they reach the ear leaf. The message is clear: The ear leaf deserves protecting!
Subscribe to receive top agriculture news
Be informed daily with these free e-newsletters
You May Also Like
---