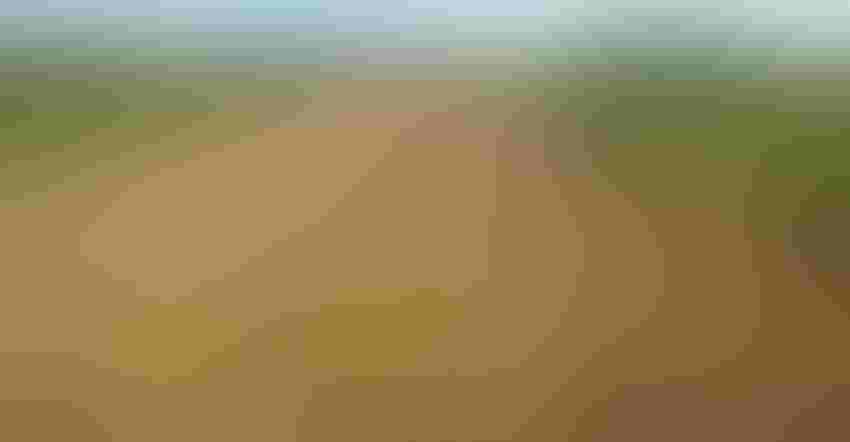 BEAN VARIETIES: In on-farm PFI research, farmer Jon Bakehouse compared cover crops planted in between earlier-maturing soybeans (center strip) and corn to later-maturing soybeans and corn to see if he could improve performance of the cover crops.
Most farmers wanting to fit cover crops in between corn and soybeans generally go with one of two options for seeding: aerial-seed the cover crop into standing corn at physiological maturity or plant the seed with a drill immediately after corn or soybean harvest. For aerial seeding, an airplane or a highboy is used.
Each of the two options (aerial seeding and drilling) has pros and cons. Aerial seeding allows the cover crop to get started growing much sooner, and takes advantage of heat units still left in September and early October. The downside of aerial seeding is because the seed isn't incorporated, adequate moisture is needed for germination. A dry fall could pose challenges for establishment. In addition, larger-seeded legume cover crops, like peas, lentils and vetches, don't establish as well as grass or brassica cover crops when aerial- or broadcast-seeded into standing corn or soybeans.
Drilling cover crop seed after harvest results in better germination, but often there aren't enough heat units left to get much growth in late fall. Legumes or brassicas drilled after harvest generally don't have enough time to establish and survive winter, leaving winter small grains like cereal rye, wheat or triticale as the only viable options to drill postharvest.
Research shows cereal rye best bet
For farmers just getting started with cover crops, none of this is really much of a roadblock. Long-term on-farm research by Practical Farmers of Iowa (PFI) has shown statewide that winter cereal rye is the best bet for reliably establishing a cover crop between corn and soybeans. You can get rye established, either by aerially seeding or drilling postharvest, and it will more than likely to survive winter and keep the soil covered for spring rains. If you let the rye grow for longer before terminating it in spring, this mat of vegetation can also act as a weed-suppressing mulch.
Many farmers have seen the benefits of rye and are interested in taking the next step; they want to increase the diversity and impact of cover crops on their farms. The easiest way to increase diversity of cover crops in Iowa is to add a third crop, probably a small grain like oats, wheat, barley, rye or triticale, to your rotation.
You can seed cover crops after harvesting the small grain in July and have August and September for the cover crops to soak up sun and establish healthy root systems. Increasing diversity in between corn and soybeans can be more of a challenge, and the main issue is the amount of time between harvesting one cash crop and planting the next.
Jon Bakehouse, farming near Hastings in southwest Iowa, has seen the benefits of rye between corn and soybeans and wants to build on them. "It ultimately boils down to improving our soil," he says. "This includes erosion control, greater cover diversity [by planting covers earlier], greater biomass in spring and a host of other things." With PFI, he spent the last few years conducting on-farm research.
His goal was to find out how he could seed cover crops earlier than normal in a corn-soybean system and more successfully include a more diverse array of cover crops species. If cover crops could be established earlier and put on more growth in the fall, potential for winter survival and benefits for soil and water could increase.
He has seen the research showing corn yields benefit more from legume and brassica cover crops than grass cover crops, and wanted to find a way to include them in the mix. Bakehouse figured the way he could plant cover crops by drilling, and yet plant them earlier, would be to plant earlier-maturing corn and soybean varieties.
On-farm research provides answers
To figure out if cover crops could be more successfully established following corn and soybean varieties that mature and are harvested earlier than what would normally be grown at his location, he worked with PFI on an on-farm research project.
For the study, Bakehouse compared two corn-soybean cropping systems that also included cover crops. The late-maturity system had corn and soybean varieties of typical maturity groups in the region (for southwest Iowa, he chose 109- to 112-day corn varieties and 3.0 to 3.6 maturity group soybeans). The early-maturity system included corn and soybean varieties that would mature and be harvested earlier than the typical varieties in the region (104- to 105-day corn and 1.4 to 1.7 group soybeans).
In both systems, a cover crop mix was seeded immediately after corn harvest and a cover crop of cereal rye was seeded immediately after soybean harvest.
Drilling cover in September
Bakehouse found that planting early-maturing varieties of corn and soybeans generally did not result in yield drag compared to the late-maturing varieties typically grown in southwest Iowa. An exception was in 2015 when the early-maturing soybeans yielded less.
The amount of cover crop biomass tended not to differ between the early- and late-maturity corn-soybean systems. Seeding covers earlier in the fall, following the early-maturing corn and soybean varieties, however, proved to be a challenge.
"The cover crop could have been planted on Sept. 22 following the harvest of early-maturing corn in 2015," Bakehouse says, but rain immediately after harvest prevented this. "Also, the early-maturing soybean was ready for harvest by Sept. 28, and the cover could have been planted as well if soil conditions would have allowed," he adds. "My takeaway: Drilling a cover crop after soybeans in September is possible."
"Unless we are willing to try 80-day corn, I don't think we are going to see a difference in cover crop planting date in the fall between what we have defined as 'early' and 'late,' " Bakehouse says.
"Technically, I think we could plant maybe a week earlier in the spring, but when we're talking 105-day vs. 112-day corn, they dry similarly enough in the field that we can't differentiate cover crop planting dates. If we were only managing those strips, we may be able to act fast enough, but when the early-maturing corn variety hits our 24% grain moisture target for harvest, by the time we get that corn harvested and planted to a cover crop, the late-maturing corn variety is ready to be planted to a cover."
Find the report at practicalfarmers.org/research-reports. Do you have a good idea for on-farm research? Join PFI today and we'll help you set up a trial on your farm. Contact Stefan Gailans, research and field crops director, at 515-232-5661 or [email protected].
Ohde writes for Practical Farmers of Iowa.
Subscribe to receive top agriculture news
Be informed daily with these free e-newsletters
You May Also Like
---