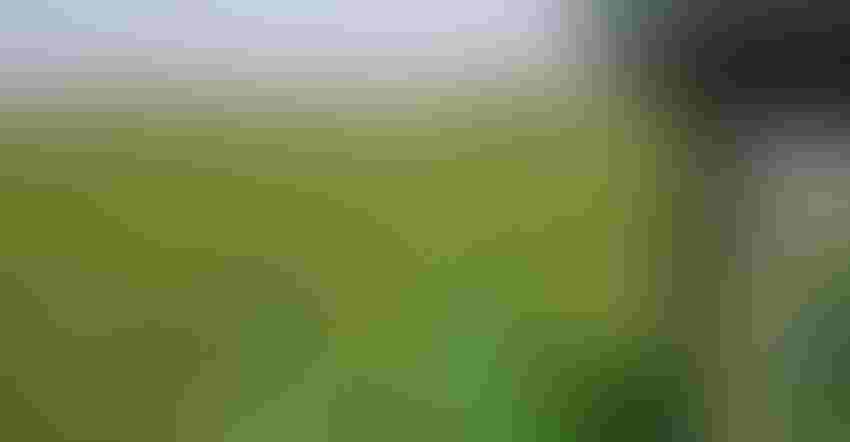 NITROGEN BOOST: Utrisha N from Corteva is designed to help corn plants fix nitrogen from the air. Spokespersons recommend applying at V4 to V8, but it can be applied later.
Tom J. Bechman
Farmers and researchers have dreamed for decades of finding a way for the bacteria that live on the roots of legumes and fix nitrogen to do the same thing in corn and other cereal crops. Nitrogen fixation in corn is becoming reality, one step at a time — and not necessarily in the way people envisioned it all those years ago. Biological products are involved, not just rhizobium bacteria.
Corteva Agriscience introduces Utrisha N, which should be commercially available to growers in 2022. It was tested globally in farmer trials and other tests on roughly 150,000 acres in 2021. Brooks Coetzee, a researcher with Corteva, explains the biology and mode of action behind the product.
Utrisha N introduces methylotroph bacteria so they can become part of the phyllosphere inside the corn plant, he says. After they are applied across a field, the bacteria enter through the stomata, which are openings on plant leaves that allow gases to pass in and out of the plant.
Once inside the plant, these naturally occurring bacteria reproduce and colonize. Since they are mobile, they can move up and down throughout the plant. They live on the byproducts of cell growth inside the plant and can fix nitrogen from the air. Coetzee notes that this process doesn't interfere with plant roots taking up nitrogen from the soil, which is still critical for the plant.
Coetzee answers some basic questions about Utrisha N:
When should Utrisha N be applied? The recommended application time is the V4 to V8 growth stage in corn. It can be applied with most herbicides, foliar fertilizers and other pesticides.
Can it be applied multiple times? Yes. However, it may not be necessary in corn. When the product was applied in the V4-to-V8 window in tests, the bacteria were found inside corn plants on upper leaves much later in the season. Once inside the plant, they move and colonize quickly.
How many pounds of nitrogen fertilizer can Utrisha N replace? The best answer is, it depends. We are not ready to put a range of numbers on it. If we know soil types, which commercial nitrogen products are applied and growing conditions, we can help fine-tune how it should be used.
Can it be applied when plants are under stress? Plants should be actively growing when it is applied. The stomata on the leaves must open for the bacteria to enter the plant. That may not be happening when plants are under stress. If plants are growing, the bacteria should be able to enter the plant through the stomata and go to work.
Can Utrisha N be used on other plants besides corn? Yes. It can help with nitrogen nutrition on a variety of plants, including cotton, wheat, rice and legumes like soybeans and alfalfa. One thing we don't know yet is if multiple applications would be needed with alfalfa, where multiple cuttings are removed.
About the Author(s)
Subscribe to receive top agriculture news
Be informed daily with these free e-newsletters
You May Also Like
---