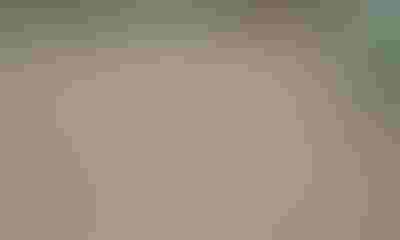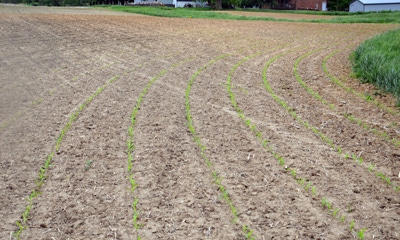 Whether or not April 27 was a good day to plant in central Indiana, or if the planter should have stayed in the shed, is still unclear. It may take the entire season to answer that question.
One month after planting, there were some answers. The stand on a good percentage of the field that was suspect 15 days after planting was going to be adequate to good, at 28,000 or more plants per acre. Warmer temperatures and less rain allowed corn that had emerged to grow, and corn not yet emerged to make it aboveground.


SLOW START: It's difficult to tell how much corn will come up in a field less than a month after planting, as in the Crop Watch field shown here.
However, there is still a thin stand in a few places. Estimating the percentage of area affected is tough. The stand might be mediocre in 5% of the field, compared to good in 90% of it and poor in another 5% of the field.
The farmers opted not to tear up the field. Some other farmers in the area who planted at about the same time tore up corn and started over.
However, these farmers did spot in corn on May 26 in some of the worst spots of the field. They planted next to the existing row or between rows, depending upon the location and condition of the stand.
The poorest corn was in the wettest part of the field — a low area where tile is needed. The stand in places was less than 10,000 plants per acre. All of that area was replanted into existing rows.
Time will tell which decisions worked out best. Stay tuned to find out how the corn progresses as the season unfolds. With thunderstorms happening off and on after the second planting, there is no guarantee how well that corn will emerge, either. That's always one of the risks of replanting, says Dave Nanda, crops consultant. He is a consultant for Seed Consultants Inc., sponsor of Crop Watch.
BEFORE: This corn in the Crop Watch field was planted April 27. Shown here on May 12, 15 days after planting, it was still unclear how much corn would emerge in this section of the field. And AFTER: By May 27, it was obvious there would be a decent stand in this part of the field — the same part of the field where it was uncertain before. The stand here is about 28,000 plants per acre.
Subscribe to receive top agriculture news
Be informed daily with these free e-newsletters
You May Also Like
---