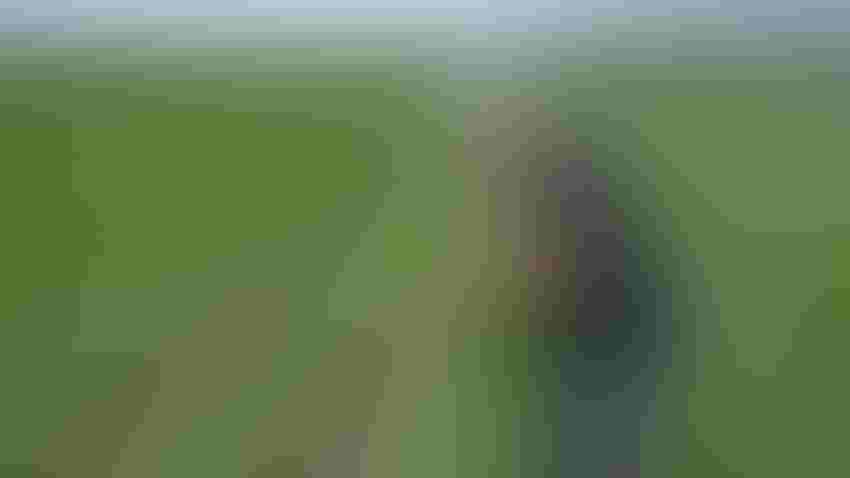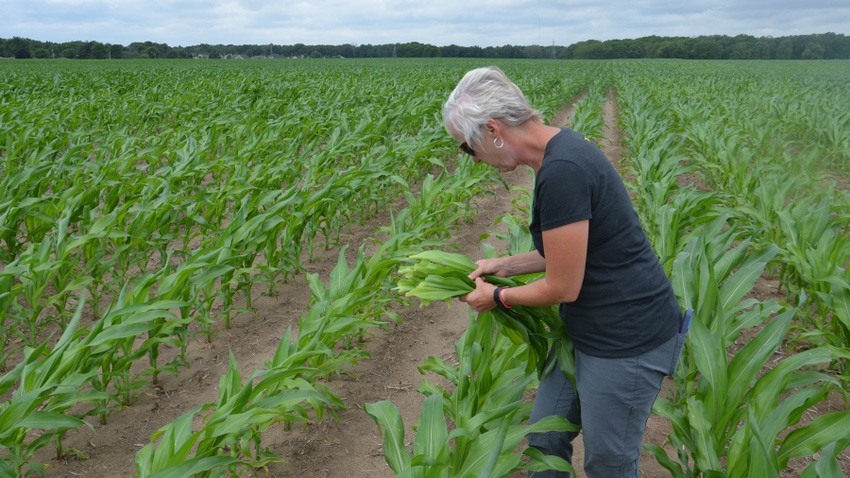 SAMPLE AND LEARN: Agronomist Betsy Bower is dedicated to pulling tissue samples to help growers learn more about crop nutrition and its link to soil fertility.
Tom J. Bechman
by Betsy Bower
I was asked to answer two questions from farmers: If tissue tests are pulled at V5 in corn, what corrective measures can be taken? Are these tests accurate enough to use for decision-making?
Taking a tissue test at V5 allows you to make several corrective measures on nutrients including nitrogen, potassium, sulfur, zinc, boron and manganese. Dry fertilizer can still be applied from V5 to V9 or V10 with a high-clearance applicator, especially for N, K, S and B. Phosphorus in products such as triple, DAP and MAP can be applied postemergence, but movement to roots is a little slower. So, use in-crop may not be as good as preplant or fall-applied P.
If micronutrients like zinc and manganese are low, a foliar application at V5 to V9 could help. There are foliar products that have mixed micronutrient packages that include zinc, manganese and often a little boron. Some are formulated with a little S or K. That S and K will be helpful, but at traditional foliar rates of 1 pint to 1 quart per acre, it will not resolve a deficiency. Instead, it will be a Band-Aid until dry post-applied fertilizer gets activating rainfall. The sooner you apply a nutrient after it is found to be low in tissue tests, the quicker it gets into the plant.
To add nutrients found limiting through a tissue test, find a ride with another application. Liquid zinc and boron can be added to sidedress liquid N applications. Ammonium thiosulfate is a liquid N and S product that adds to liquid N too.
If you're still applying post herbicides, formulations of micronutrients can be added. If you topdress corn with urea, ammonium sulfate is a sulfur source. Potash or K-Mag can deliver K and S, and 15% boron can be added, too.
Making tissue-based decisions
Tissue testing is accurate enough for decision-making. However, it becomes more accurate the more years you use it. So, pick a few fields and tissue sample a couple of years before making too many big decisions on fertilizer changes or addressing low nutrient levels.
Over winter, compare tissue tests to soil tests to see if the tissue sample location had limiting soil nutrition levels. Start using some information. For example, if P and K are always low, consider higher rates or applying fertilizer before each crop.
You could even consider some in-crop applications if your retailer can do this. If micronutrients are low, try a foliar micronutrient application in parts of the field and check results.
The biggest rule of thumb to tissue testing is addressing macronutrients before micronutrients. If N, K and P are low in several tissue samples throughout the year, address them in next year's plan before addressing micronutrients.
Nutrients in plant tissues can test low if soils are too wet, too dry or too compacted, or if nematodes are feeding. Record environmental conditions when tissue samples are pulled.
Tissue testing is a reasonable investment to find hidden hunger. It's also another tool in the toolbox to help make decisions about nutrition in-season, and plan better for nutrition in successive crops.
Bower is an agronomist and certified crop adviser with Ceres Solutions, Terre Haute, Ind. For more information on tissue testing, check back tomorrow and read the Corn Pest Beat column.
Subscribe to receive top agriculture news
Be informed daily with these free e-newsletters
You May Also Like
---