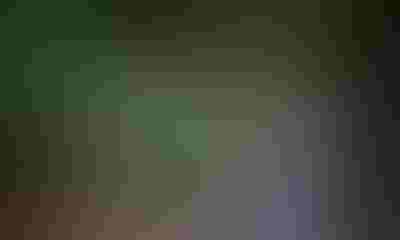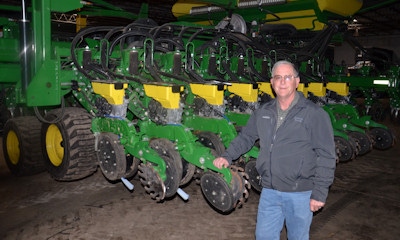 You can scratch your head if you want. That doesn't change the fact that there is a wide range in seeding rates farmers will choose when they go to the field in the next few weeks.
Purdue University says the optimum agronomic plant population, or population for maximum yield, is around 33,000 plants per acre. Depending upon how good you are at achieving stands, that works out to around 34,000 seeds per acre. However, the recommended economic seeding rate is pegged at about 29,000 seeds per acre. They say that's because the yield curve is relatively flat from 29,000 to 33,000. The increase in yield for the higher rate doesn't exceed or offset the extra seed cost.


UNIQUE PLANTER: You can actually buy this twin-row, 20-inch planter from John Deere. This model was originally produced for an incentive program for Stine Seeds so that they could get farmers to try super-high planting rates. About 60 planters were produced for the program.
Corn Illustrated 4/4 - Can you afford to install drainage? The better question is can you afford not to?
There may be some backing down to 29,000 as a seeding rate. Most seedsmen tell us most customers are staying in the 32,000 to 34,000 range. Then why are some pushing much higher?
"We are doing it because it works, and it has given us more yields," says Don Zolman, Pierceton. He farms an extremely wide variety of soils, ranging from very low to average in productivity. Some of his fields are irrigated. He's pushed populations, but last year he went all in, shifting to a twin row, 20-inch row planter.
Zolman bought the planter as part of a special offer from Stine Seeds. Harry Stine believes the future is shorter plants, high populations and narrow spacing. "I liked what I saw last year, but we're going to go another year before we decide if planting at high rates is the thing to do or not," he says. Was it a one-year thing, or will he see consistent benefits from high seeding rates?
Crop scouts did some checking in various parts of his fields, and at various populations. The highest yield actually was at 55,000 seeds per acre planting rate, he notes.
Corn Illustrated 3/28 - See just how bad corn plants want to grow and reproduce
The key to making this work is to having genetics that perform well at high populations. It's also getting enough extra yield to offset seed costs. Once the incentives for trying the program run out, will there still be an advantage for planting so thick?
That's what Zolman hopes to find out. He will be back at it again this year, seeding at high populations and watching carefully all season long.
Subscribe to receive top agriculture news
Be informed daily with these free e-newsletters
You May Also Like
---