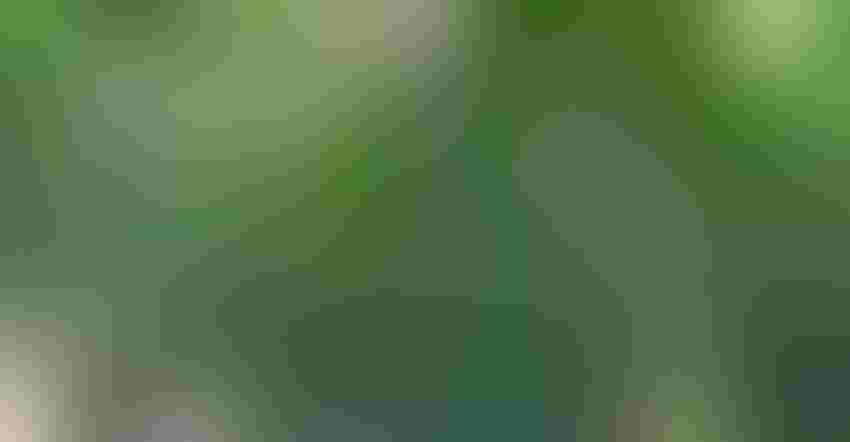 FREELOADER: Odds are this small corn plant in the middle, which emerged late, will use up nutrients but contribute little or nothing to final yield.
Tom J. Bechman
Dave Nanda marked off 1/1,000 of an acre in the Corn Watch '21 field with his yellow rope, tagged to mark 17 feet, 5 inches for a 30-inch row. He counted plants on both sides of the rope and found an average of 30,000 plants per acre. Then he went back and analyzed the row for which plants he believed would produce full-size, harvestable ears.
"That is really what you should base your seeding rate around each year," says Nanda, director of genetics for Seed Genetics Direct. The company sponsors Corn Watch '21.
"If you plant 31,000 to 32,000 seeds per acre, you can expect around 30,000 plants," he says. "Germination isn't 100%, and other things happen. So, now you're looking at around 30,000 plants per acre."
The kicker is that all those plants may not be harvestable. In each of the side-by-side rows Nanda counted and inspected, there were two to three much smaller plants that were already being shaded out by their neighbors. There was also one plant that received an injury early and was already infected by smut.
"Those plants are worse than weeds, because you can take weeds out, but you can't take runt-size corn plants out," Nanda says. "They will rob neighboring plants of nutrients and moisture, and will produce either a very small ear or no ear at all."
In this case, Nanda estimated that the final number of harvestable ears based on that one check strip would be between 26,000 and 27,000.
Bump seeding rates
"You can still harvest 200 bushels or more per acre if weather conditions are favorable, but if you're after top yields, 26,000 to 27,000 harvestable ears per acre doesn't cut it," Nanda says. "Each extra 1,000 ears per acre add about 7 or more bushels per acre of yield."
If you want to reach 250 bushels per acre or more, Nanda believes you need a base of at least 30,000 harvestable ears per acre. Using the typical corn yield formula to estimate yield, with 18 rows per ear and 38 kernels per row — with 80 as the factor for number of kernels per bushel — you could harvest 256.5 bushels per acre with 30,000 ears. With 26,000 harvestable ears per acre, assuming the same size of ears, you're at 222.5 bushels per acre. If corn is $4 per bushel, those four missing ears cost you $136 per acre (34 times $4).
"This example makes a real case for why many farmers should consider bumping up seeding rates 2,000 or more seeds per acre," Nanda says. "After subtracting the extra cost of seed, you're still well over $100 per acre ahead."
The problem, Nanda says, is that when you're planting early, even with the planter tuned properly and equipped with hydraulic downforce, as was this planter, if conditions are cool and wet, you're likely to encounter a plant here and there that emerges very late or doesn't emerge at all. If the soil crusts, there may be a few skips not related to planter performance.
Even if you plant 34,000 seeds per acre and wind up with 30,000 harvestable ears, you are dollars ahead of planting at 32,000 and winding up with 28,000 or fewer actual ears per acre, he concludes.
Subscribe to receive top agriculture news
Be informed daily with these free e-newsletters
You May Also Like
---