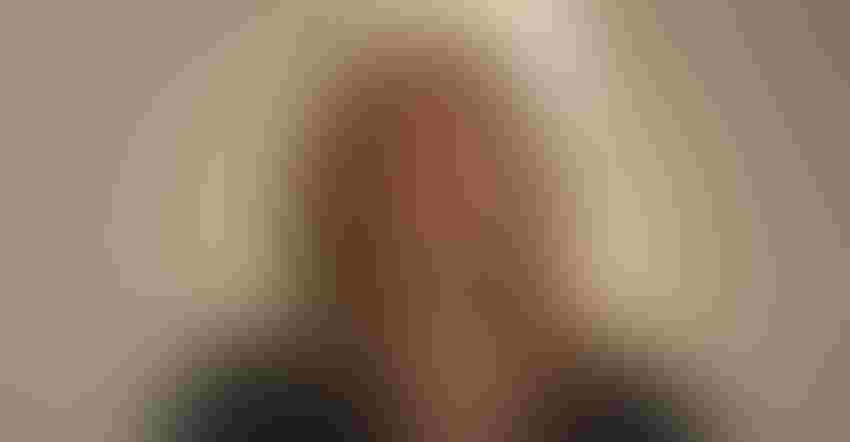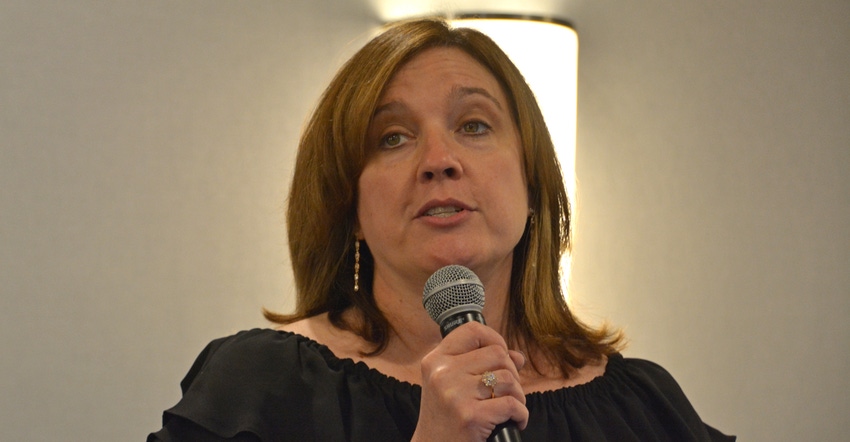 SURVEY RESULTS: Christy Toedebusch kicks off AgReliant's Tar Spot Summit by releasing results of a farmer survey indicating that growers are concerned about the disease.
Tom J. Bechman
Less than a decade ago, if you'd asked a corn grower about tar spot, his or her face would have gone blank. That changed dramatically after 2021. You will more likely see a scowl or furrowed brow if you bring up tar spot today, especially in the central and eastern Midwest and Great Lakes states.
Christy Toedebusch, vice president of product management, marketing and digital at AgReliant Genetics, explains that AgReliant's leadership took two major steps recently to upgrade knowledge about tar spot among growers. First, the company commissioned a study of nearly 400 farmers in the fall of 2022 to gauge knowledge of tar spot and control methods for the disease. The survey, conducted by Kynetec, targeted farmers in high-risk states for tar spot, including Minnesota, Iowa, Wisconsin, Michigan, Illinois, Indiana and Ohio, plus farmers in states where tar spot is just now appearing, including Nebraska, North Dakota, South Dakota, Missouri, Kentucky and Pennsylvania.
Second, AgReliant hosted a two-day Tar Spot Summit for key company staff members, university researchers, farmers and the farm press, releasing results of the survey to kick off the event.
Over half of all farmers surveyed cited tar spot as a disease that may impact corn, with one-third of farmers naming tar spot first, Toedebusch says. Half of the respondents have detected tar spot in their fields at least once, and 90% of those hit by tar spot reported yield loss. The disease was rampant in many areas in 2021 and far less devastating in 2022, although it showed up very late in many fields in 2022.
Focus on tar spot
Here are more key survey findings:
Awareness and concern. Some 71% of growers surveyed noted their concern about tar spot is growing. That's a large number, especially since the disease was less intense in the past growing season compared to one year before.
Over half of growers in the seven-state intense-risk area, or 56%, listed tar spot as their top corn disease concern. That is double the number of growers concerned about the next corn disease on their list. Even in states surrounding the high-risk area, tar spot is still easily farmers' No. 1 choice when asked to rate corn disease concerns, at 43%.
Understanding the disease and how to treat it. About one-third of all growers said they had a good handle on potential yield impact of tar spot. After yield impact, however, understanding of how the disease spreads, where it overwinters, hybrid tolerances, seed company ratings, weather effects and fungicide ratings were all on the low side.
"This was the most surprising result from the study for me," Toedebusch says. "Many farmers don't know much about the mechanics."
Using tolerant hybrids to combat tar spot. Only 1 in 3 farmers knows about their seed brand's tar spot tolerance offerings, according to the survey. The general consensus among agronomists, plant breeders and university disease researchers is that there are hybrids with tolerance available today, with many companies working hard to add more tolerant options. However, there is no true resistance.
In the survey, 55% of respondents agreed that diversifying genetics could help mitigate risks. Toedebusch also see this as a key strategy moving forward.
About the Author(s)
Subscribe to receive top agriculture news
Be informed daily with these free e-newsletters
You May Also Like
---