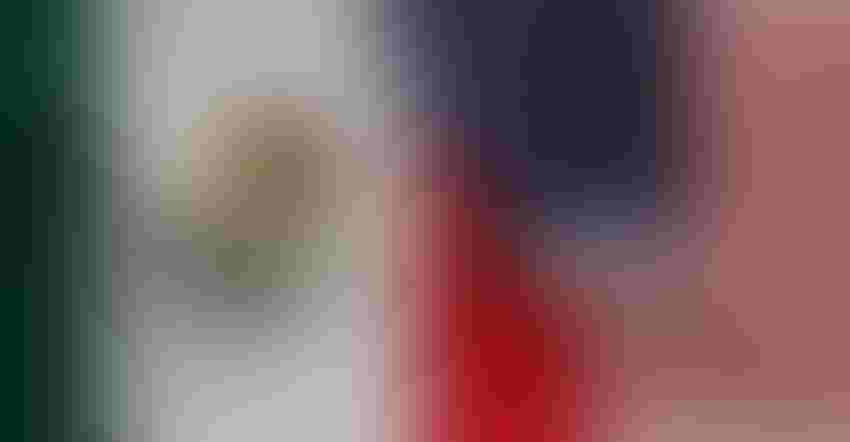 Mexico's government-issued decree expressing a policy goal to gradually phase out glyphosate and GM corn use in the country by 2024 continues to cause concern for those in the U.S. and Mexico corn market. A coalition of leading food and agriculture industry stakeholders in both Mexico and the United States released a new study revealing the broad impacts of Mexico's proposed ban on biotech corn.
The report, which was conducted in September 2022 by World Perspectives Inc. and updates a report published earlier this year, reveals that the proposed restrictions would adversely impact food security in North America and raise consumer prices for corn, basic foods, and other critical products derived from corn, particularly in Mexico.
Specifically, the study finds that the sudden shift to non-GM corn imports by Mexico would cause non-GM corn prices to increase sharply, peaking at 42% above baseline values. Conversely, GM corn prices would fall 10% over three years following the ban and these price changes would fundamentally alter crop acreage and the U.S. grain handling system.
The U.S. GM corn farming sector could see significant changes in the first year of a ban, specifically an increase in the ending stocks-to-use ratio that could push prices $0.32/bushel (5%) lower than would have otherwise occurred.
Related: Near breaking point on Mexico's GM corn ban
"The US- Mexico trading partnership has contributed greatly to the food security and economic vitality of both countries," says National Corn Growers Association President Chris Edgington. "That's why we should do everything possible to ensure that the relationship continues in a fair and mutually beneficial way."
Mexico has limited world suppliers of non-GMO corn, and Argentina and the United States predominantly supply Mexico's current corn needs with GM varieties. From 2018 through 2020, Mexico was the largest export market for U.S. corn and accounted for nearly 30% of U.S. corn exports.
Should the proposed restrictions be implemented, the study found that the average cost of corn in Mexico would increase 19% and tortilla prices would rise 16% on average. In the first year of the ban, non-GM corn prices would rise 48% to $8.14/bushel and Mexico would pay an additional $571 million for imported corn. Price increases in corn protein, fiber, oil, and thousands of processed foods distributed by tens of thousands of Mexican food retailers would all incur price increases.
Beyond direct commodity impacts, the study shows that banning all biotech corn could affect Mexico's GDP to the point that it would fall by $11.72 billion over 10 years, and economic output would be reduced by $19.39 billion. Additionally, there would be an annual loss of 56,958 jobs, which would reduce labor income by $2.99 billion.
"Like any other North American sector, agriculture must continue to innovate to meet 21st-century challenges. That is why we believe in science-based agricultural policies that improve agricultural production and sustainability," adds Juan Cortina Gallardo, president of the National Agricultural Council of Mexico.
Presently, roughly 10% of the Mexican population lacks access to adequate food. Under the proposed ban, this level is expected to double or triple in the nine poorest Mexican states. The price of corn is the single largest indicator of access to food for Mexicans in the lowest income decile who spend roughly 52% of their funds on food.
"International trade is an essential part of U.S. economic activity – it supports millions of American jobs, drives economic growth, and increases global competitiveness," says Corn Refiners Association President and CEO John Bode. "This latest report underscores the necessity of Mexican access to genetically modified corn, for both our countries' collective success and food security in North America. The U.S. and Mexican food and agriculture industries are eager for dialogue on the proposed restrictions and to strengthen cooperation on this issue."
Additionally, the findings indicate that Mexican livestock production would contract, declining by an average of 1.2% annually. Poultry production in Mexico would fall 17% in total while hog production would contract 13%. Beef and dairy sectors would see their industries' outputs fall 9% and 8%, respectively. For Mexico's poorest populations, prices could rise to the point that eggs become a luxury item which could cause the first drop in egg demand since 2017.
"We have seen the impact Russia's invasion of Ukraine has had on global food prices. Unfortunately, Mexico's barriers to biotechnology innovation will only exacerbate food price inflation for its most vulnerable citizens by disrupting supply chains and impeding producers' access to new technologies to bolster yields," says Dr. Michelle McMurry-Heath, president and CEO of BIO. "To ensure producers have access to the technologies necessary to strengthen food security, improve sustainability, and tackle climate change, we urge Mexico to return to timely and science-based risk assessments of biotech traits for agricultural products, consistent with its international trade obligations."
Subscribe to receive top agriculture news
Be informed daily with these free e-newsletters
You May Also Like
---