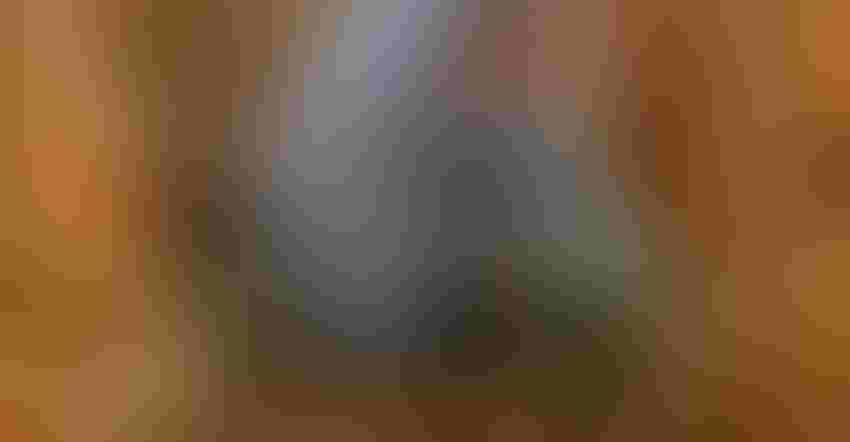 NITRATE CHECK: CCA Danny Greene prepares to cut out a section of a cornstalk for nitrate testing.
I participate in a program where a consultant pulls stalk nitrate samples just before harvest. I had very little nitrogen in the stalks in one field that yielded 200 bushels per acre. Another field only yielded 175 bushels, and the nitrogen level in the sample was way higher than necessary. Is there anything I can learn from this to help me make better use of nitrogen in 2018?
The Indiana certified crop advisers panel providing answers this month includes: Danny Greene, Greene Ag Consulting, Franklin; Andy Like, agronomist, Amvac, Knox County; and Jeff Nagel, agronomist, Ceres Solutions Cooperative, based in Lafayette.
Greene: The cornstalk nitrate test is a "report card" on nitrogen left in the plant. It can help explain some things. The lower nitrogen measured in the 200-bushel-per-acre field suggests that either N was used efficiently and fully, or perhaps [the corn] ran short and didn't grow bushels that would have been possible with more N. However, where excessive N was found, more N was applied than the crop could utilize, and a lower rate may have been more cost-effective.
Note that environment can override most management practices. Nitrogen application rate and yield often correlate, but field-to-field soils and conditions can have a great influence on yield. Consider testing the same fields when they rotate back to corn. If the pattern continues, adjust N rates accordingly. 
Like: I would potentially use this data to adjust your N rates on those fields. Note that many other factors come into play when you are looking at this type of data. A few examples are hybrid, rainfall, soil type and planning date. Make sure the yield variations you're seeing are the result of N rate, not some other weather- or management-related influence.
Nagel: The cornstalk nitrate test is essentially an end-of-season report to see if N applications that year were short, nearly optimal or excessive. Since N has a large interaction with the environment, one year of results is not very conclusive for evaluating your N program. Research has shown that the optimum N rate in any one field can vary by plus or minus 30 pounds per acre or more from year to year. The cornstalk nitrate test is more useful when evaluating over a period of perhaps three or more growing seasons to see if you're biased toward applying insufficient N, near optimum N or excessive N.
Like any test, it's important how and when you take the sample and interpret the results. In Indiana, a cornstalk nitrate test of 1,000 to 2,000 parts per million NO3-N is considered to represent an economical N fertilization rate. Purdue University has a good publication explaining cornstalk nitrate testing.
The cornstalk nitrate test is best used in combination with other tools and observations to develop an overall assessment of your N management program. In-season satellite or unmanned aerial vehicle images, soil nitrate/ammonium tests, tissue testing and N models can all aid in the evaluation process.
Subscribe to receive top agriculture news
Be informed daily with these free e-newsletters
You May Also Like
---