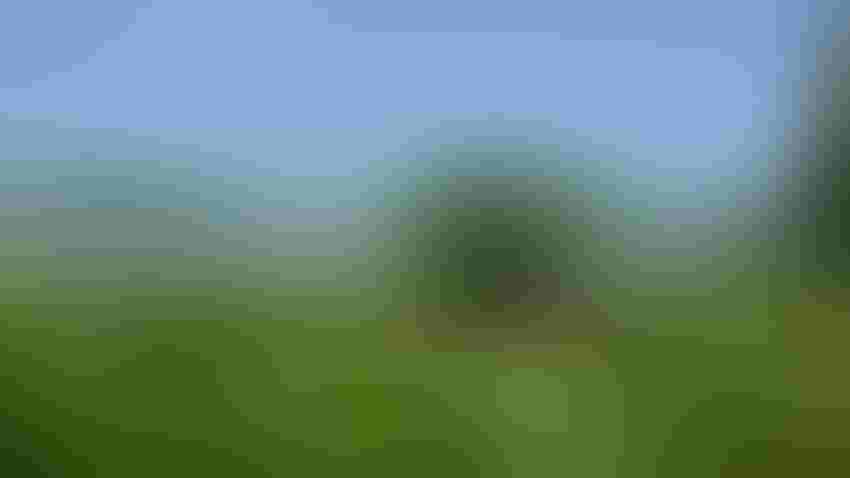 WATCH AND MANAGE: With high-clearance ground rigs, fertilizer and fungicide applications can be made as necessary. How the weather unfolds will partly determine if more applications are needed.
Tom J. Bechman
You take your best shot, planting when soils are right and weather conditions are fit. Soil fertility is in order. You selected high-yielding hybrids based upon past performance on your farm. You are prepared to scout, pull tissue samples and make adjustments as necessary. What is missing for good yields?
"You've done your part if you accomplished these things," says Dave Nanda, a retired plant breeder and director of genetics for Seed Genetics Direct, sponsor of Corn Watch '23. "Now it's up to the weather. Will we get another dry June like 2022, or will we get rain when needed? What will it be like during pollination? Will we have another good year for grain fill like in 2022, or will it be a shorter, drier period?"
Not everything that determines if your hard work pays off is 100% weather-related, but weather still factors in, Nanda says.
"How much disease pressure you see is partly determined by weather conditions," he explains. "Warm, humid weather near pollination favors gray leaf spot. If it's cooler, northern corn leaf blight has an edge. Lots of humidity in July might set up tar spot. Know what lesions of these diseases look like, scout, and be ready to react if you find them."
Corn Watch '23 field
Each year, Nanda visits one field in central Indiana frequently. Based on what he sees and his knowledge of what to expect, Indiana Prairie Farmer releases weekly articles on the website and a monthly column in the magazine — each one geared to helping you learn something from this field that will help you manage your fields better.
The operator is a well-established grower who produces above-average yields, weather permitting. This year's field was planted May 11 on silt-loam soils. It's a 100-acre field that will be monitored all year.
"It's the same planting date as last year, although it's a different field on the same farm," Nanda notes. "Last year's yield was around 235 bushels per acre.
"There is sometimes an advantage for early-planted corn, but this is certainly still within the window to obtain near maximum yield potential if weather cooperates."
Based on years of experience, the operator varies seeding rate according to soil types. The average seeding rate for the entire field was 33,500 seeds per acre. He also varies hybrids by soil type across the field, with his planter equipped for multi-hybrid planting. Two hybrids were selected for this field, 113 days and 112 days, based on relative maturity.
Preplant nitrogen was also applied using variable rates across the field, averaging about 190 pounds of N per acre. Counting nitrogen applied through starter fertilizer at planting, a minimum of 230 pounds of N per acre was applied. To meet sulfur needs, a ton of gypsum was applied per acre, plus 3 gallons of ammonium thiosulfate per acre applied with 9 gallons of 28% N at planting. A 10-18-4 liquid blend with zinc was applied in-furrow. Humic acid was also applied.
Because the planter isn't set up for dry insecticide, liquid insecticide was applied in-furrow as a precaution against seed corn maggots and wireworms, pests that have caused issues before. The hybrids contain traits for corn borer protection.
"The stage is set," Nanda says. "Now, let's see if the weather cooperates."
Subscribe to receive top agriculture news
Be informed daily with these free e-newsletters
You May Also Like
---