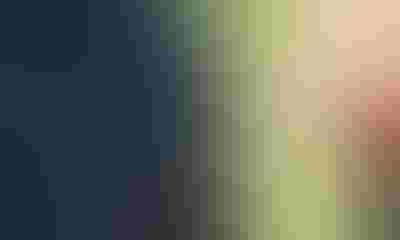 Depending upon where you live in the Corn Belt, certain names of specific foliar diseases can trigger a reaction ranging from fear to just downright disgust when you hear it. Here are prime examples: gray leaf spot, northern corn leaf blight, anthracnose and southern corn leaf blight, for those farming on the southern edge.
Corn Illustrated 7/28: Crop management is a factor in water stress severity
Hard-hit areas with way too much water and humidity this summer are seeing much more of at least two of these diseases then they like. Farmers in the east-central Corn Belt are most worried about gray leaf spot and northern corn leaf blight.

Note and ignore: Denny Cobb, agronomist for Beck's Hybrids, holds a leaf with physoderma brown spot lesions. The diseases is minor and won't because yield damage. Know it is there and ignore it, he suggests.
Both made early appearances, and by pollination, there were lesions either on the ear leaf, or just the leaf below, especially in fields with hybrids that weren't strong on tolerance for one of both of these diseases.
If you have those diseases, you should be worried. Hopefully you've run the numbers and made the spray or not spray decision for fungicides. Many fields have been sprayed where corn was still looking as if it had good yield potential.
Some diseases you don 't need to worry about. You will find them as you scout, and they don't show up every year. They show up in years with extreme conditions.
But even in those years, Denny Cobb, agronomist for Beck's Hybrids, Atlanta, Ind., says they are not likely to ever become economic. In other words, they won't cause even yield damage, if any, to make it worth considering spraying for them alone.
He puts a couple of diseases showing up in places in Indiana this year in that category. They include physoderma brown spot and Holcus leaf spot.
You may not be able to use the Purdue University Corn & Soybean Field Guide to identify them, because neither is featured there. That's because they are such minor players amongst foliar diseases, and don't even make an appearance some years.
Corn Illustrated 7/21: Do you need foliar fungicides this year?
Consult with an Extension educator or agronomist if you find something that doesn't look right, before just assuming it is a serious issue. Cobb would say that's good advice.
Subscribe to receive top agriculture news
Be informed daily with these free e-newsletters
You May Also Like
---