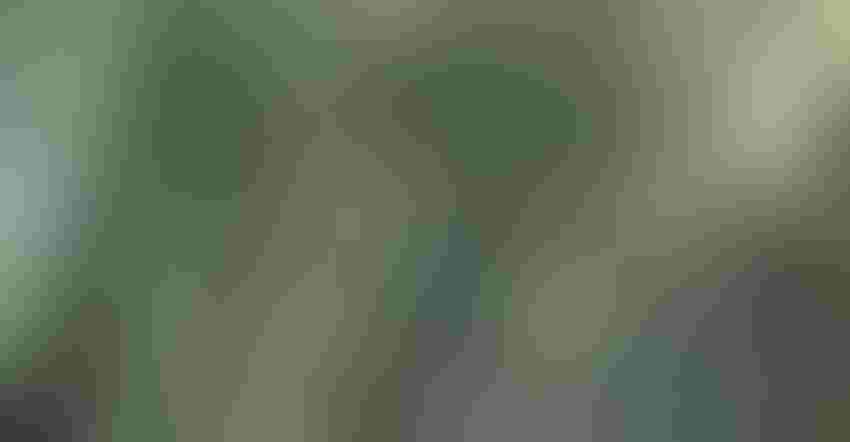 RACCOON WRECK: Both raccoons and deer appear to have caused more damage in cornfields than normal in 2020. This feeding is in a field along woods, but damage extends deep into the field.
Tom J. Bechman
A faithful follower of Indiana Prairie Farmer sent a photo during the growing season that left many people scratching their heads. In fact, the photo apparently has caused many people who have seen it to look twice, maybe even a third time.
Maury Kaiser, Franklin County, Ind., says a few years ago, his wife found two cornstalks with the leaves shredded and wrapped around the stalk. It wasn't exactly like discovering Stonehenge, but it certainly wasn't easy to explain.
"Everyone who has seen it thinks it was done by a human, but my wife and I believe it was an animal or bird," Kaiser says. "The cornfield was behind our house, 1,400 feet from the nearest road, and it's not traveled often. Our nearest neighbor is half a mile away."
When Dave Nanda finally saw Kaiser's picture recently, he backed up the theory that it was not done by human hands. Nanda is director of genetics for Seed Genetics Direct and a frequent contributor to Farm Progress magazines.
"Most probably, it was caused by an animal like a racoon, who might have chewed on the leaves of fast-growing corn plants," Nanda says.
Feeding could have damaged leaves without hurting the growing points, he says. "When plenty of water, nutrients and sunlight are available to young corn plants, they are unstoppable. You can almost watch them grow!" Nanda notes.
He suspects the growing point of the plant in the picture probably pierced through damaged leaves from holes caused by animal feeding, giving it the appearance of being tied up by its own leaves. It's possible feeding was from a bird, such as a crow.
"It's a wonder of nature," Nanda says. "Humans would have difficulty duplicating it."

WITHOUT HUMAN TOUCH? When a farmer found this strange growth in an isolated area of a cornfield, he was mystified. It looked like someone was playing a trick, but later he and agronomists nailed down a more likely culprit.
Wildlife feast
This was an appropriate year for Kaiser to send in his mysterious photo, likely caused by the handiwork of wildlife. Several farmers anecdotally are reporting more damage from wildlife in 2020 than normal. Deer and raccoons are the biggest culprits in corn.
"We have found considerable damage in the Corn Watch '20 field in central Indiana," Nanda says. "There are trees on one side, but we found deer feeding at least 60 to 70 rows into the field.
"In fact, deer fed early in a few small areas, and stalks there by midseason only had nubs for leaves. Deer apparently fed early while leaves were in the whorl."
When corn plants are damaged early by wildlife feeding, the fungus that causes smut can enter the plants.
"There were so many plants with smut in a couple of small areas that they looked like smut gardens," Nanda says. "It's not a big deal in terms of overall field average yield, but it's a reminder that wildlife can cause various forms of damage."
Raccoons were very active when corn was in the roasting ear stage, pulling down ears and breaking off stalks. They added insult to injury after damage already caused by deer in the field.
Subscribe to receive top agriculture news
Be informed daily with these free e-newsletters
You May Also Like
---