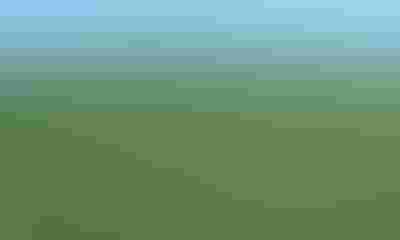 If you see a fertilizer spreader spreading dry fertilizer running through your neighbor's corn field in the next few days or weeks, don't assume that the custom applicator got in the wrong field, or that your neighbor has gone off the deep end.
Corn Illustrated 6/9: Potential seed savings lures more farmers toward row shut-offs
In some parts of the Midwest, applying nutrients over the top while the crop is growing is catching on. Starting first where soils are sandy and don't hold as many nutrients for as long, it's now finding application on heavier soils as well.

Ready for N application? Some are waiting and applying dry urea with a spreader at this stage of corn growth.
Betsy Bower, agronomist with Ceres Solutions, a co-op in west-central Indiana, says it's called layering on nutrients. Many of her customers started doing it on sandy ground with irrigation, but several are now doing it on non-irrigated ground, and on heavier soils. More fertilizer outlets are lining up equipment so that farmers can order this type of application if they want to do so.
The advantage is getting nutrients on closer to when crops need them, she says. That's important on any soil, but especially on soils with low organic matter and low cation exchange capacity.
Many of her clients apply potassium and micronutrients in this fashion. However, some are applying nitrogen this way. Word is applying urea over the top to supply all or part of the crop's needs is catching on in other areas, where soils are anything but sandy.
Bower says some of her clients apply 100 to 300 pounds of urea per acre. Rates of 300 pounds per acre have been reported in other areas.
Two questions >>
~~~PAGE_BREAK_HERE~~~
That brings up two questions – won't there be leaf burn from urea landing on plants? And isn't there the chance for nitrogen losses from an over-the-top application.
"Yes, that kind of application can burn leaf tissue," Bower says. "But it shouldn't affect yield. Sometimes we mix AMS in with urea if the customer wants it."
As far as potential N loss, Bower says they add Agrotain, a commercial urease enzyme inhibitor especially aimed at urea, to prevent volatility from the soil surface. Under certain conditions, many have shown in the past that volatility can be an issue. The catch 22 is that a rain is needed to get the N into the soil profile. If you have irrigation you have that option.
Corn Illustrated 6/2: Calendar moves into late window for replanting corn
Jim Camberato, Purdue university Extension soil fertility specialist, notes that in dry land situations, while urea with the nitrification inhibitor, Agrotain,. Is much better than urea alone, you're still relying on rain within 10 days to take N into the soil. Otherwise losses begin to occur.
Injecting N in some form is still the method of choice to avoid losses if you have a choice, Camberato concludes.
For more corn news, corn crop scouting information and corn diseases to watch for, follow Tom Bechman's column, Corn Illustrated Weekly, published every Tuesday.
Subscribe to receive top agriculture news
Be informed daily with these free e-newsletters
You May Also Like
---