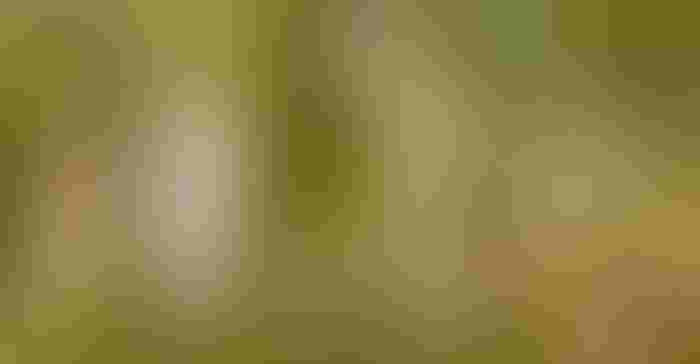 The office building with an attached greenhouse and a free-standing shop sitting alongside Indiana State Road 32 in Boone County, Ind., doesn't look out of the ordinary. But inside, what's taking place is important to corn growers everywhere.
The facility is one of several corn breeding stations AgReliant Genetics operates around the country. Jon Daly, eastern lead for AgReliant, manages this location. Brian Foss, plant physiologist, and Haley Trumpy, trait integration manager, recently assisted Daly in leading a tour through the facility.
"Four different key programs are housed here," Foss explained. "It's home to an inbred breeding program carried out by an AgReliant plant breeder. I head up the plant pathology program, concentrating on major corn diseases."
Trumpy added, "Traits going into all inbreds for plant zones 1 through 8 are integrated into inbred lines here. The greenhouse helps us speed up turnaround time. We can get about four generations per year."
Molecular breeding group activities are the fourth major effort housed at the station. Foss said this group is responsible for making sure the phenotype, or visual characteristics in breeding lines, match up with the genome of each genetic line.
Speeding up breeding process
Embryonic rescue helps explain why Trumpy and her team can grow four generations in one year. Ears are pulled about 20 days after pollination, and embryos are harvested from the ear.
Petri dishes where embryos grow contain chemicals that help select for the proper GMO trait they want to insert into the inbred, Trumpy said. After incubation, young plants start their journey through the greenhouse.
"Embryo rescue isn't the only process we use," Trumpy said. "But it's extremely valuable, especially when we want to move a trait into an inbred quickly."
AgReliant focuses on corn genetics rather than developing its own traits. Instead, the company relies on trait suppliers.
How can Trumpy know inbreds growing in the greenhouse have the intended traits at the proper strength?
"We use various methods to make sure the trait was integrated into the line," she said. "In some cases, we spray young plants to make sure there are no plants without the proper trait. We also sample leaf tissue at various stages and run lab tests to confirm presence of traits."
Corn disease factor
One of Foss' main jobs is building inoculum of major diseases, especially foliar diseases, so they can expose plants inside the nurseries to specific diseases during the growing season. Not all diseases react to efforts to produce them in the same way.
"We can't reproduce the tar spot fungus using petri dishes and a medium," he said. "It just doesn't grow that way. There are researchers looking for ways to produce tar spot to aid in screening lines, but if successful, it won't be as easy as just growing a fungus or bacteria in a petri dish."
During the growing season, Foss does more than just inoculate plants. He also collects disease organisms from corn plants so he can update his supply of inoculum.
Managing disease inoculum is an important part of the screening process for inbreds, he said. "Each disease needs to be handled a bit differently," he explained. "For example, Goss's wilt common in the western Corn Belt is caused by bacteria, and it enters primarily after plants are injured. So, we culture it somewhat differently, and we simulate injury when we inoculate plants."
About the Author(s)
Subscribe to receive top agriculture news
Be informed daily with these free e-newsletters
You May Also Like
---