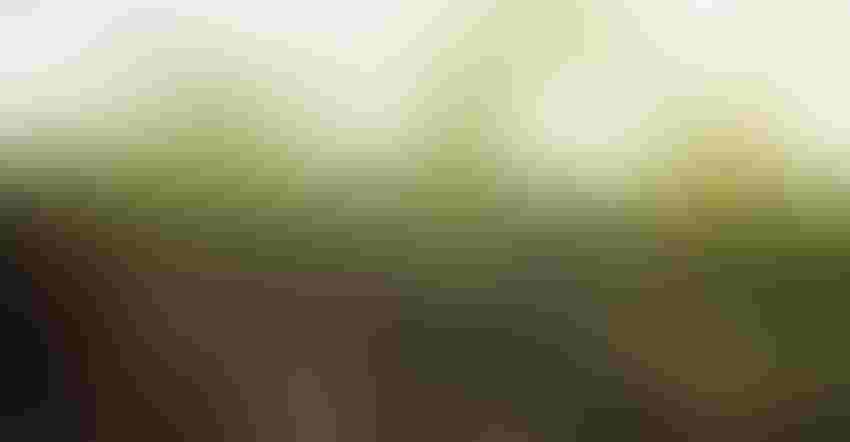 GOOD START: Getting the seed in the ground with good stand counts and uniformity sets the expectation for yield.
Andy Sacks/Getty Images
As the 2021 planting season approaches, two Channel agronomists offer a season outlook with some insight into scouting and crop protection.
Scouting is a hot topic from the time the seedling comes out of the ground.
"But, using corn as an example, it really should start with that first planter pass, and whether it's the grower or seedsman, you should be checking seed depth, fertilizer placement and making sure soil conditions are right because that determines plant potential for the rest of the season," says Jim Valent, who is a Channel technical agronomist serving an area from Pennsylvania to Maine.
Last year, feeling the sting after an extremely wet 2019 that severely delayed or prevented planting, some growers jumped the gun. "In 2020, we had some planting when conditions weren't really right, causing restricted root systems, which could have compounded the drought stress we had later," Valent says.
In terms of stand counts and uniformity, some Channel seedsmen may use drones to cover more acres and use that information to create stand count maps, which then can be pushed into a custom crop report, says Michael Roth, who is the Michigan Channel technical agronomist.
Troubleshooting emergence problems early is critical in identifying solutions and developing successful replant plans, if needed, he adds.
"Stand count is really important for corn, because unlike soybeans, it cannot make up yield nearly as efficiently," Roth says.
Getting the seed in the ground sets the expectation. "But it's all a process and how it works together," Valent says. "It's not like when I used to feed cows, I could change the nutrition program every week — we only get one time a year to do this."
Stand emergence
Once the stand emerges, look for abnormalities and whether it is a pattern — man-made or environmental or something with fertility, Valent says. "Try to conclude why it happened so you can fix it, whether it's in-season, or in the following season," he adds.
Be on the lookout for any sort of discoloration in the corn plant, Roth advises. "Corn plants tend to make it very obvious when they are not happy and unfulfilled nutritionally," he says.
"We're looking for off color that may suggest some nitrogen or sulfur deficiency. And very early in the season when it's cool and soils are wet, we sometimes see purpling because the plant is not able to take up phosphorus. And since we are no longer getting sulfur from pollution in the air, we have had to tweak our sulfur programs and apply more sulfur for a corn crop than we did 20 years ago."
Growers also need to pay attention to micronutrients and test using a tissue sample, Roth says. "A lot of times we are applying zinc at least once for the crop in-season — many times inside a two-by-two starter setup," he says.
A lot of farmers are running their own on-farm trials, Roth says. "Through programs such as Climate FieldView, we can track those applications right down to a 10th of an acre and overlay the application map with the planting map and the yield map, and draw some conclusions as to whether an application paid."
Stages
Valent says it's important to understand the stages of crops for managing herbicide applications. "Some modes of action can affect ear development," he says. "There's one particular mode of action where the label is V6. But if it's applied late V6 or V7, I've seen it shrink down the corn rows around the ear from 16 to eight or 16 to 10 rows around. It's important to know, from a label standpoint, how it affects the plant and ear development."
Controlling weeds in soybeans has been more challenging than corn recently, including Palmer amaranth and marestail.
"People are continuing to explore the different traits, like the three modes of action in XtendFlex soybeans, and trying to make the right combination of residuals to improve weed management," Valent says. "Some of these weeds, left unchecked, are also hosts for some diseases."
Diseases such as seedling blights, gray leaf spot, northern corn leaf blight, many common stalk and ear rots, and, in some areas, Goss's wilt are potentially more severe in corn-on-corn production, and some can be harbored by weeds. 
Late-season weeds, such as giant ragweed, also serve as a pollen source for western and northern corn rootworm beetles and can attract females into cornfields, where deposited eggs lead to larvae hatch that affect next year's crop in a continuous corn production system, Roth says.
Some of the worst weeds in Michigan are marestail, especially in no-till situations, and waterhemp. "They need to be managed correctly with strong burndown programs, followed with strong residual programs," Roth says.
Disease outlook
Tar spot is clearly on the radar. "Somehow it jumped from western Ohio all the way to southeastern Pennsylvania last year," Valent says. In Michigan, Roth says growers are losing 20 to 50 bushels per acre to tar spot. It was particularly bad in 2018 when frequent rainfall and an increasing disease inoculum load in the region led to 50-bushel-per-acre losses.
He says to look for hybrids that may have some natural resistance to tar spot because tolerance to this disease has yet to be bred into corn. "Secondly, consider a fungicide application," Roth says.
Gray leaf spot was also pretty heavy last year, Valent notes. "And another disease that's been growing is fusarium crown rot," he says. "That's a disease that really starts at planting, and we see it a lot of times when planted into a cool, wet environment. That's where it really seems to set up, but you don't see it until you're getting through ear development toward black layer. So, we need to dig up roots and evaluate the crowns late-season, when we're in that reproductive stage."
A trend, Valent says, is more growers are exploring fungicides in-furrow at planting and looking at different products and combinations with seed treatments.
He urges growers to leave strips, instead of doing a whole block to give a "with or without" comparison.
In soybeans, expect white mold to be the top disease, while "we're also seeing more stem canker over the past couple of years," Valent says.
Correctly ID diseases
Farmers see something in their field and assume they know the disease that's there, Valent says.
"Diseases are difficult to separate and identify," he adds. "It's critical to utilize labs for positive analysis, because if you don't truly know what a disease is, it's hard to manage it, whether it's with a fungicide or even seed selection the following year."
Scouting and documenting management practices help to formulate the following year's plan.
"If it's weeds, it's helping me with what herbicides to select for next year. Maybe your timing changes, and so with that, your modes of action have to change too," Valent says. "And knowing what diseases you're facing is critical to figuring out which seed products to select or whether you should plan for a fungicide application to help manage the product."
Seedling health
Considerations to help reduce the potential for seedling disease development include: 
Rotate crops to reduce crop specific disease pathogens living on crop residue. 

Improve soil drainage through compaction alleviation, subsurface drainage, and where practical, conservation-minded surface drainage. 

Select seed products with high scores for emergence and rapid seed growth. 

Invest in fungicidal and insecticidal seed treatments. 

Plant when the forecast calls for a period of warm weather without cold rain.
Subscribe to receive top agriculture news
Be informed daily with these free e-newsletters
You May Also Like
---