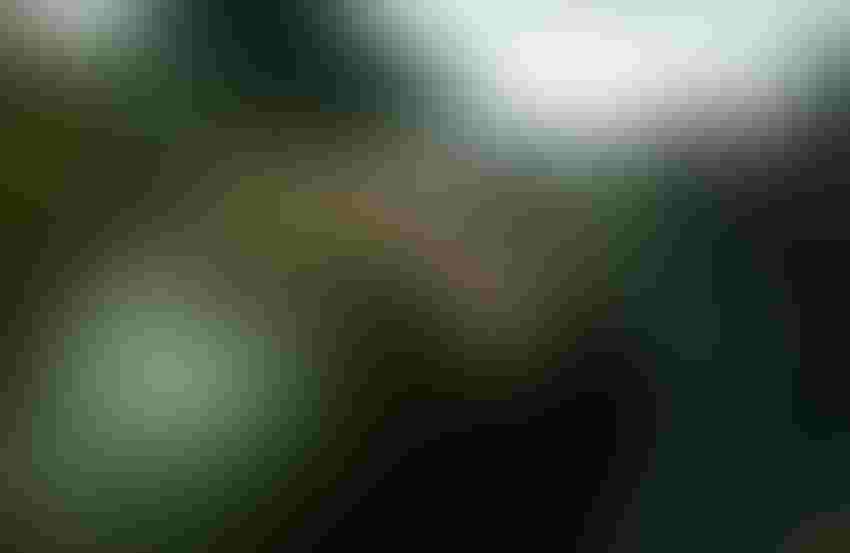 The corn earworm is known as bollworm in cotton and podworm in soybean.
USDA/ARS
At a Glance
Corn earworm is a pest on several crops, including soybean and cotton.

Corn is the preferred host.
While the pesky corn earworm doesn't cause a lot of damage to corn, it does wreak havoc on other crops such as cotton and soybeans.
"Corn earworm is a pest on several crops, including soybean and cotton. It overwinters in the ground, it emerges in the spring, before infesting corn. Corn is the preferred host in the landscape. As soon as the corn is producing silk, it's attractive for the moth to come and lay eggs so we see a lot of our populations being funneled through corn before the next generation on other crops such as soybean and cotton," explains Clemson Extension entomologist Francis Reay-Jones.
Reay-Jones' comments were delivered at the South Carolina Corn and Soybean Growers meeting Dec. 14 at the Santee Convention Center in Santee. Reay-Jones explains that resistance management in corn is vital due to the large amount of Bt corn planted across South Carolina.
The corn earworm is known as bollworm in cotton and podworm in soybean. Reay-Jones says that in cotton, the bollworm is a major economic pest and is becoming more of a problem due to resistance to Bt toxins expressed in Bt cotton, with resistance being driven by Bt corn.
"The most problems we have seen are in the two-toxin products, such as Bollgard 2, TwinLink and WideStrike, with fewer problems in the newer three-toxin products Bollgard 3, TwinLink Plus and WideStrike 3. All these newer products produce the Vip3A toxin. This is the only toxin we have that is currently effective for this species. We are probably a decade away from any new Bt traits in corn and cotton for bollworm. There is nothing in the pipeline that is about to be released. Resistance to Bt proteins is an issue. And we know that it is being driven primarily by corn," Reay-Jones said.
Reay-Jones emphasizes that resistance to Bt toxins remains a major threat to the sustainability of Bt crops. While the corn earworm does not cause significant yield losses in field corn in most cases, the same or similar Bt toxins are used in Bt cotton where the same insect, the bollworm, is a major pest.
"The insect can therefore feed on two Bt crops during a growing season, which favors the development of resistance. Because the selection for resistance primarily occurs in Bt corn, increased bollworm injury has been observed in Bt cotton, in addition to more frequent applications of insecticides for the pest. Because the Vip3A protein is the only effective Bt toxin and is included in both Bt corn and cotton, resistance to Bt toxins is a major concern with this insect," Reay-Jones notes in a Clemson Extension publication.
Reay-Jones said to manage resistance, farmers must plant a non-Bt refuge in corn to delay the development of resistance as part of an insect resistance management strategy.
"This non-Bt structured refuge should be planted within half a mile of a Bt corn field with a goal of producing Bt susceptible individuals, which will then mate with any potential resistant individuals from the Bt field to dilute potential resistance with populations of the target pest," Reay-Jones advises.
Subscribe to receive top agriculture news
Be informed daily with these free e-newsletters
You May Also Like
---