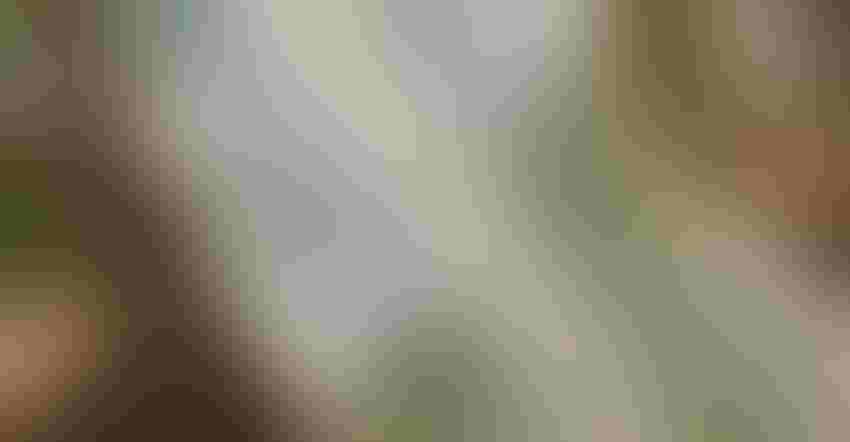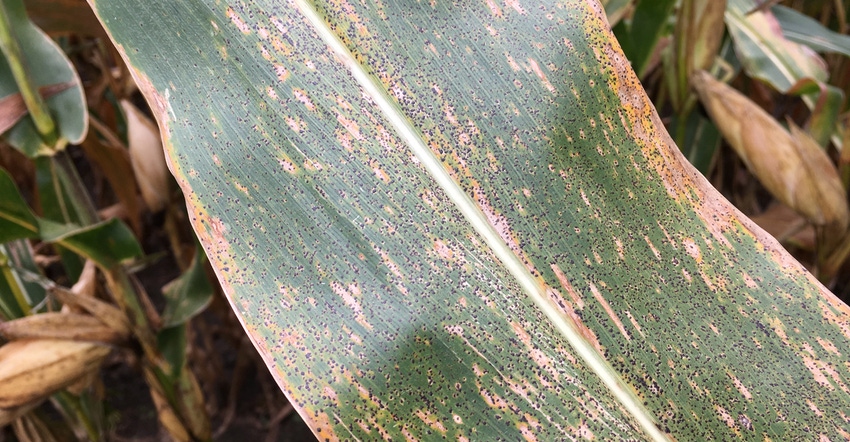 TAR SPOT: Fungicides, crop rotation and scouting are current resources to manage tar spot. But recent research shows resistant hybrids could help with management in the long term.
In 2015, tar spot was first found in Indiana, and since then, the foliar disease has shown a cyclical pattern. The corn disease has reared its ugly head in varying degrees every year since, leaving farmers and agronomists with more questions than answers about tar spot.
Fungicide helps, and so do scouting and rotation.
Related: Why corn diseases are getting worse
Tiffany Jamann, University of Illinois crop scientist, and other researchers believe there's another way to tackle tar spot.
"I think host resistance is going to be a major part of how we manage tar spot in the long run," Jamann says. "Farmers are already buying seed. So, if they can buy varieties already resistant [to tar spot] and not have a problem or not have to apply fungicides, then that's a fantastic management option."
That's why Jamann and Sarah Lipps, U of I graduate student, have conducted research involving host resistance and environment to help farmers better manage tar spot.
The research included 25 corn lines from USDA's Germplasm Enhancement of Maize (GEM) project. The lines were placed in nine locations across four states, Lipps says. Then, the team screened the corn lines for tar spot and analyzed the level of disease across those environments.
What did they find in the end? Overall, corn lines resisted tar spot differently across the various locations. This shows environment plays a role in disease development, Lipps says. Plus, this research shows environment can cause tar spot to be cyclic or be more substantial one year and not the next.
Beyond this, Lipps says the team was able to accomplish the ultimate goal of the project.
"We were able to identify two lines that showed consistent levels of resistance to tar spot across multiple environments where there was sufficient disease pressure," she says. This means these breeding lines are candidates for future work and, hopefully, development of lines resistant to tar spot to be used by farmers.
The two lines that showed steady resistance to tar spot regardless of environment are from germplasm from Cuba and Brazil known as GEMS-0066 and GEMS-0226.
Flash forward
The key here is these findings could mean more management resources for farmers and agronomic companies against tar spot, Lipps says.
"Companies can pick up the lines we screened and use those in their breeding program," Jamann says. "I would love to see companies put in their seed catalogs just how susceptible varieties are to tar spot and other diseases, which goes toward that long-term strategy of managing tar spot through host resistance."
But even with the development of tar spot-resistant hybrids, growers shouldn't rely on that technology only, Jamann says. Other management tools such as fungicide and scouting will continue to be helpful in case host resistance doesn't work for one reason or another.
And research on resistance to tar spot continues.
For a disease outbreak to occur, the host, environment and pathogen must work together, creating a disease triangle, Jamann says. Jamann and Lipps have worked to explore the host and environment portions while other scientists have ongoing work with the pathogen as the focus.
Lipps explains how the pathogen can be difficult to study since it is an obligate biotrophic. This means the fungus needs a living host to cause disease. So, researchers have a difficult time mimicking the environment in a lab setting.
Other research teams are looking at the pathogen population, and how it's different across the Midwest and Latin America, Jamann says. The pathogen population can affect how much disease farmers might see out in the field, as well.
Scientists recognize the yield-robbing effects of tar spot, Jamann says. Thus, ongoing research aims to help farmers find new ways to manage the foliar disease.
About the Author(s)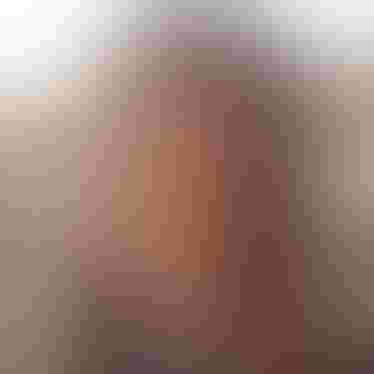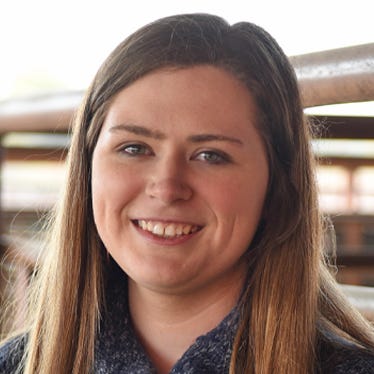 Field editor, Farm Progress
A 10th-generation agriculturist, Sierra Day grew up alongside the Angus cattle, corn and soybeans on her family's operation in Cerro Gordo, Ill. Although she spent an equal amount in farm machinery as she did in the cattle barn as a child, Day developed a bigger passion for the cattle side of the things.
An active member of organizations such as 4-H, FFA and the National Junior Angus Association, she was able to show Angus cattle on the local, state and national levels while participating in contests and leadership opportunities that were presented through these programs.
As Day got older, she began to understand the importance of transitioning from a member to a mentor for other youth in the industry. Thus, her professional and career focus is centered around educating agriculture producers and youth to aid in prospering the agriculture industry.
In 2018, she received her associate degree from Lake Land College, where her time was spent as an active member in clubs such as Ag Transfer club and PAS. A December 2020 graduate of Kansas State University in Animal Sciences & Industry and Agricultural Communications & Journalism, Day was active in Block & Bridle and Agriculture Communicators of Tomorrow, while also serving as a communications student worker in the animal science department.
Day currently resides back home where she owns and operates Day Cattle Farm with her younger brother, Chayton. The duo strives to raise functional cattle that are show ring quality and a solid foundation for building anyone's herd.
Subscribe to receive top agriculture news
Be informed daily with these free e-newsletters
You May Also Like
---