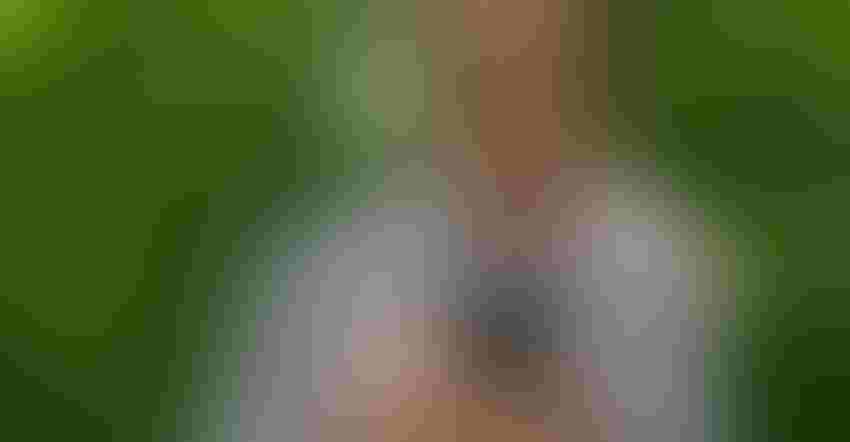 MARK THE SPOT: Dave Nanda uses GPS to attempt to mark the location of a 1/1,000 acre spot within the Corn Watch '19 field, which he will monitor all the way to harvest.
Finding the same spot where you've been before in a cornfield is a lot easier when the corn is small. In fact, it's fairly easy until the day corn is waist-high or taller — then it all looks the same. Were you in that row? Or maybe it was that one? Are you sure?
Forget small flags on plastic sticks. Counting rows to a landmark isn't the answer, either. Dave Nanda says it's time to quit guessing and take advantage of modern technology. Use GPS on your phone or an app to mark exact locations. If you've got an unmanned aerial vehicle, you could use it to get an aerial image and GPS coordinates.
Let technology be your friend and mark several spots within a field to monitor all year long, Nanda advises. Nanda is director of genetics for Seed Genetics-Direct, Jeffersonville, Ohio. Seed Genetics-Direct sponsors Corn Watch '19.
Why should you mark spots within a field so you're sure you can return to that exact spot from the time corn is head-high all the way to harvest? Nanda says there are plenty of good reasons. Here are five. Watch for more reasons in next week's installment of Corn Watch '19.  
1. Get a handle on stand counts. One of the first things Nanda did in the Corn Watch '19 field this year was take population counts. In a 1/1,000 acre location picked at random, he counted stalks in both rows on either side of his marking rope — 30 in one and 31 in the other for an average of 30,500 plants per acre.
2. Check plant spacing. Within the first month, Nanda checked for seeds that didn't germinate in spots where there was a gap in the row. He found both seeds that didn't germinate and some that did germinate but didn't emerge in four out of five locations. Without digging and finding the seeds, he says you might assume there was an issue with the planter not dropping the seed.
3. Check for smaller plants. How many plants came up later and will act as weeds? Having one spot to look helps you zero in, he says. He found two in one row and one in the other, and didn't count them in the stand count.
4. Look for doubles and skips. When you're evaluating the same section of row, you want to know how many doubles were dropped, and how many places there are bigger-than-normal gaps where no seed was dropped. Nanda found a couple of doubles and one gap.
5. Scout for disease presence. Now the rubber meets the road, Nanda says. Beginning early in the season, you can evaluate for disease lesions. Since you can get back to the same location with modern technology, you can watch progress of any disease you do find every time you visit. When lesions get numerous or move up the plant while pollination or grain fill is just starting, that's when you begin thinking about fungicides, he says.
Subscribe to receive top agriculture news
Be informed daily with these free e-newsletters
You May Also Like
---