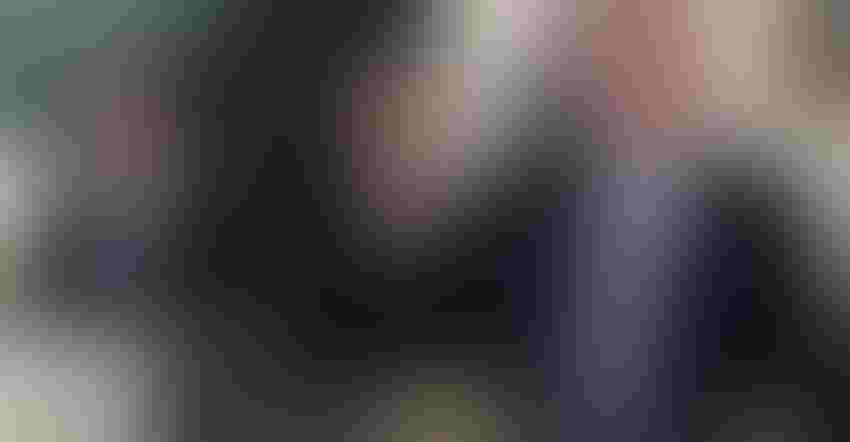 President Trump gestures to the $1.3 trillion spending bill passed by Congress early Friday, with Vice President Mike Pence (C), and Defense Secretary Jim Mattis (L).
Mark Wilson/GettyImages
President Trump has signed the omnibus spending bill, after threatening to veto the legislation earlier in the day.
Here's some of what's in the bill and what people are saying about it:
Section 199A
Agriculture Secretary Sonny Perdue applauded the provision that changes Section 199A of the federal tax code. The provision was changed in the Tax Cuts and Jobs Bill signed by the president in December.
"Fixing Section 199A was a fundamental issue of fairness," Perdue said. "We should not be picking winners and losers through the federal tax code by favoring one side over another."
The provisions replicate to the greatest extent possible the tax benefits accorded to farmer-owned cooperatives and their farmer-patrons under the previous Section 199, also known as the Domestic Production Activities Deduction, while also restoring the competitive landscape of the marketplace as it existed in December 2017 so that the tax code does not provide an incentive for farmers to do business with a company solely because it is organized as a cooperative or private/independent firm. 
National Grain and Feed Association President Randy Gordon expressed appreciation to the dedicated tax experts from NGFA-member companies -- half derived from cooperatives and half from private/independent organized businesses -- who provided "sound, factual advice and analysis in a totally professional and above-board process throughout the two-plus months that it took to develop and analyze the real-world impacts of an equitable concept to correct Section 199A."
Conservation
The bill funds conservation operations at $874 million, including conservation technical assistance, and maintains full funding levels for farm bill conservation programs. Additionally, the System for Award Management and Data Universal Numbering System requirements to participate in conservation programs were eliminated.
The omnibus maintains funding for the Environmental Protection Agency's 319 grants and provides continued financial support for the Watershed Operations and Watershed Rehabilitation programs. The package also includes $335 million for the USDA Forest Service State and Private Forestry programs, which is an increase from FY 2017's levels, with $28 million dedicated to urban forestry efforts. 
"NACD is encouraged by the strong support for conservation programs in the omnibus," said National Association of Conservation Districts President Brent Van Dyke said. "These provisions provide both the staff and financial assistance essential to conservationists, and we hope to see similar funding in FY 2019 appropriations this fall." 
Research
The budget omnibus bill a $25 million increase for USDA's flagship competitive research program and a $140 million increase for the agency's research, education, and economics portfolio. The budget for the Agriculture and Food Research Initiative has now reached $400 million, with the last three fiscal budgets providing a total 23% boost.
"The need for more agricultural research has never been more clear," said Thomas Grumbly, president of the Supporters of Agricultural Research (SoAR) Foundation. "We're pleased with Congress for pushing this agreement through. Only through a healthy investment in science can we develop more resilient food systems that protects the well-being of farmers and consumers."
Other stuff
"Thanks to our dues-paying NCBA members and the hard work of our team in Washington, this omnibus spending bill includes several provisions that represent major victories for America's cattle producers," said National Cattlemen's Beef Association President Kevin Kester. "First, we were able to kill the notion that our farms and ranches will be regulated like toxic Superfund sites under the CERCLA law. Second, we were able to secure another delay of the Electronic Logging Device mandate for livestock haulers. And finally, we were able to get Congress to address the 199A tax issue."
All military personnel get a 2.4% pay hike in the bill while civilian federal employees get a 1.9% pay raise. There's money to combat potential election interference. – The Washington Post
Source: USDA, NACD, Supporters of Agricultural Research Foundation, NGFA, NCBA
Subscribe to receive top agriculture news
Be informed daily with these free e-newsletters
You May Also Like
---