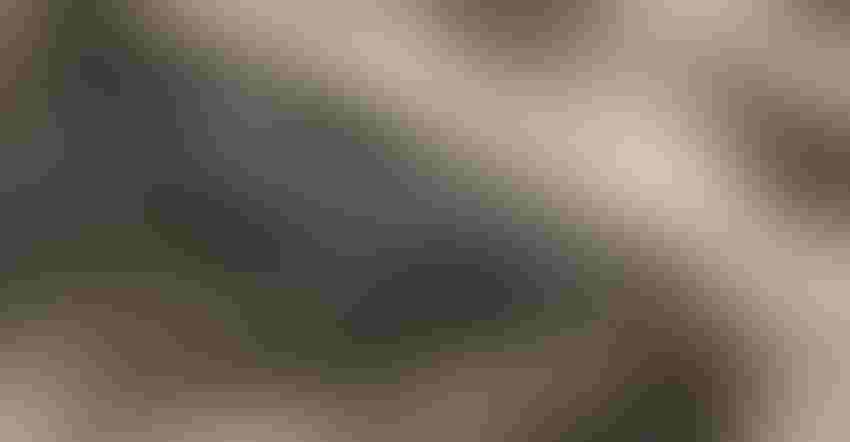 BLACK CUTWORM: If you haven't already started seeing black cutworm, be on the lookout this week and until corn plants reach stage V4.
Roger Schmidt, UW-Madison, Bugwood.org
Illinois farmers don't need to be reminded of the delayed planting season, but as corn plants finally emerge across the state, it's vital to know that now is prime time for black cutworm feeding and potential injury.
Why? Kelly Estes, University of Illinois agricultural pest survey coordinator, says the insects have migrated from the south during the spring. And injury is more likely in corn at stages of one- to four-leaf development — so right about now for Illinois farmers.
In fact, her team projects Illinois farmers will start seeing black cutworm cutting this week, if they haven't already. Estes spearheads the U of I Moth Trapping Network, part of a multi-state project, which works with participating farmers across the state to identify the number of black cutworm moths in traps set in their fields from April 1 to May 31.
She says this program requires individuals to check traps at least every other day and report the number of moths trapped each time. When a moth trap shows the significant number of eight or more moths in a two-night span, then Estes and others can project when black cutworm cutting will begin throughout Illinois. Temperature predictions also play a role in cutting projection dates.
Higher risk in 2022
It's not uncommon for black cutworm moths to still be migrating into Illinois up until early June, Estes says. The key here is that the risk for black cutworm injury could be higher this year.
"Our later planting season this year gives us smaller plants for an extended time [of the migratory season]," she says. Typically, corn plants are bigger than V4 stage during this prime time of black cutworm feeding at the end of May and early June. Thus, there's less injury from black cutworm feeding.
So, Estes says if you haven't started scouting for black cutworm, go check your fields now.
Later-planted corn, reduced-tillage fields with weed infestations and planted corn without traits for black cutworm are going to be more prone to potential feeding, she explains. Fields with those characteristics should be top priority to scout for black cutworm.
"Initial feeding occurs when small larvae feed on plants, and you'll see small, irregular holes in the leaves. As the larvae begin to grow, they will actually turn more to cutting a plant," Estes says. At that point, you could look down a corn row and see several plants missing.
Black cutworm larvae feed at night, she adds. You'll need to use a knife to move through any debris to find the insects during the day. If you have moist soil, black cutworms can be more toward the top, but if the soil is drier, you may have to dig further to find them.
If you see black cutworms, know how to react.
Estes says rescue treatments are an option if black cutworm injures 3% to 5% of plants in a field. Farmers may not need to make this application to an entire field — spot treatments could do the trick.
On the flip side, she says if black cutworms are bigger, or appear to be later instar larvae, they have fewer days left to feed and are near the end of the cutting time frame. In this instance, some farmers just wait until the feeding is done and replant over those hot spots instead of applying a treatment.
Yes, Estes says farmers may see black cutworm in midsummer, but remember, once corn plants are taller than V4, they are less at risk for injury from the insects. Long story short, stay alert now and relax later. And if you have any questions about black cutworm, contact Estes or Nick Seiter, U of I field crops entomologist.
About the Author(s)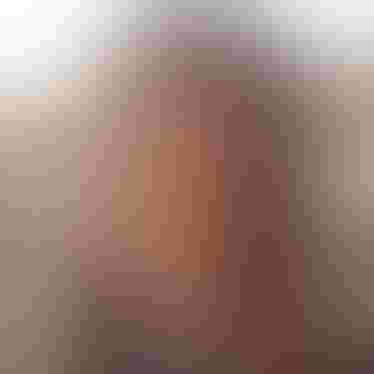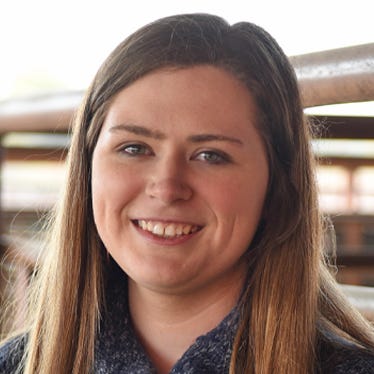 Field editor, Farm Progress
A 10th-generation agriculturist, Sierra Day grew up alongside the Angus cattle, corn and soybeans on her family's operation in Cerro Gordo, Ill. Although she spent an equal amount in farm machinery as she did in the cattle barn as a child, Day developed a bigger passion for the cattle side of the things.
An active member of organizations such as 4-H, FFA and the National Junior Angus Association, she was able to show Angus cattle on the local, state and national levels while participating in contests and leadership opportunities that were presented through these programs.
As Day got older, she began to understand the importance of transitioning from a member to a mentor for other youth in the industry. Thus, her professional and career focus is centered around educating agriculture producers and youth to aid in prospering the agriculture industry.
In 2018, she received her associate degree from Lake Land College, where her time was spent as an active member in clubs such as Ag Transfer club and PAS. A December 2020 graduate of Kansas State University in Animal Sciences & Industry and Agricultural Communications & Journalism, Day was active in Block & Bridle and Agriculture Communicators of Tomorrow, while also serving as a communications student worker in the animal science department.
Day currently resides back home where she owns and operates Day Cattle Farm with her younger brother, Chayton. The duo strives to raise functional cattle that are show ring quality and a solid foundation for building anyone's herd.
Subscribe to receive top agriculture news
Be informed daily with these free e-newsletters
You May Also Like
---