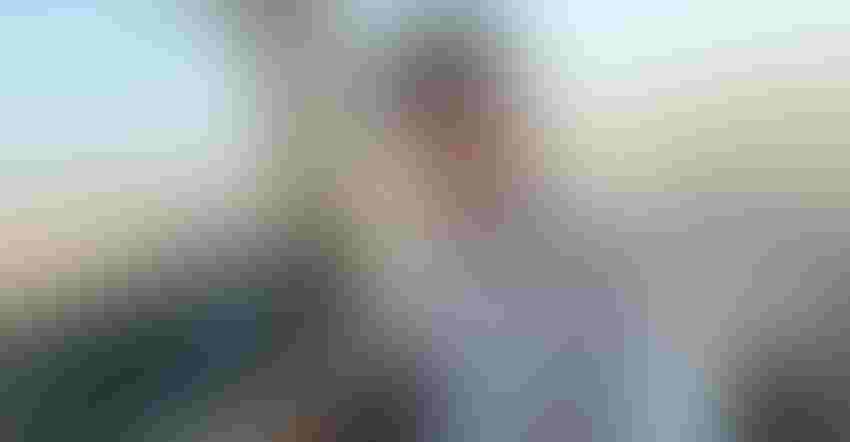 Karl Stutzman, Weatherford, Okla., plants his final field of peanuts and prepares to plant cotton. He describes the 2022 season as an emotional rollercoaster.
Shelley E. Huguley
Plant 2022 is underway on Karl Stutzman's Weatherford, Okla., farm. The corn is planted and up, peanuts are in the ground, and plans are to plant cotton this week.
So far, planting has gone well, he says as he plants peanuts in between rows of wheat cover. "We're a little dry. We've been dry all winter. The last two weeks we've gotten several rains plus some irrigation. Actually, today (May 18) it's a little dry. Friday (May 13), it was too wet to plant."
The temperatures have also been 20 degrees above normal, he adds. "The drought and wind have also been extreme. It has been dry for about 7 months, so the rain has been good."
Stutzman's corn, planted in April, "is about the six or seven-leaf stage and growing like crazy because of this heat and recent rain."
The Oklahoma farmer also produces soybeans, wheat and runs cattle. He says the dry winter may have made for more favorable feeding conditions, not having to feed in the mud, but the wheat has suffered.
Greatest challenge
His greatest challenge this season has been "the battle, the fatigue emotionally, about the drought and wind and not knowing where and when to get started. Things piled up all at once for me. I need to work a few calves and cows and get them ready for the summer, so it's put me a week or so behind where I'd like to be."
See, Rural doctor prefers country practice, patients
Stutzman admits the war waging between the weather, yield losses and missed profit opportunities along with inflated input costs has been difficult. "Along with the drought, our commodity prices are crazy high. It's disappointing to watch our dryland wheat disappear when the commodity prices are so high and the input costs are out of sight. It's an emotional rollercoaster knowing what to do and trying to stay focused on what you know you need to do."
A bright spot this season? "I'm excited about planting peanuts, planting cotton, and getting some green growing down these rows. That's exciting to me. As a farmer, I like to see that. It's just good to see the corn growing like it is and knowing these (peanuts) will be up and growing soon."
Managing costs
As far as managing costs, Stutzman doesn't plan to cut corners. "We've always done soil samples, so we are trying to put out only what's necessary, trying to be good stewards of what we've been given.
"I'm afraid to cut costs too much because by cutting costs now, you just trim what your potential is in the future. It's also fairly risky because the ante just keeps going up higher and higher. I guess I'm willing to go there because I don't want to skimp on inputs. I want to try to put my best foot forward."
Subscribe to receive top agriculture news
Be informed daily with these free e-newsletters
You May Also Like
---