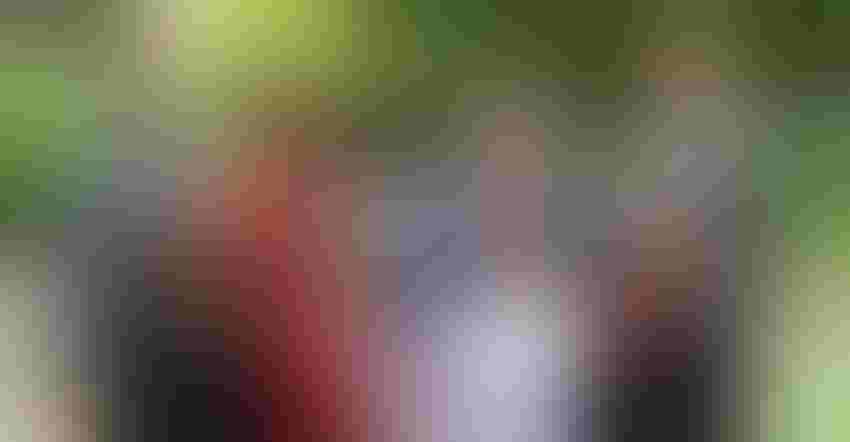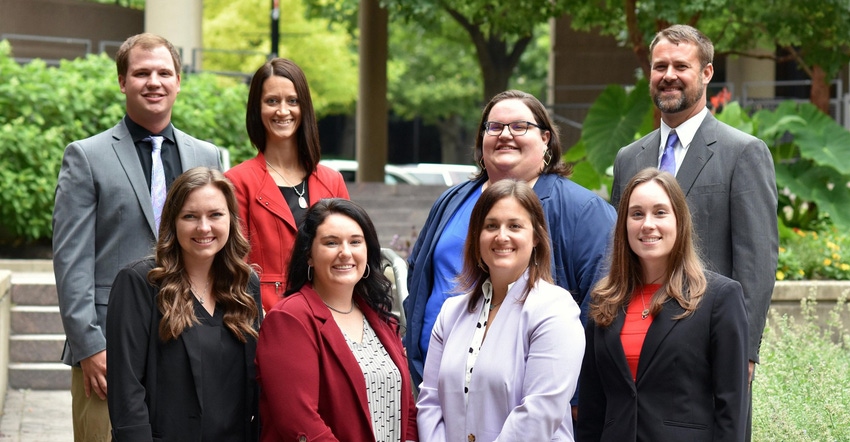 AGRIPOWER: The AgriPower Class XIII members include (front row from left) Emily Buehler, Renee Hamilton, Heidi Breyley, Katherine Share, (back row) Adam Shawhan, Stefanie Richardson, Kayla Weaver and Kris Weisner. Not pictured is Amanda Bush.
Photos courtesy of OFB
For the next year, nine farmers and agribusiness professionals will dig in their heels to focus on public policy issues confronting agriculture and the food industry — such as consumer relations, regulations, energy and trade policies.
It's Ohio Farm Bureau's 2022-23 AgriPower Institute, and this year's Class XIII members include Heidi Breyley of Wellington, Amanda Bush of Edison, Renee Hamilton of Mechanicsburg, Stefanie Richardson of Medina, Katherine Share of Columbus, Adam Shawhan of South Charleston, Emily Buehler of Columbus, Kayla Weaver of Upper Sandusky and Kris Weiser of Gambier.
One of the sessions will take place in Washington, D.C., to give participants a better understanding of national and global issues, and an out-of-state session will help them learn about the differences and similarities in agriculture outside of Ohio.
Partnering with OFB on AgriPower Class XIII are the Ohio Farm Bureau Foundation, Ohio Soybean Council, Farm Credit Mid-America, Select Sires, Freedom Freight, Crossroads Crop Insurance and Highland County Farm Bureau.
For additional information about AgriPower, visit ofbf.org.
Ohio grower reelected to national corn board
Kelly Harsh, who grows corn, wheat and soybeans on her operation in Delaware County, Ohio, has been elected to serve another term on the board of the National Corn Growers Association.
In 2021, Harsh was appointed to serve in a vacant seat on NCGA's Corn Board and has since served as NCGA board liaison to the Risk Management Action Team and the Finance Committee. 
Harsh also serves as chair of the Ohio Corn & Wheat Growers Association.
"Kelly has been instrumental in advancing the priorities of OCW's grower-members in Ohio, and she has brought that same heart and determination to her role on the Corn Board," says Tadd Nicholson, executive director of OCW. "We are thrilled that Kelly will be continuing her service to corn growers nationwide. Her ability to serve as a compassionate, listening ear for other farmers and advance priorities on their behalf has not gone unnoticed."
In addition to her roles with industry organizations and her life on the farm with her husband, Glenn, and their three sons, Harsh is also a certified public accountant and crop insurance agent. She is also an active member of Ohio Farm Bureau, Ohio Society of CPAs and Old Stone Presbyterian Church. 
Gray named chief information officer for Ohio Farm Bureau
Charged with overseeing a team of information technology professionals, John Gray of Ashtabula, Ohio, has been named Ohio Farm Bureau's new chief information officer.
In addition to working closely with IT partners to advance the organization's core objectives, he will be developing and implementing strategic solutions to stabilize and enhance the organization's IT infrastructure and operations.
Most recently, Gray was the organization's director of IT.
He attended DeVry University, where he earned a bachelor of science in electronic engineering technology. Before joining the Ohio Farm Bureau team, as a solutions architect and systems engineer, he consulted at various companies such as Honda North America, American Electrical Power, JP Morgan Chase and Nationwide.
Gift of grain can help inspire, educate next generation
Ohio farmers have long supported the future of agriculture, and one way to do that is through the gift of grain by choosing to donate a portion of their commodities to support the Ohio Farm Bureau Foundation.
While all gifts support the foundation's commitment of inspiring and educating the next generation of farmers, OFBF advises that gifting grain directly, rather than selling first and making a gift from the proceeds, may provide a more significant tax savings.
Contributing directly to the Ohio Farm Bureau Foundation allows donors to avoid the sale of the commodity as income, while the production costs may still be deductible. A donor should always consult with their tax preparer to determine the tax implication prior to making a gift.
One such donation came in the form of nearly 90 bushels of soft red winter wheat at Heritage Cooperative's Marysville location, from a donor who wishes to remain anonymous.
"Donating some of my grain and knowing that what my family has been able to grow on our farm can directly benefit the future of our industry through the Ohio Farm Bureau Foundation means a lot to me," the farmer said. "I would encourage other farmers to consider doing the same."
"We have worked alongside the Ohio Farm Bureau Foundation to make this a very easy process where any farmer who wishes to do so may request that a load or certain number of bushels from the load can be put in the foundation's name at the time of delivery," said Dave McIntosh, Grain Campus manager of Heritage Cooperative in Marysville. "Farmers have found this to be a great way to support a great cause. Simply request this at the scales, and Heritage does the rest."
To start the process of donating a gift of grain, farmers are asked to contact the Ohio Farm Bureau Foundation to discuss their specific gift intentions before making their delivery to any Ohio Heritage Cooperative location.
For more details, contact Ohio Farm Bureau Foundation Executive Director Kelly Burns at [email protected] or 614-246-8275.
 
Subscribe to receive top agriculture news
Be informed daily with these free e-newsletters
You May Also Like
---