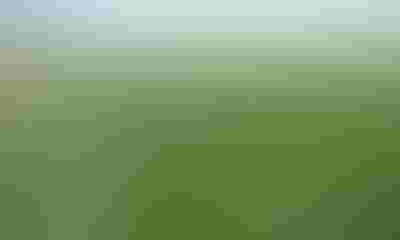 Troublesome corn diseases like northern corn leaf blight and gray leaf spot have quickly become widespread throughout the Midwest Corn Belt, placing many acres at risk and leaving growers scrambling to protect their investment. Unfortunately, corn disease is an issue that plagues corn growers every season. For Midwest growers, corn disease can occur rapidly with the fast-changing weather conditions of the region.
A fungal disease, northern corn leaf blight infection increases when temperatures are warm and when moisture is present. Frequent rain in 2015, coupled with ideal temperatures for development, has resulted in outbreaks throughout Iowa, a full two weeks earlier than 2014.

FIGHT BACK: Northern corn leaf blight and other leaf diseases are showing up. Applying a foliar fungicide provides corn growers with tools necessary to maintain clean fields, despite the threat of disease.
Northern corn leaf blight can occur in any season and the effects can be devastating. Throughout various stages of development, northern corn leaf blight incidence can cause anywhere from a 12% to 60% yield loss.
It's not just northern corn leaf blight that's currently on the mind of growers. According to a recent poll of growers across the Midwest, more than half (54%) were concerned with stalk rot and gray leaf spot. An additional 20% of growers expressed concern with anthracnose leaf blight. With a direct correlation between northern corn leaf blight and stalk rot, protecting corn crops from these troublesome diseases is a top-of-mind issue for growers.
Application needs to be timely to maintain disease-free crops
To assist corn growers to maintain disease-free crops, BASF recommends they apply Headline AMP fungicide to their corn acres at tassel. Providing best-in-class disease control and Plant Health benefits like increased stalk strength and standability, Headline AMP fungicide helps ensure corn crops remain healthy and strong.
In 2014 university replicated trials, corn crops treated with Headline AMP fungicide experienced only a 4.5% severity of northern corn leaf blight, compared to a 65.8% severity for untreated acres.
~~~PAGE_BREAK_HERE~~~
Foliar fungicide is an effective tool for protecting yield
Caren Schmidt, technical market manager at BASF, emphasizes the importance of protecting corn acres from destructive diseases like northern corn leaf blight.
"Diseases like northern corn leaf blight and gray leaf spot can tear through corn acres, causing early plant death and decreased yields," says Schmidt. "To achieve a successful end to their corn growing season, it's important for growers to proactively manage these diseases."
Cornfields negatively impacted by weather, disease or other crop stress often experience increased lodging or breakage of the stalk below the ear. This can often create problems for growers at harvest. Not just an efficiency issue, lodged corn can also cause harvest yield losses of up to 25%, slower harvest equipment speeds and increase expenditures such as fuel costs.
Headline AMP fungicide provides increased harvest efficiency to corn acres, saving growers both time and money. Research indicates that the disease control and plant health benefits of Headline AMP fungicide correlate to healthier plants with stronger stalks at the end of the season.
 Healthier corn crops have less lodging, better harvest efficiency
"Healthier corn crops experience less lodging and breakage, both of which can rapidly decrease harvest speeds," says Schmidt. "Corn growers who apply Headline AMP fungicide to their acres can potentially save a week's worth of time during harvest."
The decreased lodging and breakage provided by Headline AMP fungicide has the potential to decrease a corn grower's harvest time by nearly half, from 14 days to 8½ days, dependent on conditions.
In addition to increased harvest efficiency and first-rate disease control, Headline AMP fungicide also provides growers with a proven track record of high yields. In a summary of on-farm trials from 2010-2014 in Illinois, Iowa and Missouri, Headline AMP fungicide consistently out-yielded untreated acres by an average of 13.5 bushel per acre. The following video from BASF outlines the increased harvest efficiency benefits of Headline AMP fungicide and how it can ultimately save growers precious time and money.
For more information, visit agproducts.basf.us.
Subscribe to receive top agriculture news
Be informed daily with these free e-newsletters
You May Also Like
---