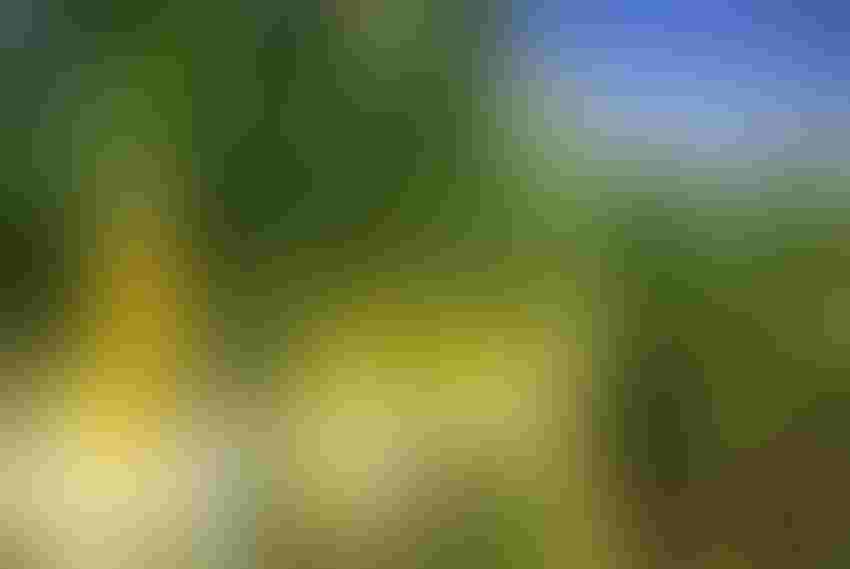 Northeast Arkansas producer Jason Bennett has been interested in improving his ground and irrigation techniques for a while. He wasn't planning on entering the state's first irrigation yield contest for corn but ended up winning it with a 227-bushel field.
"Ray Benson with the Extension Service in Mississippi County called me and said, 'Hey, you ought to enroll in this contest,'" says Bennett, who besides farming is a commercial pilot. "'You're already doing some things with irrigation.' I was already using surge valves, Polypipe and using the Delta Plastics program to design field layouts and figure hole sizes. You put in the flow rate from the well and put it in the program and decide how to do things with a surge valve."
In the contest field, a 40-acre block, "we had a surge valve that would irrigate 20 acres at a time — it would swap back and forth. Without the surge valve it takes a long time to irrigate the 40 acres. The electric well has an 8-inch discharge and the crop can really take a yield hit when you're saturating the ground and holding water. Using the surge valve eliminates swamping the crop for a long time."
Bennett used to "rush out and try to get my corn planted at the end of March. Now, I feel if I planted in mid- to late April the corn seems to do as well. I planted my corn in a Pioneer variety."
Keen to do what he can to improve his farm's environment, Bennett says, "We must work to conserve water while trying to make better crops and more money. That's why we've tried to improve our irrigation practices every year on the farm. We've really gotten much more efficient with irrigation over the last five or six years. With the computer programs and equipment, it allows us to step it up a notch every year.
"Our first concern is, of course, staying in business. But there are so many more wells, so many more people watering now than when I was a kid. Back then, virtually everything around here was dryland."
Water tables
Bennett was always taught "the Mississippi River replenished our water tables. That's true to an extent, but if you keep drawing more and more water for irrigation, the tables can't recover. Now, they say one day we'll run out of water. I don't know if that's true but, in good conscience, I have to protect the resources we have."
Located in south Mississippi County on 1,200 acres, Bennett grows corn, cotton, and soybeans. "We've got about 250 acres of cotton, 250 of corn and the rest is in soybeans. We try to rotate and conserve, do land-leveling.
"We also work with cover crops. I've seen a lot of potential with cover crops saving a lot of time, money and labor. They also help control pigweeds.
"I know we can't continue to farm the way we once did, working the ground so much. Every year presents its own challenges, of course. 2019 will be different because of all the ruts we made in harvest. That throws some of the cover crops out the window. I'll have to work ground that I haven't worked in five to eight years on some of it.
"Believe it, or not, we have 45 acres of beans to cut and we'll try to get those tomorrow," said Bennett in late January. "I have never seen a year like 2018. Ever since we started cutting beans, you couldn't stay in the field. It used to be harvest delays were because of smaller, or older, equipment breaking down or whatnot. In 2018, it was purely the weather."
The rains, he says, "have been crazy. In my lifetime, I can't ever remember cutting beans in January. I'm so thankful I didn't have a lot of custom harvesting to do or I'd have a lot more than 45 acres still out there.
"One thing we dodged was damage to our soybeans (in 2018). There are a lot of horror stories out there. We did have some shell-out due to waiting on the weather, though. I planted all LibertyLink soybeans and didn't use gramoxone to speed up the harvest process. Maybe I should have," he says with a laugh, "and I'd be done!"
Subscribe to receive top agriculture news
Be informed daily with these free e-newsletters
You May Also Like
---