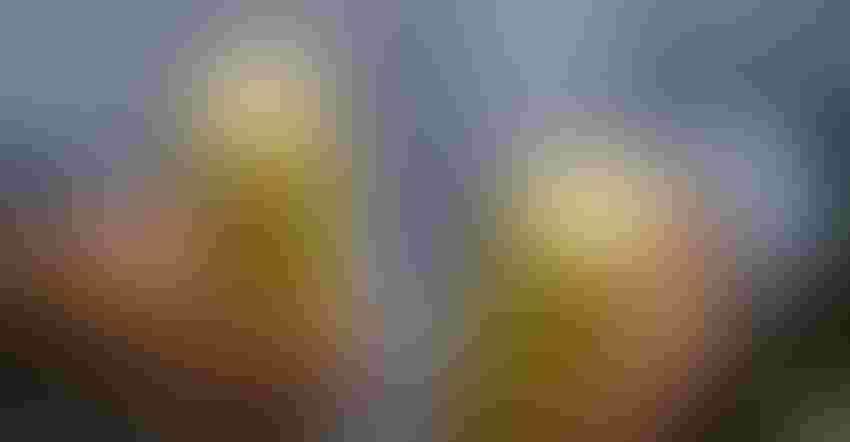 CHECK KERNEL DEPTH: These ears are from two different hybrids, but they have one thing in common: What happens over the next month will determine depth and size of kernels.
Two hybrids grow side by side in the Corn Watch '18 field. The farmer planted 12 rows of one and 12 of the other across the field. Dave Nanda recently pulled sample ears from both and broke them in half. He was monitoring the final component to yield that could yet vary: grain fill.
Nanda, a former corn breeder, is an independent crop consultant based in Indianapolis. He visits the Corn Watch '18 field regularly. Corn Watch '18 is sponsored by Seed Genetics-Direct, Washington Court House, Ohio.
The ear structure for each hybrid is very different, Nanda says. One tends to put on 14 rows around the cob but flexes in length and will develop more than 40 kernels per row in good conditions. The other hybrid puts on 16 to 18 rows around, with typically 35 or so kernels per row.
The hybrid that puts on an ear with more rows of fewer kernels per row tends to have kernels with an average depth. The other hybrid with fewer rows but longer ears is known for deeper kernels. The result of these trade-offs is that yield often comes out about even between them, Nanda says.
Common denominator
What both hybrids share is the ability to make bigger, plumper kernels when weather conditions are favorable. Weather conditions that favor better grain fill include ample moisture and moderate temperatures, especially at night. Corn prefers cool nights during grain fill so sugars made during the day go toward storage in kernels and aren't used up by respiration because night temperatures are high.
"Many people were pleasantly surprised in 2017 because corn yields were better than expected," Nanda says. "There was a larger-than-normal gap between mid-August in-field yield estimates using traditional formulas and actual yield in many cases. Actual yield wound up higher because there was a stretch of cool weather, especially cool nights, during the last half of August and into early September in 2017. It was ideal for grain fill."
Whether grain fill adds to corn yields in 2018 remains to be seen, Nanda says. The season overall has been warmer than normal, but cooler temperatures — especially cooler nights — beginning in mid- to late July and continuing into early August, compared to earlier in the season, might allow good grain fill again.
Critical time
"The end of August and early September is critical," Nanda says. "We think of July as the critical month for corn because that's when pollination occurs. It's incredibly important to have favorable weather with enough moisture and lack of excessive heat during pollination for optimum results.
"However, you could make a case that late August and early September is crucial for top corn yields as well. It's when grain fill can add that extra bump when things go right."
This would be a good time to monitor your own fields, break a few ears in half and check on grain fill, Nanda concludes.
Subscribe to receive top agriculture news
Be informed daily with these free e-newsletters
You May Also Like
---