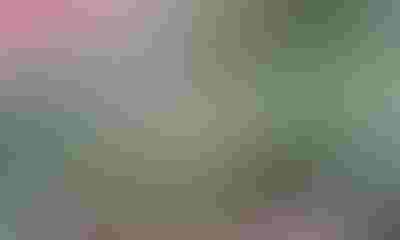 There's a new corn disease out there - Xanthomonas viscola pv. vasculorum, also known as bacterial leaf streak disease - which has been confirmed in Colorado and Nebraska. The disease has been found in South Africa, but this year has been the first where cases were found in the United States.
This is a bacterial disease, which means that fungicides are likely ineffective in its control. In the release from the University of Nebraska, the report points out that the bacterium causes gumming disease in sugarcane in other countries. The species has undergone a range of name changes and is recognized by several other synonyms.
Bacterial leaf streak disease has made its way to the United States, and appears to be in Nebraska and Colorado, more survey work is being done to gauge the extent of the problem.
Surveys are underway across the Corn Belt to identify the disease distribution and raise awareness. Initial observations in Nebraska suggest that the disease may be widely distribute and established throughout the Corn Belt, and eradication is not thought possible.
The Colorado Corn Growers report that there's no evidence of lost yields due to the disease, though there is a potential for lost yields if not managed properly. Ongoing research in Colorado and Nebraska is underway.
Although the disease appears similar to other common fungal and bacterial diseases - such as gray leaf spot - foliar fungicides are not thought to be able to control the problem. Typical management strategies for bacterial diseases are recommended. The pathogen survives in infected crop residue. Sanitizing equipment to remove infected crop residue prior to moving between fields may help slow it's spread. However, research is incomplete. Crop rotation may also help, but will not eliminate the pathogen.
Symptoms appear similar to those of other diseases - including narrow tan to brown streaks between leaf veins. The disease causes lesions that usually have wavy margins in contrast to smooth rectangular lesions observed with diseases like gray leaf spot. You can learn more by visiting cropwatch.unl.edu/plantdisease/unl-diagonistic-clinic-lincoln.
Kirk Broders, head of the Crop Pathology Lab at Colorado State University, is a lead contact on the disease. You can learn more at his lab website.
Subscribe to receive top agriculture news
Be informed daily with these free e-newsletters
You May Also Like
---