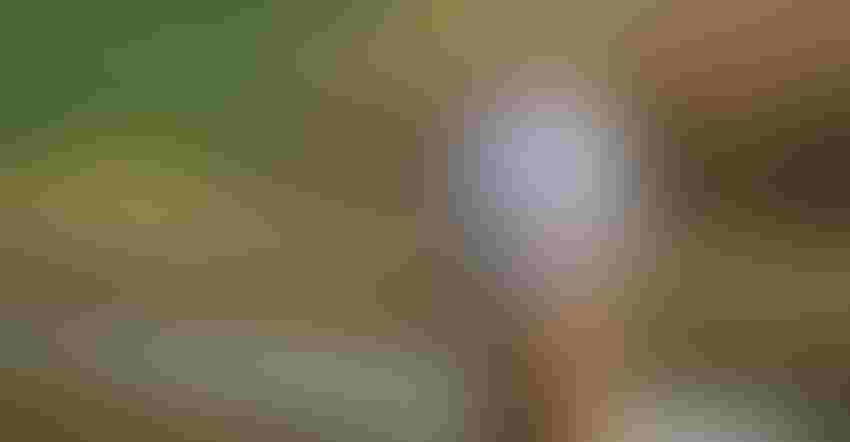 Dr. Brien Henry, research corn agronomist, emphasizes the use of crop spacing as a means to improve a farmer's yield.
Alaina Dismukes
Dr. Brien Henry, research corn agronomist at Mississippi State University, says narrow row spacing may boost corn yields and improve a corn farmer's overall bottom line hand over fist.
Henry discussed corn research projects recently at the 2019 Row Crop Field Day hosted at the North Mississippi Research and Extension Center in Verona, Miss. He and other researchers and Extension specialists presented research and demonstrated projects located at each station along the field tour.
Henry also discussed early planting. He said row spacing is a key feature of the research, particularly about how to get corn populations up without overcrowding the plants. So far, spacing out the plants has produced plants with thicker stalks, and, in a couple of instances, they have seen a yield boost.
Early planting challenges
"This year challenged early planting because we had periods of excessive rainfall and at times flooding early in the season," he said. "Like Dr. Erick Larson suggested in an earlier tour stop, beds were particularly useful this year to provide drainage and to provide a small amount of somewhat dry soil for the roots to breath."
His team just harvested a dryland Brandt fertilizer trial with yields in the range of 215 to 225 bushels per acre.
"These are great dryland corn yields, but this trial was planted the first week of April, an optimal planting date for us with respect to moisture received throughout the growing season. The trials planted slightly before this date, or even mid- to late April, were negatively affected by too much rainfall early on," Henry said.
Other ongoing trials are focusing on population, row spacing, and hybrid components.
Row spacing in corn
"Narrow row corn production with plant populations around 35,000 to 40,000 plants per acre seem to perform well across our research locations," he said. "We are harvesting those plots now, so we have yet to confirm that in 2019. We hope for improving corn prices for our producers as we get into harvest season."
Henry said they have noticed that this method does not work as well for heavy soils where there has been a lot of rain, like this year.
"This year probably isn't going to be the best example of our work because of the rain, but we have data from years when we looked at 19-inch rows compared to the standard 38-inch row spacing. We have pushed the populations up to 30,000 40,000 and 50, 000 plants to the acre and have looked at them head-to-head with the normal row spacing 25, 35, 45, 55, and 65," he said.
The team wanted to know from a scientific standpoint where the breaking points would lie and how the plants would respond with respect to yield, and in some data, they saw an advantage to spacing the plants out on the 19-inch rows.
Increased yields
"If we kept the population constant, we are doubling the number of rows to effectively double the space between plants within a given row," he said. "This has resulted in plants with thicker stalks, less lodging at higher populations, and a couple of instances of improved yields. If we don't see an advantage, the yields have been about the same as fields with normal row spacing, so it's a breakeven."
Henry said he and his team remain grateful to the producers and to the Mississippi Corn Promotion Board for providing funds to support their research program.
Subscribe to receive top agriculture news
Be informed daily with these free e-newsletters
You May Also Like
---