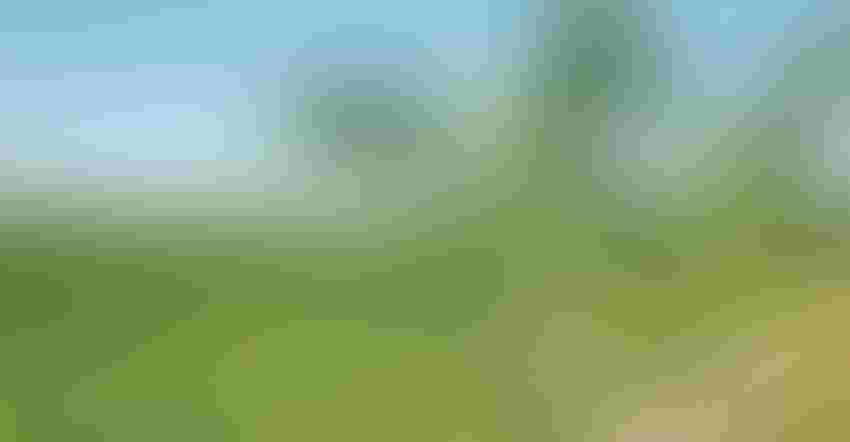 GRAPHIC EXAMPLE: The corn plant on the left was planted 2 inches deep in a replicated university trial. The plant on the right was planted at 1 inch. It's two growth stages behind the plant on the left, and it yielded 20 bushels less.
Beck's began Practical Farm Research trials to test practices farmers wondered about but couldn't find answers to through university trials. The nuts-and-bolts questions you face every year don't always make university testing.
Nothing is more basic than planting depth. If Precision Planting's new SmartDepth system, which automatically adjusts planting depth on the go based on SmartFirmer seed firmer readings, becomes commercially available and affordable, it may take guesswork out of this decision. Until then, it's a question you're going to ask repeatedly. How deep should I plant corn in this field?
Deeper vs. shallower
Jim Schwartz heads up Beck's Practical Farm Research project as director of PFR. He points to the 2018 PFR book, which contains results from all Beck's PFR trials. The quest to answer simple farmer questions which began at Atlanta, Ind., is now conducted at multiple sites from Colfax, Iowa, to London, Ohio.
Published results based on four years of corn seed depth trials at the Indiana site show nearly a 6-bushel advantage for planting at 2 inches vs. what was once considered standard — 1.5 inches. Here's the kicker: Tthe four-year average at this site indicates that 2.5 inches has a half-bushel advantage over the 2-inch depth.
Yields fall off quickly if you raise planting depth. The four-year average for 1 inch is nearly 15 bushels less than the 1.5-inch depth, and more than 20 bushels under both 2- and 2.5-inch planting depths.
Each year is different. In 2018, at the April 27 planting date, the 2-inch depth was more than 20 bushels better than the 1.5-inch control, and 2.5 inches was 17 bushels better. Planting at 1 inch was a bushel per acre worse than planting at 1.5 inches, but planting at a half inch was a whopping 65 bushels worse. That should encourage you to make sure even one planter unit isn't placing seed too shallow.
The control depth yielded best for the May 14 planting, but both 2- and 2.5-inch depths were much closer to the control than planting at 1 inch or shallower. Remember, it was a warm, dry May. Yields for the April 27 planting, except for the half-inch depth, were about 20 bushels per acre higher than the May 14 planting.
Other locations
Four-year results at different sites show the 2-inch depth averaging 2 bushels better than 1.5 inches, and about 3 bushels better than 2.5 inches. However, the 1-inch depth yielded more than 12 bushels less than the 2-inch depth.
Averaged results from six sites in 2018, including trials in Wisconsin and Minnesota, showed more than a 3-bushel-per-acre advantage for the 2-inch depth vs. the control, and more than a 1-bushel edge for 2.5 inches vs. the control.
The bottom line? These results add to a large bank of other seed trials that reach the same conclusion. When in doubt, err on the side of going deeper vs. shallower.
Subscribe to receive top agriculture news
Be informed daily with these free e-newsletters
You May Also Like
---