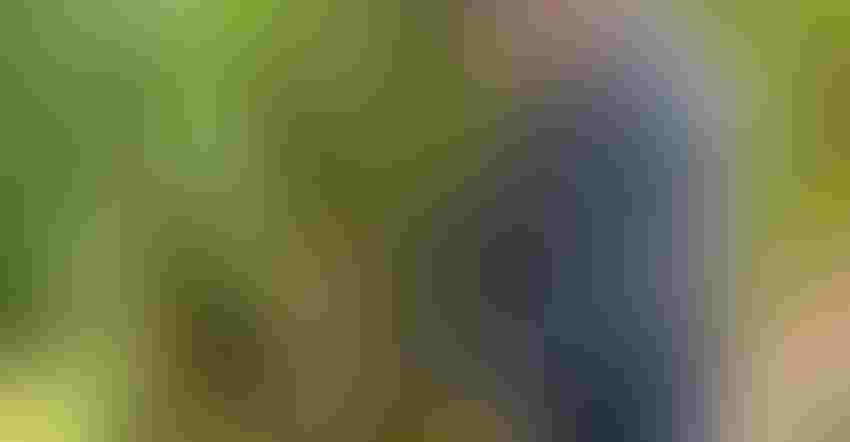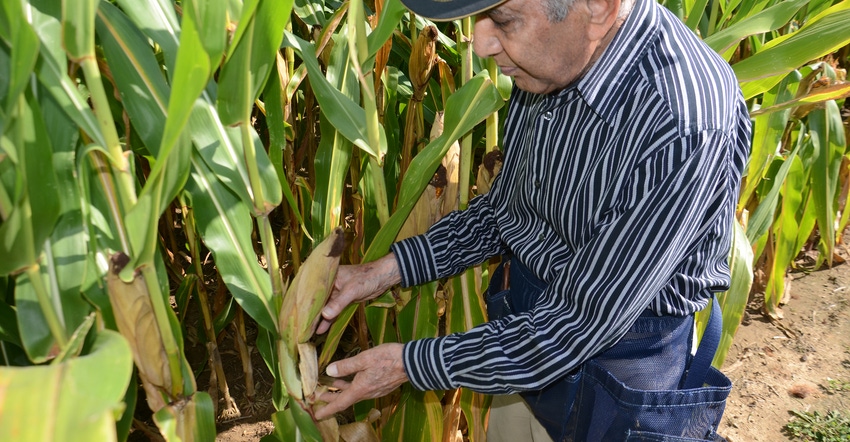 STILL LOOKING: Dave Nanda is still looking for disease lesions on leaves, even as corn reached black layer.
Tom J. Bechman
Each year brings new lessons about corn diseases and fungicides. Dave Nanda believes 2022 was no exception.
"We didn't see many foliar disease lesions early, especially after it turned off dry and hot," says Nanda, director of genetics for Seed Genetics Direct. Nanda visited the Corn Watch '22 field multiple times. Seed Genetics Direct sponsors Corn Watch '22.
Related: Early corn yield estimates look promising
Once rains returned, Nanda expected disease pressure would increase. However, the field was sprayed with fungicide at about the same time.
"We saw some disease lesions, especially for gray leaf spot," Nanda recalls. "But there weren't a lot, and for the most part, they stayed below the ear leaf. If diseases become significant on leaves above the ear leaf during grain fill before black layer, they can impact yield by reducing leaf area available for photosynthesis."
Fungicides were still doing their job when Nanda visited the field in mid-August. After some cooler weather, a few lesions of northern corn leaf blight also appeared. It's a disease favored by cooler weather with moisture. Again, the lesions were small.
"For the most part, the fungicide appeared to be working," Nanda says.
Continued monitoring
Nanda was still looking for foliar disease when he visited the field near black layer in September.
"You always keep watching," he says. "If a disease like tar spot or southern rust comes in late and conditions are right, they can still do enough damage to impact yield. Fungicides applied in July aren't effective forever. If a disease got a strong foothold late, spraying again might pay."
That did not happen here. However, by mid-September, there were a few lesions appearing on ear leaves that were still green. A few black specks that did not rub off resembled tar spot, but symptoms weren't clear enough to be sure.
Because tar spot was diagnosed very late in a field a mile away at the close of the 2021 growing season, a few ear leaves were sent to the Purdue University Plant and Pest Diagnostic Lab for evaluation. For future decision-making, the grower wanted to know which diseases were in the field.
Plant disease specialists confirmed that as Nanda suspected, both gray leaf spot and northern corn leaf blight pathogens were detected. And yes, tar spot was confirmed.
There was a surprise. Southern rust was also found on leaf tissue, for a total of four foliar diseases.
"The bottom line is that the fungicide application held off diseases until grain fill was nearly complete," Nanda says. "Yield was not affected.
"This example shows that continued monitoring until the season ends is worth it. The grower knows that both tar spot and southern rust were there, although they came in too late to factor into yields."
Going into next season, the grower can assume pathogens that cause gray leaf spot, northern corn leaf blight and tar spot are in the vicinity. Southern rust must blow in each year. Which diseases cause problems in 2023 will depend upon weather conditions next season, Nanda concludes.
About the Author(s)
Subscribe to receive top agriculture news
Be informed daily with these free e-newsletters
You May Also Like
---