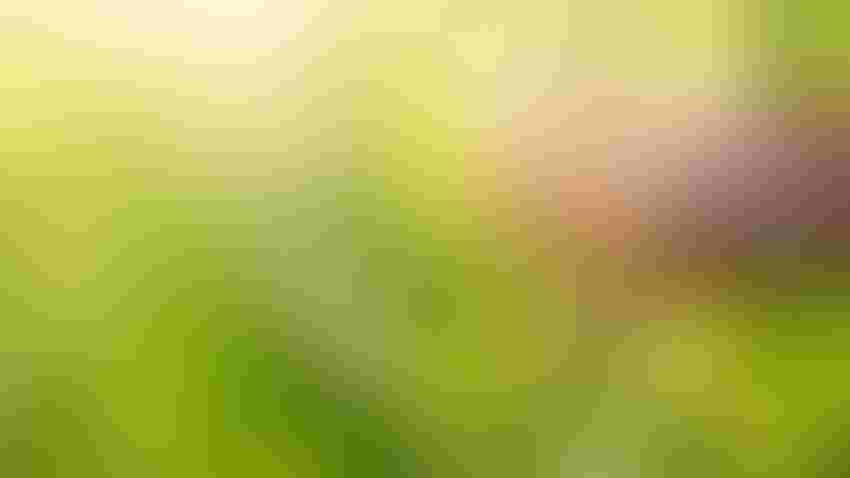 INSPECT OFTEN: Reveal your corn's yield potential by visiting fields throughout the growing season, especially at the five critical stages of plant growth. Consider tissue sampling to discover plant health.
OlenaMykhaylova/Getty Images
At a Glance
Focus on aspects of corn yield equation to manage crop expectations.

Corn plant crowding can create problems for ear fill.

Give plants key nutrients — nitrogen, sulfur and phosphorus for yield.
If corn yield goals were as simple as "planting the best hybrid," growers across the Midwest would all average 300 bushels per acre, but we know that is not the case.
There is untapped yield potential on corn acres across the country, says Stephanie Smith, agronomy manager for Golden Harvest. Company research shows that the same corn hybrid planted on the same day under two different management systems had a 19-bushel advantage across eight locations, and up to 51 bushels for the greatest yield difference.
"What this really shows is that agronomic management practices need to be unlocked for optimizing yield," she says. "The idea of genetics by environment by management is the key."
Evaluating crop management practices that affect yield loss starts well before harvest by assessing plants at each step along the corn yield equation.
Understand the corn yield equation
Smith offers this reminder of how to calculate corn yield:
Number of plant ears x kernel rows round x kernel length x kernel weight = yield
Finding ways to improve crop management throughout the equation can help improve kernel retention that leads to yield. Smith offers key things to consider at each factor:
Number of plants. A solid corn stand is the start of any yield potential conversation. Uneven stands, whether from planting conditions or operator error, affect yield. Getting a true count of plants per acre happens after emergence, but you must take time to assess the stand throughout the season. Look for signs of pest or disease damage that may limit the plant's potential. Then adjust your crop management plan to preserve those plants.
Ear count. Just because a plant is in the field does not mean it will produce an ear. "If we have a plant that emerges 48 hours after a plant right next to it, that plant will always be a weed," Smith says. "It will never catch up." Left unchecked, those plants may also be limiting yield by robbing neighboring plants of nutrients.
Kernel rows round. This is determined up to knee-high corn or the V4 to V6 time frame. If an ear goes from 18 to 16 kernel rows round, those two rows are roughly 20 bushels loss. When trying to reach maximum yield possibility, starting two rows down requires more attention to the corn plant.
"We're going to have to do many things in terms of kernel retention," Smith says. "We don't want to shortchange the crop up until knee-high corn. Many of the kernel rows round are very genetically based. But, as growers, we can shortchange 18 and make it a 16, if we don't have nitrogen, sulfur, phosphorus, or if planting early in the season into cold soils."
Kernel row length. Securing yield in this portion of the equation runs through pollination. Typical corn ears produce 800 to 900 kernels each year. Again, Smith says, farmers should focus on kernel retention by keeping nutrients available for the plant.
"We really have this come into play on our mobile nutrients because typically we get to mid- to end-July, and our most limiting factor is water. Nitrogen and sulfur move with water. We need to make sure that at R2, we have a lot of fertility in the base that we can retain; we don't want to stress the plant."
Kernel weight. Much of this is determined genetically and varies by hybrid. Smith points out that Golden Harvest has corn in its lineup with a standard weight 70,000 kernels per bushel. However, typical yield equations divide by 90,000 kernels. "If we divide by 70,000, we can make yield faster." But she says farmers need to make sure that the kernel is filling with nitrogen, sulfur and potassium in the later part of the growing season.
"On kernel fill, depending on hybrid, the yield can flex 30 bushels and that is when we start to see the cannibalization of that stalk," she adds. Poor stalk quality leads to lodging and breakage, ultimately resulting in a difficult harvest and yield loss.
Find right hybrid for your management
Smith says farmers often request the highest-yielding hybrid in a company's portfolio, but it may not be the best fit for their management system.
For instance, if a farmer applies all nitrogen upfront, he or she does not want to choose a hybrid that needs a lot of kernel flex later in the season to optimize yield. Smith says the likelihood of that nitrogen "still hanging around becomes a little suspect. They should be looking for hybrids with standard size kernels with limited flex capabilities."
She adds that sharing your crop management plan, including nutrients and timing of application, whether it remains the same or you're thinking of changing it up next year, can help your agronomist determine which hybrid offers the right fit for the right location and right environment to maximize yield.
Subscribe to receive top agriculture news
Be informed daily with these free e-newsletters
You May Also Like
---