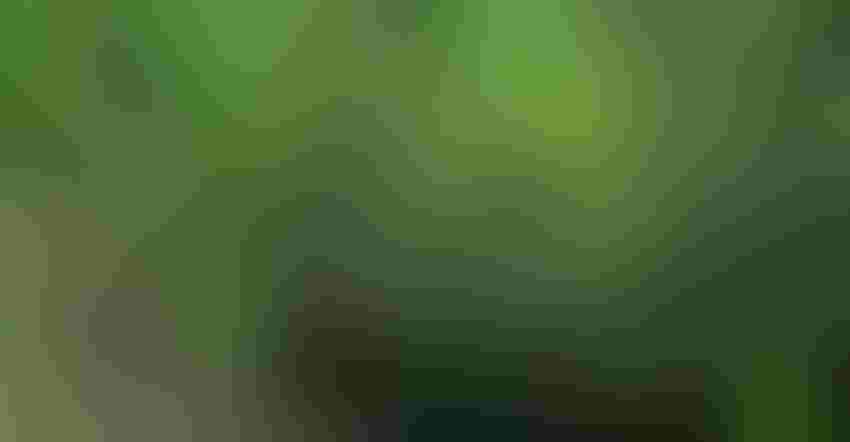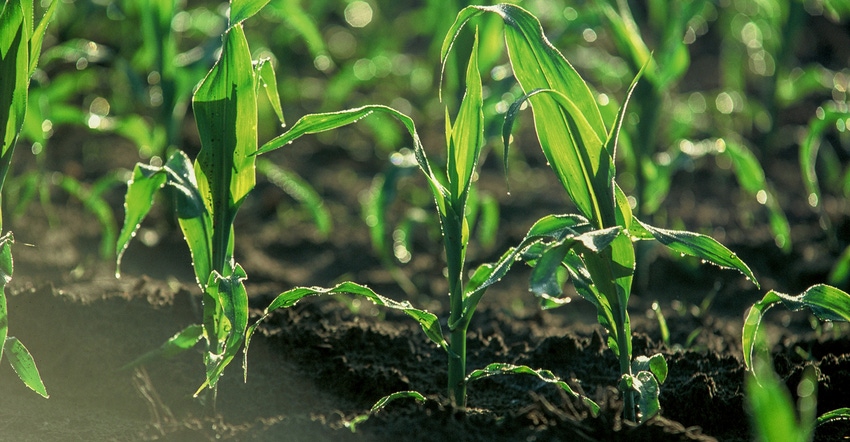 GROWING FAST: Corn grows quickly, adding new leaves every couple of days. You can track the corn's development through its vegetative growth stages, which are defined by the number of leaves or leaf collars that have formed.
Lon Tonneson
Knowing corn's growth stages is good way to track progress of the 2020 crop. It's also key to getting the biggest bang for your buck from fertilizer, herbicides and fungicides. Some inputs need to be applied at certain growth stages to be most effective.
Corn growth stages are divided into vegetative and reproductivity stages. The following is a guide to what's happening during corn's vegetative growth stages, V1-VT.
All the vegetative stages, except VT (tasseling), are defined by the number of leaves or leaf collars that have formed.
The following information is gleaned from South Dakota State University Extension Service's "Best Management Practices for Corn Production."
V1. Nodal roots are initiated at formation of the first node and continue to develop until kernel blister. By the V6 growth stage, nodal roots become the major supplier of water and nutrients.
V6-V7. At the V6 stage, rapid stem elongation begins and ear shoots begin to develop. A new leaf emerges about every three days, while lower leaves begin to degenerate. Scouting to determine whether additional fertilizer is needed is critical at the V6 growth stage.
Sidedressing nitrogen is most effective when applied between V6 and V8. In addition, scouting for corn rootworm and other root-pruning insects is also critical during this stage.
Because control options for these insects are limited, the best option is to plant resistant or genetically modified hybrids.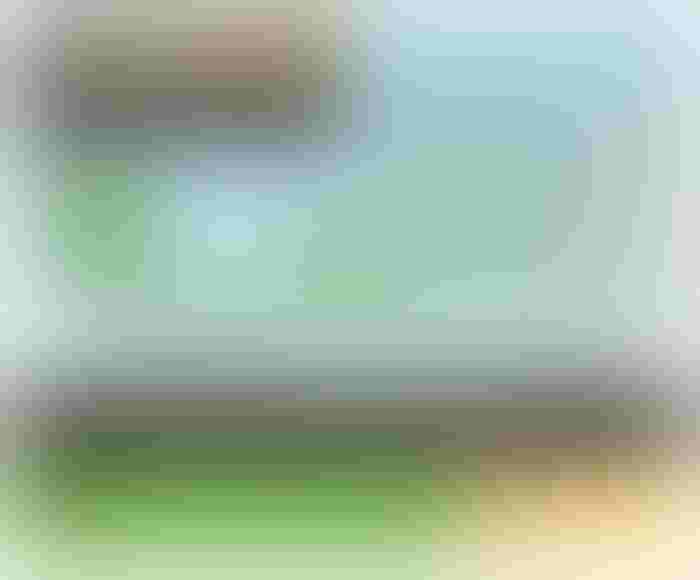 V8-V11. Many ear shoots, which are potential ears, are present. Eventually, only one or two upper shoots form harvestable ears.
The number of ears formed depends on the corn hybrid. Prolific hybrids form more than one ear when planted at low plant populations. At this stage, deficiencies in macronutrients and micronutrients can start to show. If not corrected, nutrient deficiencies can seriously restrict leaf growth.
By V10, the plant is growing rapidly, with new leaves appearing every 2 to 3 days. The plant requires substantial amounts of water and nutrients to maintain this growth rate. Stress from pests, heat and lack of nutrients or water can slow development.
V12+. The potential number of kernels per ear and ear size are determined at the V12 growth stage. Stress at the V12 stage can reduce kernel numbers and ear size. The rate of corn plant development at the V12 stage is influenced by hybrid maturity.
Earlier-maturing hybrids progress through these stages in a shorter time, resulting in smaller ears compared to later-maturing hybrids. The plant has a peak water demand during this growth stage. It can use one-quarter of an inch of water per day.
The corn plant also needs large amounts of nitrogen, phosphorus, and potassium at this stage. The number of leaves on a plant is dependent on the plant's maturity rating and the type of corn. Silage corn may have more leaves than corn designed to produce grain. The higher the maturity rating, the higher the number of leaves. Severe hailstorms that strip leaves can result in complete crop loss.
VT. The tasseling stage occurs two to three days before silking. At this stage, the plant has reached full height and the last branch of the tassel is fully visible, but silks have not yet emerged from the ear shoot.
The length of time between VT and the first reproductive stage (R1-silk stage) varies depending on the corn hybrid and environmental conditions. Pollen shed usually takes place from late morning to early evening.
At this stage, the impact of a hailstorm can be very severe compared to any other corn growth stage, since all leaves have emerged. Any damage to or complete loss of the tassel may result in very poor to no grain formation.
About the Author(s)
Subscribe to receive top agriculture news
Be informed daily with these free e-newsletters
You May Also Like
---