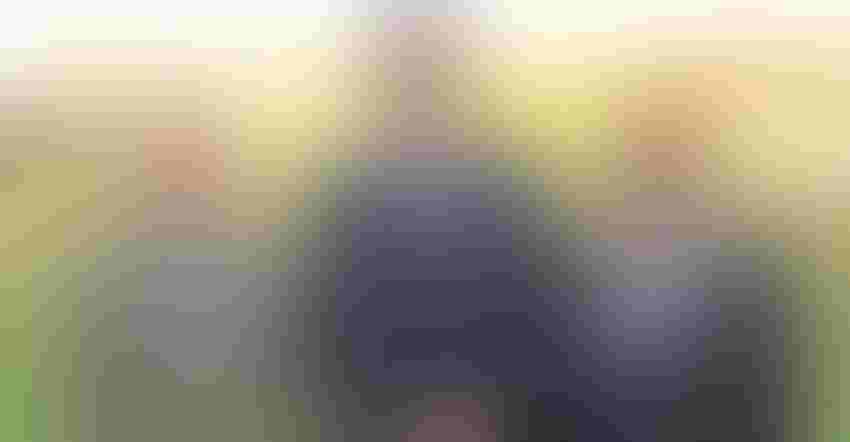 NEWLY ELECTED: Minonk, Ill., farmer Bill Leigh (center) is the new president for the Illinois Corn Growers Association. He's joined by newly elected vice president, Randy DeSutter of Woodhull (right), and Secretary Keith Sanders, Vandalia. Not pictured is Treasurer Matt Rush, Fairfield.
Daniel Obert, ICGA
Some board members had just finished up their 2019 harvests when the Illinois Corn Growers Association convened its annual meeting last week in Bloomington, Ill. The group gave out five awards in addition to announcing newly elected officers and board members.
Minonk farmer Bill Leigh is the association's new president, serving for the 2019-20 term. He's served on the ICGA board for six years, most recently as vice president. He will continue his role as District 4 director for the duration of his term as president.
Joining Leigh in leadership roles are Vice President Randy DeSutter of Woodhull, Treasurer Matt Rush of Fairfield and Secretary Keith Sanders of Vandalia.
Mike Homerding of Plainfield is the new Exports Committee chairman, with Kate Danner of Aledo serving as vice chairman. Elected to lead the Industrial Committee were Chairman Marty Marr of New Berlin and Vice Chairman Terry Smith of Clayton. Grassroots Committee leadership for the coming year are Chairman Ted Mottaz of Elmwood and Vice Chairman Sarah Hastings of Sidney.
In addition to Leigh, five other directors were reelected and will continue in their positions as directors. They are Homerding for District 1, Marr for District 10 and Rush for District 13. Reelected at-large directors are Danner and Dave Rylander of Victoria.
The newly elected director of District 7 — serving Dewitt, Macon, McLean, Moultrie, Piatt and Woodford counties — is Mark Bunselmeyer of Maroa.
Excellence in media
ICGA's media award was given to Betsy Jibben, a national reporter of the syndicated programs AgDay and U.S. Farm Report, at the annual meeting. The award is given each year to an individual who promotes Illinois corn and farmers.
Jibben graduated with a degree in broadcast journalism from South Dakota State University. She now travels the country and covers different agricultural topics such as policy and markets. She grew up in South Dakota, where her parents grow row crops and run a cow-calf operation. She lives in Indiana.
"Betsy is always quick to respond to news from the Illinois Corn Growers Association," Mottaz says. "When she visits farmers in Illinois to get them on camera, she is respectful of their time and makes them feel comfortable while she interviews them. TV can be pretty intimidating, but we've heard from our members that Betsy always puts them at ease."
Environmental stewardship award
Dwight farmer Matt Boucher was honored by ICGA at the annual meeting to recognize his efforts in environmental stewardship. Boucher owns and operates a fourth-generation family farm that grows corn, soybeans, wheat and cover crops.
Boucher is active on social media and works closely with the Illinois Farm Families projects. He has written several blog posts for the site, which was created in part to encourage conversations with the public about how farming works.
Boucher also runs Potential Ag, where he sells seed and precision planting equipment and shares cover crop information.
"Matt is dedicated to preserving his farm for future generations, and it is evident by the actions he takes on his operation," Mottaz says. "He is not hesitant to share what he is doing with the public. It has been an honor working with Matt over the years."
Recognizing ethanol leadership
Coleman Jones, a fuels technical fellow for General Motors, received the ethanol award from ICGA at its 2019 meeting.
He focuses on petroleum and biologically derived fuels — specifically their properties, manufacturing processes, costs and interactions with vehicles.
He supports GM engineering and public policy worldwide on fuel issues. He is the co-chairman of the Ag-Auto-Ethanol work group, which works to improve the use of high-octane, low-carbon fuels for vehicles. He is also a chairman of the American Society for Testing and Materials. Jones received this award for his work on the Ag-Auto-Ethanol alliance.
"It has been a pleasure working with Coleman on ways to incorporate higher octane into the fuel in our vehicles," Mottaz says. "He works hard on bringing high-octane, low-carbon fuels to Ag-Auto-Ethanol, and I am eager to see his work pay off in the next couple years."
World of Corn awardees
This year, ICGA announced two awardees for its World of Corn award, meant to recognize leaders in the corn industry. Farmer Jim Robbins of Peotone and the current state director of agriculture for Indiana, Bruce Kettler, were awarded the association's top honor.
Robbins, who was also named a Prairie Farmer Master Farmer in 2019, represented District 1 as an IL Corn director from 2003-10, and served as secretary in 2009 and treasurer in 2010. He was on the National Corn Growers Association research and development action team in 2007, production and stewardship action team in 2009 and grower services action team in 2010. He has also hosted international visitors on his farm and has traveled internationally to investigate new opportunities.

REWARDED: Peotone, Ill., farmer and 2019 Master Farmer Jim Robbins was awarded IL Corn's highest honor after a lifetime of service to the state's corn industry.
Outside of farming, Robbins is actively involved in his church and community. He served as vice president of the Peotone Educational Foundation and is a founding member of the Will County Farm Bureau Foundation. He enjoys being outside while bike riding and has made the Ag in the Classroom bike fundraiser an annual event.
"Jim is a dedicated board member who sees the value in nurturing relationships and leaving things better off for those that come after him. His character is evident in events and meetings held throughout the organization," Mottaz says.
Prior to his appointment as director of the Indiana State Department of Agriculture, Kettler served as the industry representative for ICGA and worked for Beck's seed company as the director of public relations.
"Bruce Kettler has done remarkable work for us over the years," Mottaz says. "Because of Bruce, we made connections at Beck's and helped build up our goals and establish relationships. This connection has benefited the corn industry overall."
Along with his involvement in agriculture, Kettler is active in the community. He serves on the Ohio State University President's Alumni Advisory Council, is a member of the board of trustees for Riverview Health in Hamilton County, Ind., and formerly served on the board for Hamilton County's Economic Development Corp.
About the Author(s) Associate Editor, Prairie Farmer
Austin Keating is the newest addition to the Farm Progress editorial team working as an associate editor for Prairie Farmer magazine. Austin was born and raised in Mattoon and graduated from the University of Illinois at Urbana-Champaign with a degree in journalism. Following graduation in 2016, he worked as a science writer and videographer for the university's supercomputing center. In June 2018, Austin obtained a master's degree from the Medill School of Journalism at Northwestern University, where he was the campus correspondent for Planet Forward and a Comer scholar.
Austin is passionate about distilling agricultural science as a service for readers and creating engaging content for viewers. During his time at UI, he won two best feature story awards from the student organization JAMS — Journalism Advertising and Media Students — as well as a best news story award.
Austin lives in Charleston. He can sometimes be found at his family's restaurant the Alamo Steakhouse and Saloon in Mattoon, or on the Embarrass River kayaking. Austin is also a 3D printing and modeling hobbyist.
Subscribe to receive top agriculture news
Be informed daily with these free e-newsletters
You May Also Like
---