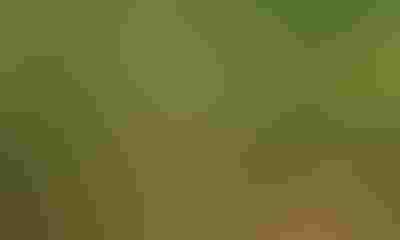 Higher plant populations in corn are no doubt the way of the future. Too many people are demonstrating how adding more plants per acre produces more ears per acre. More ears per acre means more yield per acre in most cases.
Related: Rows of kernels crucial for high corn yields
However, the stress wheel at the DuPont Pioneer research facility near Windfall, Ind., exhibited at the location's grand reopening recently indicated that all hybrids aren't ready for high populations just yet.

Population change: There are more plants per acre as you move left to right. Note the change in ear size. All plants were standing, free of lodging, even at 54,000 plants per acre.
It depends how you define high populations. In this demonstration, plant populations went as high as 54,000 plants per acre. The stress wheel was created by planting several Pioneer hybrids in a circle, starting at 16,000 plants per acre for each hybrid on the outside of the wheel, and increasing the population to 54,000 plants per acre on the inside of the wheel.
In general, ears got smaller as population increased. Before you write off high population, recognize that 54,000 plants per acre meant about 3.5 times as many ears as at 16,000 plants per acre. Most sources say one extra average size ear per acre is worth about 6 to 7 more bushels per acre.
You can do the math. While the size of ears was considerably larger at the outside of the wheel, there was a big yield gap to make up. If you consider there are 3.5 times as many ears at 6 bushels per acre, that's a lot of ground to make up by larger ear size.
Most agronomists say there is a limit to how big ears can be. That's why more people are looking to thicker populations as the way to reach higher yields.
Related: Corn fights harder than you think for top yields
The wheel consisting of different hybrids allowed visitors to determine differences in how various hybrids in Pioneer's line-up today reacted to change in population. Ear size got smaller in every case. The ears were shucked back on a couple rows of each hybrid. Some hybrids in the wheel showed more – tip kernel abortion at the higher populations than others. Hybrids showing less tip kernel abortion might be better choices for very high plant populations.
Subscribe to receive top agriculture news
Be informed daily with these free e-newsletters
You May Also Like
---