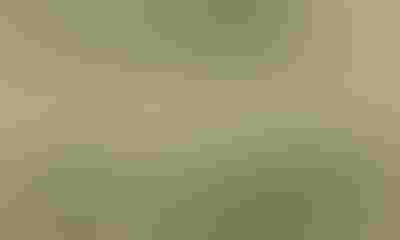 If you visit Don Zolman's farm today, you will find upward of 50,000 plants per acre in some plots, and 40,000 plants per acre or more across whole fields. The pattern is also different. Instead of being in 30-inch rows, corn is spaced in twin 20-inch arrangements. Basically, that gives a row spacing of 12 inches, 8 inches, 12 inches and so on.
Zolman, Pierceton, is in his second year trying the twin 20-inch concept promoted by Harry Stine of Stine Seeds. Zolman plants with a John Deere planter set up for this configuration, made available so that farmers could try the concept.

CORN STANDS WILL BE THICKER SOMEDAY: OK, maybe not this thick. A planter error produced this grouping of corn plants. But some believe stands will go higher — someday.
"We liked much of what we saw last year, but the jury is still out," he says. The concept will have to pay for itself, meaning it will take extra yield to pay for higher seed costs.
Time will tell how many people adopt this or a similar practice now. But Dave Nanda, a crop consultant with Seed Consultants Inc., sponsor of Crop Watch '16, believes that ultra-high populations will be the wave of the future. Whether there are hybrids that can handle it yet, and whether all the pieces are in place to make it work, is another question.
But when Nanda looks in his crystal ball 20 years ahead, he sees plant populations approaching 70,000 to 80,000 plants per acre. And he sees equipment that plants and harvests in rows so that corn plants are spaced at equidistant intervals from each other. The twin 20-inch-row concept is a step in that direction.
Nanda was planting 70,000 kernels in inbred trials 25 years ago, looking for plants from the start that could handle high populations. He believed the way to find new lines that can handle that kind of stress is to test under the conditions that plants will eventually experience.
Why will plant populations increase in the future? Nanda believes it's because it's the most logical way to increase yields to the next level. Increasing ear size and ear length will only take you so far, he notes. At some point you exceed the plant's ability to support a super-long or super-big ear.
Instead, he sees the future being more modest-size ears, but many more of them. Plant shape is likely to change as well, he notes. Look for plants that resemble the shape of a Christmas tree, with wider leaves down lower, to the base of the plant.
"It's all about capturing sunlight and making the most efficient use of it," he says. "That is what it will take to produce more corn. Right now some sunlight hits the ground and isn't utilized. To increase yield we must utilize as close to all of the sunlight available as possible.
The high populations of the future won't be in the 30-inch row pictured here, Nanda says. Note closely and you can see that a few of the plants are showing striping, perhaps from a micronutrient deficiency. If plants ae bunched too close, they will compete for limited nutrients.
The secret will be to spread them out, but increase numbers, he says. 
Subscribe to receive top agriculture news
Be informed daily with these free e-newsletters
You May Also Like
---