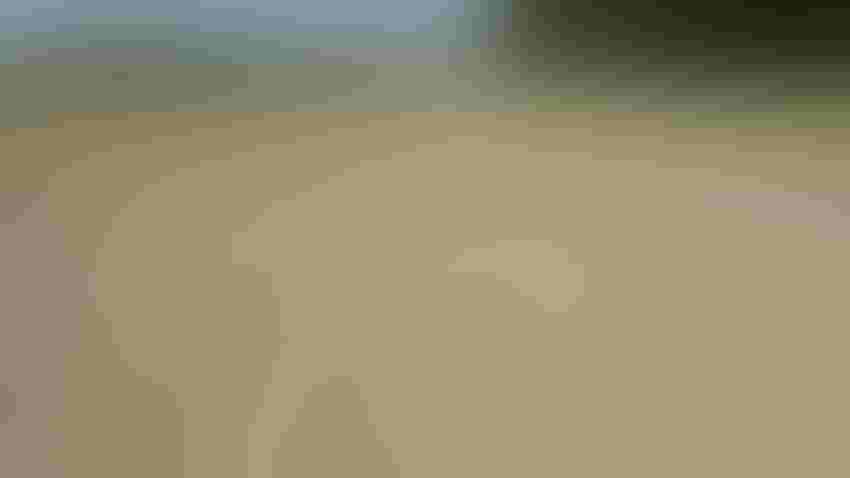 RIGHT CALL? When unfavorable weather after planting impacted this field, the operator chose to replant the corn in the foreground, leaving the rest of the field. Notice replant corn is just emerging.
Tom J. Bechman
What was it Yogi Berra, the famous Yankees player and manager, said? Deja vu all over again?
Bob Nielsen, now retired as a Purdue Extension corn specialist, issued a report titled "Corn Replant Decision-Making" on April 18, 2001. Here were his key points:
Some early-planted fields will warrant replanting.

Finish planting other crops first before replanting.

Base replanting decisions on expected yield and dollar returns, not emotions.
Fast-forward to 2023. Some earlier-planted fields might require replanting due to cold snaps — check! Finishing other crops first before replanting a partial stand is still probably good advice — check! Take as much emotion as possible out of the replant decision — check! All three points were good advice in 2001 when a cold snap nipped some crops planted early, and they're good advice this year.
"There are several factors to consider when making a replant decision," says Dan Quinn, current Purdue Extension corn specialist. "The same advice for thinking through a replant decision then still applies today."
Quinn refers anyone facing a corn replant decision to AY-264-W, Estimating Yield and Dollar Returns From Corn Replanting, also authored by Nielsen.
Some of the numbers in this worksheet-type handout are outdated, but the process is still on target. For instance, the example uses 27,075 plants per acre as the intended population, seed corn at $90 per 80,000 kernels, a normal yield of 150 bushels per acre, corn selling price at $2 per bushel and fuel costs at $3.40 per acre. Use numbers from today and the computations will still deliver a comparison between expected income for replanting and expected income for staying with the original stand, Quinn says.
Factors to consider
Quinn advises evaluating these factors before arriving at a decision:
Productive plant population. Determine the productive plant population in several areas of the field. Unless there are huge differences from area to area, average them together to get a number for estimated plant population. If you're considering replant due to hail or insects, not emergence issues, only count plants that should survive and produce a normal ear.
Stand uniformity. If productive plants remaining aren't evenly distributed, there may be additional yield loss. Are there gaps more than 3 feet long? Use the worksheet to get a handle on possible yield impact.
Original planting date. Use the planting date and the remaining productive plant count to estimate yield potential if the stand is left. See tables in AY-264-W for help.
Likely replanting date and target plant population. Use these and the tables to estimate yield potential if you replant.
Likely replanting costs. Consider seed, fuel for tilling and planting, additional pesticides (if needed) and more fuel for drying because corn likely will be wetter at harvest.
Expected "normal" yields. Compare expected replant yield to percent of normal yield expected if the thinned and/or damaged stand is left intact. Base yield expectations on that field. Consider using five-year yield averages if you have those records available.
Expected market price. What you expect to sell grain for could greatly influence which scenario produces the highest expected net income, Quinn says. Use a reasonable estimate.
Subscribe to receive top agriculture news
Be informed daily with these free e-newsletters
You May Also Like
---