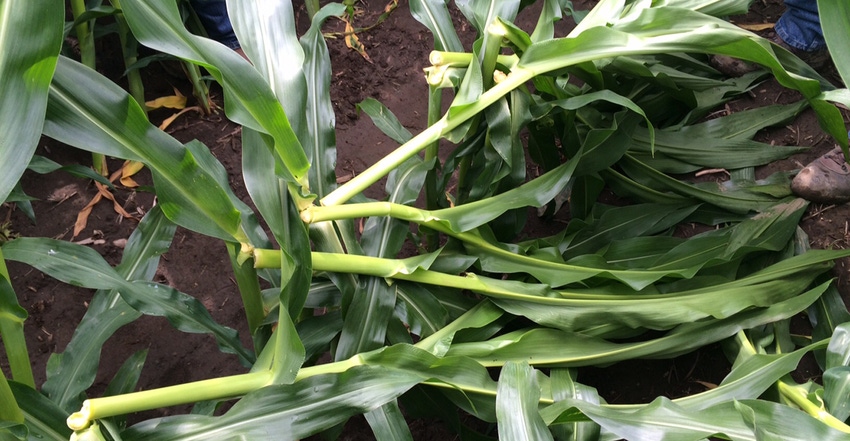 CLASSIC GREEN SNAP: These broken cornstalks are the result of a strong storm hitting this field just before tasseling, when plants were most vulnerable to green snap.
Kevin Cavanaugh, Beck's
Pete Illingworth noticed corn was brittle when he helped take stand counts at the Indiana Prairie Farmer/Purdue University corn population trial at Throckmorton Research Center near Romney, Ind.
"If you just bumped a stalk with your foot, it seemed like it would snap off at the base," says Illingworth, a Throckmorton farm crew member.
The corn was planted May 15 and Illingworth took counts June 15. Corn was at the V6 stage. Record May heat and continued warm weather into June caused corn to grow fast.
Within a few days, reports surfaced about green snap in areas where strong thunderstorms passed through. The impact of green snap could be an issue in some fields.
Earlier story
Green snap was an issue in the same population trial in 2017. When stalk counts were taken at harvest by Karen Mitchell, Tippecanoe County Extension ag educator, and Daniel Bechman, product specialist for Beck's, there was evidence of green snap in one of the two hybrids in the trial. 
Here is information from an Indiana Prairie Farmer story that first appeared Jan. 23. If your fields were affected by green snap already or if it occurs yet this year, this same information applies.
The 2017 plot compared two hybrids at five different seeding rates in a trial replicated three times. The goal was to determine the most economical seeding rate. Bob Nielsen, Purdue University Extension specialist, sponsored the trial.
Kevin Cavanaugh, director of research for Beck's, says the difference in hybrids probably occurred because they were at slightly different stages of maturity when the wind event happened. Hybrids tend to be most vulnerable to green snap shortly before tasseling, he notes.
At one time, the ability to withstand wind and avoid green snap was less of a priority for corn breeders in the eastern Corn Belt, Cavanuagh explains. High winds tended to be more problematic in western Corn Belt states. Plus, until a few decades ago, farmers planted at 26,000 seeds per acre. Green snap tends to be minimal at lower populations.
Today, developing as much resistance to green snap as possible is a priority for corn breeders everywhere, Cavanaugh says. "Weather has grown more unpredictable, and we've had multiple storms all over the Corn Belt over the past few years.
"Farmers are planting thicker. At today's higher populations, stalk diameter is often smaller, and plants can catch wind more easily.
Study green snap
Cavanaugh wasn't surprised when Mitchell noticed three or more consecutive plants in a row last fall were often stubs, meaning all three were victims of green snap. "Plants tend to lean on each other," he says. "If one snaps and falls into the next one, it may cause it to snap."
Sometimes the stubs grouped together were relatively close, meaning their stalk diameters were possibly even smaller stalk elsewhere.
"[Beck's has] 110 precommercial trials across the country," Cavanaugh says. "Each year four or five of those get hit with a storm that causes green snap. Our breeders rush to evaluate how various hybrids held up. Green snap in a plot is terrible for yield data, but it's an opportunity to learn about this trait in hybrids."
Editor's note: Daniel Bechman is the author's son.
About the Author(s)
Subscribe to receive top agriculture news
Be informed daily with these free e-newsletters
You May Also Like
---